Mercedes-Benz New York Fashion Week
---
New York Fashion Week, Spring 2013, is the beginning of the fashion season that travels all over the world. Held at Lincoln Center, this premier, semiannual event draws thousands of industry professionals, celebrities and fashionistas to eight days of runway shows and presentations. This year, the list of designers included Diane Von Furstenberg, Betsey Johnson, Monique Lhuillier, Ralph Lauren, and Michael Kors.
Styling in Georgetown
---
The Gap All Wrong
Many people believe that if one sticks to the basics in dressing, you cannot go wrong. But this is not always the case. This woman's outfit is a classic example. Her khaki skirt is too long for her frame. The jean jacket is too short for the skirt and wrong for the high- necked top, and white socks and sneakers never go with a long skirt. My suggestion would be: A knee-length khaki skirt, a V-neck top, and jean jacket that hits the waist, with colored flats for a pop of color.
Lumber Jack
This man must be from out of town, because everyone who is from D.C. knows you do not wear flannel and heavy jeans in August in D.C. It is just too hot. I guess he realized that he did not have right outfit on for the very hot day and that is why he walked the streets of DC with his flannel completely unbuttoned and open. Next time he is in town, I suggest he bring a tee shirt and shorts.
Style King
The Streets of Georgetown party on Aug. 8 was all about "Old Fashion, New Look," and Kevin Gray got it right. He was edgy, yet sophisticated in his royal blue Zara blazer, light blue Alton Lange shirt, light tan Zara pants and skinny colorfully striped tie from Aldo. Whiskey brown Aldo shoes completed this strong look.
Menswear Gets A Feminine Touch
Adra Williams and Beth Webster are women who know how to get noticed at this men's clothing store event. Williams surprised us all in her men's Hickey Freeman jacket. She paired it with a wide black belt, black leggings and black heels by BCBG. Webster was super sexy in her red-hot dress from Banana Republic and red & white bowed heels from Nine West.
Master of Style
Patrick Leugers was dressed to impress at Streets of Georgetown's "Old Fashion, New Look" party. His navy blue Hickey Freeman blazer, white Polo pants, Brooks Brothers green and blue and white gingham shirt and brown Allen Edmonds shoes were on key with the night's theme. His look has timeless appeal.
Old School
Paul Beirne takes preppy to the next level at "Old Fashion, New Look." I love how he put together his navy Breuer blazer, blue and grey Hugh & Crye shirt with rolled Unis khakis and white old-school Tretorns. Now, this is some comfort with style!
[gallery ids="100947,130359,130333,130353,130348,130341" nav="thumbs"]
The Mad Men Crash Peacock Café
---
Madness about Town
Model and Blogger Baille Gelwicks was all glam in her Pinupgirl.com navy floral dress for the Man Men party at Peacock Café. Mike Lean played the part as well in his sharp black pinstripe Express suit. Mad Men, here they come.
A Double Take
We had to take a second look to make sure Megan Draper was not at Peacock Café. But, no, it was Fadmashion's Anastasia Lambrou. She was the perfect "look–a-like," dressed in a floral skirt from England, an off-white Zara jacket with vintage pin and Miu Miu shoes. The missing accessory was Don on her arm.
Martini Time
Kelly Carnes—aka Joan Harris—sizzled in a red bombshell Black Halo dress from Rent the Runway. Chris Meyer was ever so sleek in his 1960's inspired JoS. A. Banks black pinstripe suit, striped tie and fedora hat. Now, a toast!
A Psychedelic take
Just as the 1960s "Mad Men" period defined ultra-sophistication, this tie dye shirt and dirty, ripped, too tight jeans highlight a very different color of that same decade. We may need to send her to Sterling, Cooper, Draper, Pryce Advertising Agency for some style tips.
Pamela Burns, owner of Pamshops4you — a personal styling company.
[gallery ids="102456,121027,121036,121032" nav="thumbs"]
Fashion Fights Poverty Gala Goes Green, Too
---
The Fashion Fights Poverty Gala brought out the fashion conscious with top designers taking on the challenge of designing eco-friendly runway looks that wowed all in attendance.  "Eco looks" images of Birkenstocks and loose linen pants may pop into some heads, but the fashion world has come far in producing a multitude of luxurious fabrics that dazzled with bold colors and elegant textures.  Designers Seth Aaron Henderson (winner of Project Runway 7) and Luis Valenzuela showed off their wares. All of Henderson's looks of bold colorful patterns and snugly fitted 1950s-style silhouettes were made with renewable fabrics, and Valenzuela stunned with sexy corsets and edgy floor length gowns that incorporated recycled paper.  This fashion show proved that if you want to be considered truly fashion-forward, your garments must still make a statement without leaving a negative mark on the environment. [gallery ids="100738,121516,121497,121510,121505" nav="thumbs"]
Fashion Week: Berlin/ New York
---
FALL 2012 COLLECTIONS: MERCEDES- BENZ FASHION WEEK BERLIN IN FRONT OF THE BRANDENBURG GATE JANUARY 17-22; MERCEDES- BENZ FASHION WEEK NEW YORK AT LINCOLN CENTER'S DAMROSCH PARK FEBRUARY 9-16 [gallery ids="100507,118371,118378,118385,118391,118398,118405,118413,118419,118425,118432,118439,118445,118453,118460,118365,118358,118351,118494,118282,118487,118289,118480,118297,118475,118305,118312,118319,118325,118333,118339,118345,118468" nav="thumbs"]
Last-Minute Gifts & Stocking Stuffers
---
Attention last-minute shoppers: this is the gift guide for you! Stocking stuffers are usually the last gifts that we remember to buy and they usually consist of things like nail polish, socks and, if you're lucky, a piece of cheap jewelry. Make it fun for your friends and family to un-stuff their stockings this year with this gift guide. With presents this clever, they'll never know you bought them the day before.
[gallery ids="100427,114188,114127,114180,114172,114137,114164,114147,114156" nav="thumbs"]
Wedding Registry
---
For your wedding wishes this season, you'll want to go for a traditional interior style, mixed with exotic details. Think creamy white and strong colors, like coral, turquoise and yellow. We also love contemporary pieces in materials such as steel and glass. The bride and groom will want to be prepared for romantic dinners and fabulous dinner parties. Even more importantly, to be perfectly equipped for long, snuggly mornings in bed.
1. These classic Athena bed linens in luxe egyptian cotton are offered with monograms. YvesDelorme, $160-$590 a piece.
2. Diane von Furstenberg decorative pillow brightens up your bedroom or living room. Bloomingdales, $360.
3. Rivulets Bedding provides a romantic feel in the bedroom. Anthropologie, $68-$368 a piece.
4. Madeira Court four-piece set dinnerware, classic and fun for your everyday dinners, fancy enough for special occasions. KateSpade, $80 a set.
5. Vera Wang for Wedgewood "Love Knot" napkin rings for elegant table settings. Bloomingdales, $50 for 4.
6. Coral napkin rings put a fun twist to your classic dinnerware for fun summer parties. Amano, $125 for 4.
7. Voluspa Maison Blanc "Pink Citron" candle provides an intoxicating scent that really fills up a room. Bloomingdales, $22.50
8. Michael Aram candle fills a room with a delicious scent. Bloomingdales, $60
9. iPad 2 for reading the newspaper in bed on those lazy mornings. Apple, $499
10. Hartland bowls will make the plainest green salad look exciting. Amano, $155-$295 each.
11. Nespresso CitiZ and milk espresso machine lets you indulge in gourmet coffee every morning. Surlatable.com, $349
12. Occa nesting tables are elegant, yet cool, for the bedroom or living room. BoConcept, $529
13. Kitchenaid holds every function you could dream of, including looking super stylish on the kitchen bench. SaksFifthAvenue, $349
14. The Bose speaker system can fill your home with your favorite tunes. SaksFifthAvenue, $99
15. This citrus squeezer is a little piece of art for the kitchen that also makes juice. Alessi, $100 [gallery ids="100484,117197,117191,117185,117179,117173,117167,117161,117210,117153,117216,117221,117146,117226,117204" nav="thumbs"]
Graphic, Totemic Fashion
---
From Aztec to Navajo, spring fashion is witnessing the return of tribal
patterns. Look for these bold, graphic prints and the loud colors that compliment.
As cold weather gives way to warmth, these exotic looks remind
us that it's time to enjoy the outdoors. Here's how to wear them this season. [gallery ids="100597,100598,100599,100600" nav="thumbs"]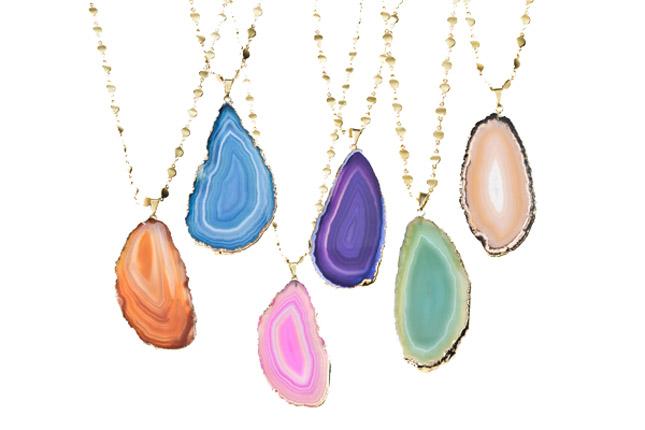 Georgetown Gathers Fashionistas
---
Georgetown fashionistas packed into Wink boutique yesterday for an afternoon filled with girls' best necessities- cocktails, shopping and a Troubadour trunk show.
The designer, Lindsay Carter, was on site and I was pleasantly (very very pleasantly actually) surprised she took time out of her busy schedule to show me her favorite pieces, (The Minetta dress and Poe skirt are obvious best sellers!). After viewing her collections, it is a no brainer that Women's Wear Daily named her Designer to Watch in 2009.
"I like to push the edge, yet stay within the boundaries," said Carter.
Sticking to her southern roots, Carter looks to the South, the City and the Sea when creating her vision of Troubadour.
"For me, each collection is a mood rather than an inspiration."
She must have been in love when deciding on clean lines and romantic ruffles for her fall collection, and sipping daiquiris on the beach when choosing bright (and fantastic!) colors for her summer pieces.
When stopping in for some retail therapy myself, I was not shocked to find many shoppers trying on the Sophia Romper in deep pool from her summer collection.
Next season, Carter will be expanding her line to add knit tops and other knockouts but will continue to produce great dresses fans love.
"Their easy. Throw it on, style it and walk out the door."
In these tough economic times, Carter recommends one thing- Vintage!
"Cut and manipulate pieces to make them your own. Or go into your husbands or boyfriends closet."
Or we can just go to Wink. Located on M Street below Steve Madden, Wink offers a variety of chic and eclectic clothes for all price ranges.
For more information or for your shopping pleasure, check out what Carter calls "southern goth sheik, yet reckless preppy," at troubadourclothing.com
BEHIND THE LENS AT FASHION WEEK NYC
---
At last season's Mercedes-Benz Fashion Week in New York, I was fortunate to get a photo of Vogue's big three: Anna Wintour, Grace Coddington and Tonne Goodman as they looked down the runway at Carolina Herrera's show. This season, I thought I would try and get Project Runway's big three: Michael Kors, Tim Gunn and Heidi Klum. So I took the Amtrak train at four in the morning from D.C. to New York hoping to catch the runway show at 9 a.m. I would have left the night before, but I was hosting an event with CUSP in Georgetown for FNO.
As tired as I was from not getting any sleep, I hoped the excitement would carry me through the day. After picking up my press credentials, I stood in line to get in for Project Runway. A few minutes before the show, the producers announced that only certain people would get inside. I wasn't one of them. It marked only the second time that I didn't get in a show that I wanted to see.
The next three days proved to be more successful. The highlight would have to be when Valentino walked in before DVF's show. He stood a few feet away from me and for a moment, I froze. You spend hundreds of hours standing and waiting at the press pit hoping to get a good photo. There are photographers literally sitting on your feet. It is far from glamorous. But when you have the opportunity to photograph Valentino, Anna Wintour, or Diane von Furstenberg as she passes out American flags on 9/11 after her show, you realize that it's all worth it.
Since 2007, Walter Grio has raised over $77,000 through his philanthropy photo project, Shoot for Change, which has benefited numerous nonprofit organizations. Additionally, he is a regular attendee at the world renowned Mercedes-Benz Fashion Week in New York and Miami. Four of his photographs were selected by Vogue Italia as part of their PhotoVogue collection. Walter resides in Arlington, Va.
[gallery ids="100302,107642,107637,107632,107627,107622,107617,107651,107612,107655,107607,107659,107602,107663,107597,107647" nav="thumbs"]