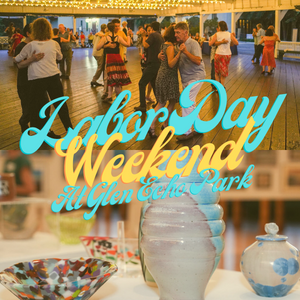 Labor Day Weekend at Glen Echo Park provides an incredible opportunity to immerse yourself in the arts!
The 52nd Annual Labor Day Art Show, running September 2-4 and held in the Spanish Ballroom, features the work of more than 200 artists from the mid-Atlantic region in varying artistic media, including sculpture, painting, drawing, ceramics, glass, jewelry, fiber arts, photography, furniture, and more. Come out on September 1 at 7:30pm for a special Opening Reception.
On September 2-3 in the Bumper Car Pavilion and Ballroom Back Room, the Social Dance Showcase will provide free opportunities to explore more than 15 different styles of dance! Enjoy live music, beginner lessons, and dances open to people of all skill levels. No partner required!
Please visit glenechopark.org/labordayweekend for more details including timing for the Art Show, a full dance schedule, food options, and more.