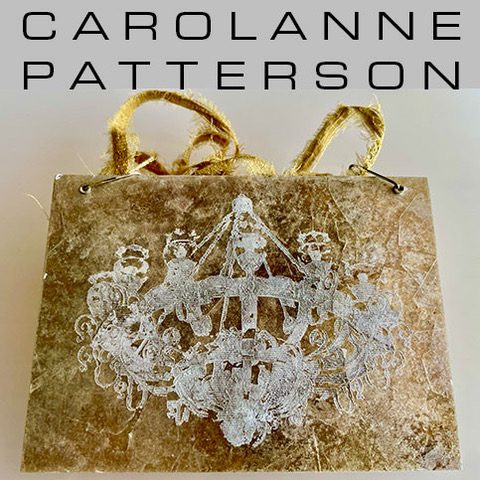 Jewelers'Werk Galerie is pleased to present Leaf People and Chandeliers, an exhibition of new work by artist Carolanne Patterson. The show opens on Saturday, November 12th with a reception to meet the artist from 1 – 4 pm and will remain on view through December 2nd.
This exhibition is a collection of necklaces, objects, and drawings that stem from Patterson's artist residency at the State Silk Museum in Tbilisi, Georgia. While there, she had access to the 19th and early 20th century photographic archives from the Caucasian Sericulture Station, a research institute for the study of silk. "I experimented with the process of laser etching photographs of the former institute staff on mulberry leaves collected from the Museum's garden and pressed flat. The mulberry leaf is the only diet of the silk worm. This led to a study of laser etching on various leaves with a diversity of images such as the 1970's Soviet-era chandeliers currently hanging in the Museum, and the stray dogs who occupy the streets of Tbilisi," Patterson recounts. Using a laser, she is able to etch a visible image onto a leaf that becomes almost transparent, adding an extra level of fragility to their existing delicacy. While Patterson's pieces appear as though just plucked from nature, the ethereal images reveal a sense of time, place, and history forged invisibly by modern technology.
Carolanne Patterson holds a BA in Art History from the University of Pittsburgh and a BFA and MFA in Metals from the State University of New York, New Paltz. She has won multiple prestigious international awards and exhibited worldwide. Additionally, Patterson has taught and lectured widely and currently serves as adjunct professor at the Rhode Island School of Design in Providence. She is based in New Haven, Connecticut and is represented by Jewelers'Werk Galerie.
The exhibition is open during gallery hours: Monday through Saturday 11 am – 5 pm or by appointment. Jewelers'Werk Galerie is located at 3319 Cady's Alley, NW in the Georgetown neighborhood of Washington, DC. It is the longest-running and only contemporary art jewelry gallery of its kind in the greater Washington DC area, where owner and industry veteran Ellen Reiben shows precious and non-precious works by international artist-jewelers. For more information, contact the gallery at 202-337-3319, or go to: http://www.jewelerswerk.com