WHAT: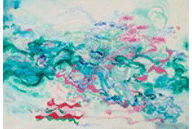 Collection Highlights Talk
Join the National Museum of Women in the Arts (NWMA) for Collection Highlights Talks. Drop in to these virtual tours to explore NMWA from home.
During this interactive, docent-led talk, participants will look closely at and discuss artworks from the museum's collection. Join in as often as you like—docents select the artworks, so tour content will vary.
WHERE:
Online. After registering, you will receive a confirmation email containing information about how to join.
WHEN:
Sunday, November 7, 2–3 p.m. (EST)
TICKETS:
Registration required.
PRICE:
Free. Donations welcome. Suggested donation $12.
MEDIA CONTACT:
Amy Mannarino, amannarino@nmwa.org, 202-783-7373
IMAGE CREDIT: Jiha Moon, Cascade Crinoline, 2008; Ink and acrylic on hanji paper, 41 x 59 in.; National Museum of Women in the Arts, Gift of the Georgia State Committee of NMWA; © Jiha Moon; Photo by Lee Stalsworth