If there are people that don't know Schwartz, that omission has been taken care of with the coming of her book "Quite a Life! From Defeat to Defeat … and Back."
One highlighted project was the Georgetown Health Justice Alliance, in which law and medical school students work together to help people living in poverty get access to needed health services.
The 21,000-square-foot library is the first in D.C. to be entirely planned, funded and constructed as a public-private partnership, according to Deputy Mayor Brian Kenner.
The plan would allow residents to park on both sides of the street, while out-of-zone parkers could only park on one designated side for two hours.
Presented by the Georgetown Business Improvement District, "Glow," Georgetown's exhibition of light art, will feature nine installations by local and international artists, with works lit from 5 to 10 p.m. nightly.
Blue Bottle Coffee, based in Oakland, California, will open its fourth store (Georgetown, the Wharf, Union Market) at the Metropole condominium building at 1515...
Each month, Evan Caplan speaks with a chef of a Georgetown-area eatery. In November, he chatted with Fanor Balderrama of Sequoia. Balderrama started his...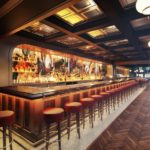 Rare Steak and Seafood opened at 1595 I St. NW, with a capacity of more than 300 people in the 10,000-square-foot, two-level space. And...