It looks like the beginning of an intense debate, from which there is no returning to a status quo where the outrageous activities of a Harvey Weinstein go unnoticed or are excused as locker-room normalcy.
Police say there are no apparent signs of foul play and that the cause of death is unknown.
A memorial service was held 11 a.m., Monday, Oct. 16, at Washington Hebrew Congregation.
Developers Monty Hoffman of PN Hoffman and Amer Hammour of Madison Marquette and Council member Charles Allen, among others, had devoted the past 10 years to creating the new Southwest D.C. neighborhood.
It is a weekend of legendary names: Jerome Robbins, Frank Lloyd Wright, Annie Proulx, Dizzy Gillespie and Leonard Bernstein — not to mention Johannes Vermeer.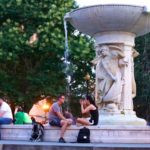 This weekend, D.C. residents and visitors can experience France (in an animated film), Sweden (in a musical) and Rhode Island (people-to-people).
Autumn is a celebratory season here in Georgetown, as locals and visitors alike come to the neighborhood to enjoy the scene before winter's bite...
Opening night for the Smithsonian's Craft2Wear Show is tonight, Thursday, Oct. 5, and it's also time for the Waterford Fair and the Solar & Green Home Tour.