Note: All submitted events must be approved before they appear in the calendar.

NMWA xChange: MISS CHELOVE
May 10 @ 12:00 pm

-

1:00 pm

EDT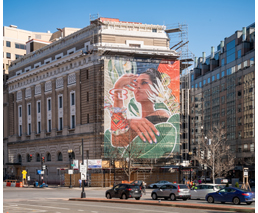 WHATNMWA xChange: MISS CHELOVEThe National Museum of Women in the Arts (NMWA) monthly talk show connects viewers to the museum and its mission to champion women artists. On this episode, Virginia Treanor, NMWA associate curator, Adrienne L. Gayoso, senior educator, and Hannah Shambroom, exhibitions coordinator, discuss NMWA's first installment of the Lookout project, a series of commanding public art installations on the exterior of the museum during its renovation. They will be joined by Washington, D.C.-based artist MISS CHELOVE, a.k.a. Cita Sadeli, whose four-story mural printed on mesh fabric, Reseeded: A Forest Floor Flow, is presented on the east façade of the museum's exterior through July 31. MISS CHELOVE's image of a woman immersed in botanicals native to the islands of Indonesia alludes to the resurgence of the natural world during the pandemic and the critical role of women in ecological activism.
WHEREOnline.
WHENTuesday, May 10, 12–12:45 p.m.
PRICEFree. Registration required. For more information, email education@nmwa.org.
ABOUT MISS CHELOVE (CITA SADELI)MISS CHELOVE is an independent art director, muralist, designer and illustrator. Her vibrant murals can be found throughout the D.C. metro area. Combining local and biographical storytelling with the tools and methods of graffiti and street art, MISS CHELOVE explores themes including women's empowerment, nature, Indigenous cultures and music.