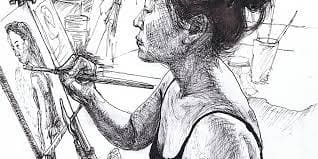 On the first day of class, students are expected to bring their materials and an example of their artwork to share. In this class students will draw people from life and photographs, we will focus on learning how to draw people and how to draw them realistically. We will discuss and learn to avoid the common pitfalls in this kind of work as well as learn to avoid or manipulate the 'uncanny valley'. Students will be expected to work on their own as assigned during the course on drawings started in class and assigned outside of class, and if they do so, they should expect to complete one self portrait, one portrait and three studies of hands and feet that are more realistic and superior in quality and composition to the work they were capable of when starting the class. By the end of this class, each student will have developed a regular sketchbook practice and have refined and improved their figure drawing ability.
Ages: High School Students – Maximum 8 participants
12 weeks – $480 Supplies not included (Please see list below)
To access the syllabus, schedule, and the materiel needed, please click here
To register, please click here
At the end of the course there will be an exhibition of students' work at the Georgetown Library!