Returning to Paint
By
July 26, 2011
0
1051
•
---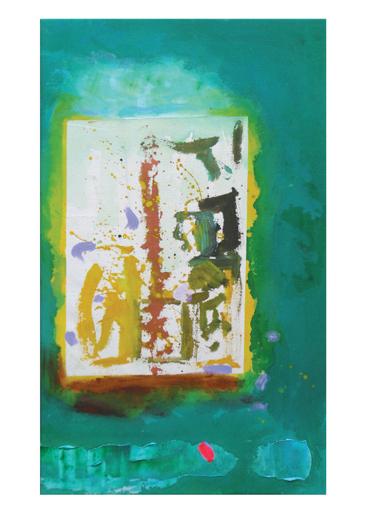 Inscape that has hints of the natural world as well as jewel-fragments is found in the work of Robin Kohlman Fried (Temple Emanuel, Art in HaMaKom, 10101 Connecticut Ave, Kensington, MD; Mon. – Thu. 2:30 -5, Fri. 9-4; though Sept. 30.) Although relatively smaller in scale than some of this artist's earlier work, these pictures seem done on a dare to create as wide an arc as possible in terms of color and composition. That Fried succeeds on her own terms in each picture is the result of her own gifts, but also a strong determination.
Fried seems fired up in each piece using every technique at her disposal to manifest a rich inner world. She speaks of a long hiatus in her working as a painter that is experienced by many who initially start out in adolescence and early adulthood to pursue a creative path. "I fully intended to keep painting when I first became a mother," She recalls, "but I had to give my complete attention
to raising my children. In my inner world I was an artist, even though I was no longer painting. I was seen by others as a parent and as someone active in the community."
What Fried did not do was stop looking at art and going to museums; her inner dialogue was kept alive through being in contact with art. What made her want to paint again was seeing all the new art work being made that was "over intellectualized…I wanted to affirm the aesthetics I value that seem ignored in much work today."
The works by Fried in this show are carefully made and manage that delicate balance between the heat of spontaneity and the coolness of the critical judgment involved in balancing color and composition. Her pictures have a sensuous attack on surface and pictorial space. There is also a use of collage elements, but Fried's craft is so secure that you often have to look hard to see the edges. Each work is separate in its achievement and what is especially noteworthy is the carefully achieved color. Fried is a terrific colorist, a quality that has to be inborn.
It is the freedom of the painting that triumphs in Fried's work. In "Glimmer Glass," there is temerity of purpose. "Secret Garden" is another work that is highly individualized with an exuberance of paint. Fried's work is a private inner world dared into the light of day.