Georgetown's Thai Village
By
September 26, 2011
0
1163
•
---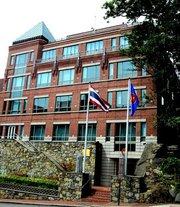 The Royal Thai Embassy will be bringing a Thai village to the center of Georgetown on Oct. 1, from noon to 5 p.m. There will be performances and exhibits of Thai regional demonstrations and traditional food and drink for the attendees. Admission is free, while food and drink will be for sale. All are invited to attend.
There will be various performances, such as a Muay Thai demonstration, long drum dance, Thai musical tunes using traditional instruments and a Thai fencing baton dance. These performances will be held on Grace Church's front lawn, which is across the street from the embassy.
Nipatsorn Kampa, a first secretary at the Thai Embassy, said there are going to be two types of Thai traditional performances available to see. One will be from the more mainstream style, originating in central Thailand, and the other one will represent the northeast region of Thailand.
"One of our purposes of holding this event is for cultural promotion. We want to reach out to the community, and that's why we are hosting the performances at Grace Church," said Kampa. "They are our neighbor, and we want to let the community know we are here."
While Grace Church will be hosting the performances on its front lawn, the embassy will be opening its first floor to present the various dishes. They have gathered the Northern Thai Association, the Thai Isan (north east) Association, Washington, D.C., the Southern Thailand Association, Washington, D.C., and the Thai Ambassador's Kitchen to provide the food dishes from the four respective regions of Thailand — North, Northeastern, Central and South.
Other activities will be taking place inside the embassy to acknowledge the ongoing relationship between Thailand and the U.S. There will be a drawing exhibit to show how American children look at Thailand, and their completed drawings and paintings will appear on display in the embassy. Chitaphan Barnes, a cultural project assistant working at the embassy, said there are many entries of drawings and paintings, and they have appointed judges to select the best content to display.
"They are still in the process of selecting the drawings, but they will be ready for the event," Barnes said.