The Duke Comes Home
By
November 3, 2011
0
831
•
---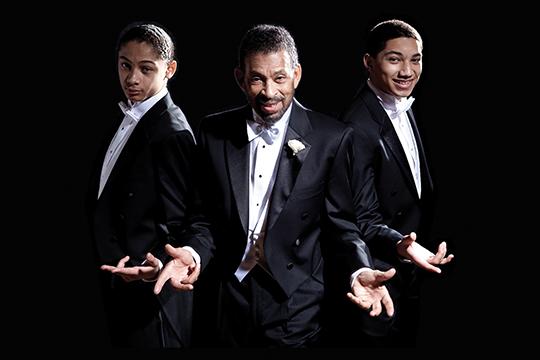 Serendipity is a word with a lot of letters and a lot of flavors in it. It's like a stew, a soup, an omelette, about things being brought together by luck, skill, chance, fate and nature itself.
There's a lot of serendipity going on in and around "Sophisticated Ladies," a big, splashy, stylish love letter to and about Duke Ellington, the man and the music, which commences its April 9-May 30 run presented by Arena Stage at the Lincoln Theatre at 13th and U Streets.
There'll be a lot of ghosts hanging about and rich memories on hand for many of the participants in this productions, not pale, silent, wandering ghosts, but the kind where women in sassy evening dresses and old bling and big heels sashay down a staircase, where the music is so rich as to make you swoon from the sweetness, where a man in a white tuxedo might sit at a piano like a royal person, and where you might hear familiar songs and the splashing of tap shoes on wood.
All of that.
Mostly, there'll be Duke Ellington, and he'll be everywhere in the building, where, downstairs in the old Colonnade, the Duke first started playing and getting known, and he'll be in the rest of theater, which first saw the light of night in the 1920s, and he'll be in the big mural and in the places where he used to live and he'll be for sure in all the songs that make up this musical paean to all things beyond category and the Duke.
The ghosts and memories will be there for choreographer Maurice Hines, who starred in the original Broadway production in 1981, when he joined his brother, the late Gregory Hines. They'll be there for Mercedes Ellington, the Duke's granddaughter, who also performed in the original production as a Juilliard-trained dancer alongside the great African-American dance diva Judith Jameson.
For that run, the neighborhood itself might just revert to what it once was: the place where Duke Ellington made his mark. That's what "Sophisticated Ladies" is all about, it's the Duke's life as a journey through songs, music and dance, as directed by Charles Randolph-Wright, based on musical direction by Mercer Ellington from the original show. "This is a joyous celebration of Duke Ellington and D.C.," Wright says. "Duke Ellington is D.C. This is where he grew up and where his career began."
"I'd never actually seen the Lincoln Theater until I got involved in this," Hines says. "It's a perfect place. You can feel the atmosphere. But I remember the original, too. My brother Gregory was the star of the show, I was trying out at the Kennedy Center, and things got complicated. 'You gotta get into the show,' he said. Eventually I did, and we performed together in it. What an experience."
Their father was a drummer, and he knew Ellington, who was by that time a "beyond category" American music legend. "I remember one time dad took us back stage and there was this man in a white tuxedo and a man was putting on a cape over him, and he was sort of above us and he looked down and saw us. 'Why, you must be the Hines boys, yes, you are,' he said, and it's one of those things you never forget."
Hines says that this was an opportunity to focus renewed attention on Ellington and his musical achievements. "I think we've kind of neglected his work in recent years," he says. "That's not right. His music is embedded in American culture, it goes beyond race, beyond everything."
Mercedes Ellington — her father was Mercer Ellington, who led the Ellington band and suffered from being under the blinding light cast by his father — was an assistant choreographer as well as a dancer in the original production. She serves as an artistic consultant on the Arena Stage production, often talking to the younger members of the cast about the life and times of Duke.
"For the longest time," she said in an interview, "I didn't know what to call him. My mother said, 'Don't call him grand-dad. Ask him.' So I did and he sort of looked at me, and said, 'Hmm, let me think about that." And finally he said, 'I'll tell you what, why don't just call me Uncle Edward?' He didn't want people to know he was old enough to have a granddaughter."
Mercedes Ellington often went on tour with the band, including the hugely popular Ellington visit to the Soviet Union. "We were in Leningrad and being trained in dance, it was wonderful for me to see the dancers there," she said. "He was absolutely mobbed by women everywhere he went. It was astonishing."
"I saw him before he died and he had all these flowers and cards in his room, from everyone — Sinatra, Count Basie, absolutely everyone. He had just about everything wrong with him but you don't imagine him not with us. I read about his death in the papers on the flight home."
"I'll tell you what he did," she said. "People stopped thinking about color, race, all of that, when they heard his music, when they saw him perform. He was sophisticated, he went beyond jazz, he composed symphonies, operas, great complicated wonderful pieces of music. He had style, great style, and he was a little vain, sure, but he had this way about him, this charisma. He made people think differently."
The song list for the show alone is enough to make you want to dance, swoon, swing: "Mood Indigo," "Take the 'A' Train," "I'm Beginning to See the Light," It Don't Mean a Thing (If It Ain't Got That Swing)," "In a Sentimental Mood," "Satin Doll" and "I Got It Bad and That Ain't Good."
Hines, in addition to doing the choreography, will perform too. He's never stopped cutting albums, performing, tapping, winning Tonys, doing "Happy Feet" with Earth, Wind and Fire, being Nathan Detroit.
"You know what tap dancing is about that," he said. "It looks easy. It's hard but it's as smooth as anything."
There are two young teenage boys in the cast of performers. It's not hard to imagine Hines remembering himself and his kid brother, when they were young, tapping out a beat on a floor, remembering the sound of four feet tapping. "Sure I do," he said. "I miss him every day of my life, I think about him all the time."
In a way, everybody will be there down on U and 13th at the Lincoln Theater, the people who walked the Colonnade back in the day, the Duke at the piano, the big band playing, fathers and daughters and granddaughters and all of that, those sophisticated ladies parading. There will be ghosts there, it will be all serendipity.
"Sophisticated Ladies" runs April 9 to May 30 at the Lincoln Theatre.