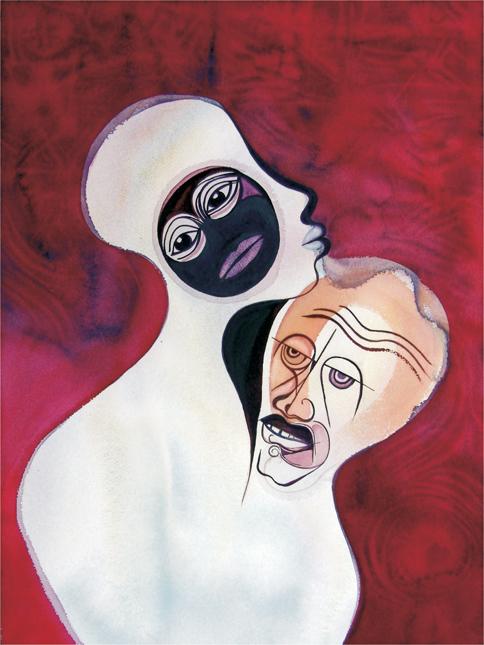 Born in Southwestern Nigeria in 1954, Tayo Adenaike, whose show "Faces and Emotions" opens June 18th at the Parish Gallery, recalls the looks he would get from his mother: "Depending on the occasion, her look could mean "Don't eat what you have been offered," "Get up and let's go," "Say yes," "Say no", or "Keep quiet." Every facial expression conveyed specific meaning and every visual admonition must be heeded. Failure on my part meant a long pull on my ear or strokes of the cane the minute we got back home.
"?jú róró ?a. I knew what it meant. These three simple Yoruba words translate as "Words come from the eyes," "Words are embedded in the eyes," "A face says it all," or "A face never belies the truth."…They all see some evocative strength in the expression. This interaction between my mother and me, made me realize how much more powerful facial expressions are, than loudly spoken words. Over time, I have also come to realize that facial expressions and unspoken words, can say a lot about the society we live in. Within these frames, I have tried to capture faces and the emotions – the unspoken words that they portray."
In Adenaike's work, the audience is privy to a surreal conversation unfolding on the canvas. The figures, vague, conjoined, defined simply by negative space, speak to each other in a language of reverberating expression.
A master watercolorist, Adenaike's backgrounds are a hazy atmosphere of dissipated symbols, stars, and full constellations, speaking towards a rich cultural tradition, perhaps muddled by globalization and the loss of ancestral knowledge. The dynamic faces among the figures, varying in detail and abstraction, recall the detached, languid repose of de Chirico, while simultaneously drawing upon the geometric harmony of the faces on antiquated Nigerian stone carvings.
There is also a certain melancholy and sobriety to the work, and not without reason. The human condition, one could gather from these works, is one of reservation and reticence. Says Adenaike, "I am not unmindful of my environment and the faces I see around me, as my country is about to celebrate fifty years of independence. Perhaps I should have painted the hopeful faces of us, as flag-waving children of fifty years ago, and not the adult faces we have grown into, with guarded emotions and veiled expressions."
It is a show with a strong voice. Adenaike is an artist with something to say, even if one can only hear him by using their eyes.
For more information contact the Parish Gallery, 1054 31st St., or visit www.parishgallery.com.