"Cosi fan tutte"
By
March 5, 2012
0
1089
•
---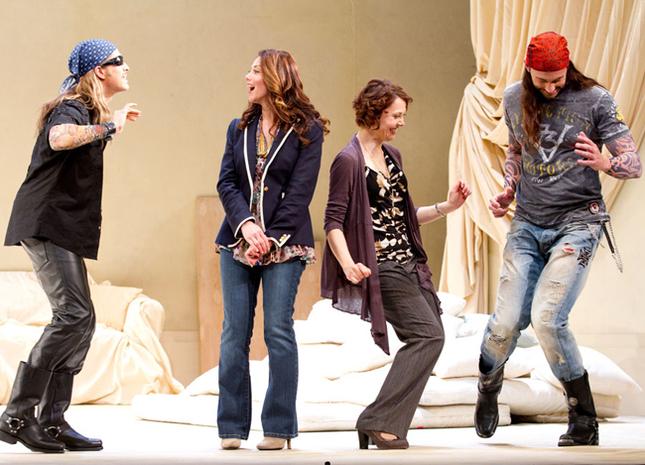 Wolfgang Amadeus Mozart's "Cosi fan tutte" is a tricky bit of masterwork. Plot-wise, the 1790 opera plays like a comedy, a kind of 1700s rom-com by way of Shakespearean comedy,clueless, frivolous couples playing games that turn out to have soul-searing consequences. Music-wise, Mozart indicates otherwise, there's a depth, lyricism and richness to the music that belies the seeming shallowness of the opera's protagonists. But then, that's Wolfgang, never letting an audience slide into mere buttery bliss.
The Washington National Opera production, now at the Kennedy Center's Opera House, directed by Jonathan Miller, is richly entertaining and rewarding, but also as unpredictable as romance itself.
Miller, who also designed the sets and costumes, tries to tackle this seeming contradiction in a most immediate way by contemporizing the setting, generally and universally in a more modern frame, and specifically, in what is supposed to be modern Washington, D.C. and beltway culture.
The result—in terms of Miller's concept—is a mixed bag. The beautiful, contemporary sets contemporize in a general way, providing an immediacy of the here and now, a vaguely modern setting for the wildly beating human heard counting up its bruises. The D.C. connection lies in reading the super-titles where you can find references to locations—where are these guys from? Manassas, McLean, Adams Morgan—or latte. These serve up some easy laughs for the locals, but doesn't make it a D.C. setting in time or space
"Cosi fan tutte" in this way becomes not so much a laugh riot, as a moving rueful, romantic comedy of errors, thanks to Mozart's music , the conductor Auguin and the superb cast, especially soprano Elizabeth Futral and baritones Teddy Tahu Rhodes and William Shimmell.
Shimmell performs Don Alfonso, a insistently cynical friend of two young military types, Ferrando (tenor Joel Prieto) and Guglielmo (Rhodes) who are engaged to sisters Dorabella (Renato Pokupic) and Fiordiligi (Futral). While holding forth on his belligerently held belief in the faithlessness of women. Don Alfonso, a dark, charming, elegant man of experience straight out of Fellini, persuades the two self-assured young men to participate in an elaborate game of impersonation in which their fiancées will betray them to prove his point. No way, Alfonso, say the swains, so cocksure in their loyalty of their lovers, and so confident in how their bright future will proceed.
In the game, the two men are marched off to war (in camouflage uniform and with the press in tow), and then return, unrecognized, as rather ragged biker-hippie types who look Wayne's World chic and who set about seducing each other's fiancées.
Futral's Fiordiligi—highlighted by an affecting , long aria in the second act—puts up the most resistance. Futral—used to holding a stage by herself for long periods by way of her frequent performances as Violetta in "La Traviata"—makes us see that something more than a trivial game is at stake here, there's real passion, frustration and conflicted feeling here.
Often, in the course of things, the characters join forces in soaring singing that's anything but frivolous—tenor, sopranos and baritones, opposing sounds, opposing motives, but all in tandem. Such occasions have real emotional power with a lingering effect on the audience.
Don Alfonso, you suspect, is a kind of Giovanni. He's performed with bitter elegance by Shimmel. His is the powerful, seductive, insistent voice of experience and he remains alone on the stage when all is said and sung.