Georgetown Voice Loses Newsroom, Students and Alumni Fight Back
By
May 3, 2012
0
1094
•
---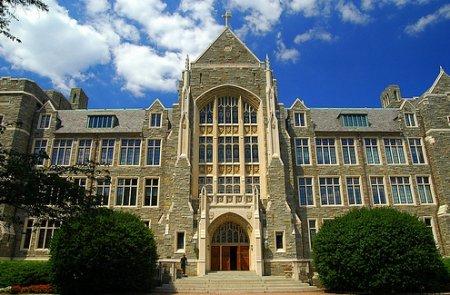 Student writers and alumni of the Georgetown Voice at Georgetown University are protesting school administrators' decision to confiscate their large newsroom, which will take effect today. The administrators are punishing the actions of two editors and a former staff member, who caused approximately $1,500 in property damages when they attempted to evade campus security during hurricane Irene.
"The Georgetown Voice violated the student organization office space use agreement and as a result must give up their current location," Georgetown University spokesperson Rachel Pugh told the Georgetown Patch. "They continue to have exclusive access to a different office space."
Many Voice writers and alumni believe that the entire paper is being treated unfairly as a result of the actions of a few members. 57 alumni signed an ad in the Voice asking the university to reconsider its decision.
"Moving The Georgetown Voice to smaller, inadequate office space penalizes the rest of the paper's staff, who were not involved in the incident, and jeopardizes the future of a critical University institution," the alumni wrote. "Taking away that space cripples the paper's ability to do the reporting that makes it an integral part of life on campus."
A Jan. 25 diversion hearing has been set for Eric Pilch, Sam Buckley and John Flanagan, the three students who were arrested for the damage on Aug. 28. The initial misdemeanor status hearing was held in D.C. Superior Court on Sept. 21.