Qn'A with Chef Mike Isabella
By
May 3, 2012
0
980
•
---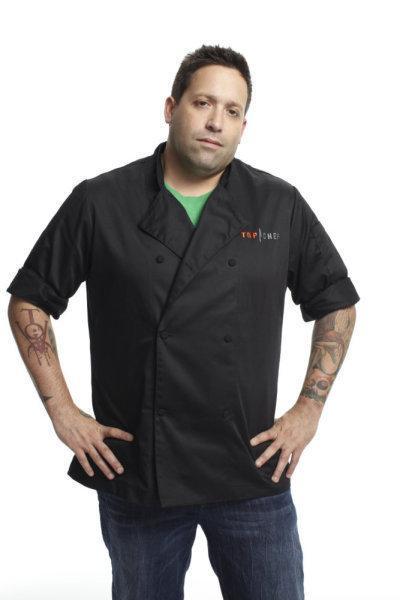 The name Mike Isabella has become familiar around the District. With an appearance on Top Chef and the opening of Graffiato, a popular restaurant in Chinatown, now under his belt, he's collaborating with Jonathan Umbel to bring Bandolero, a Mexican restaurant, to Georgetown. Bandolero will take over the space formerly occupied by Umbel's restaurant, Hook, on M street, which closed down after sustaining fire damage in June. Isabella hopes to have Bandolero open early next year. He took a few minutes to answer some questions about his new restaurant and his signature style.
Graffiato, your restaurant in Chinatown, opened in June 2011 and is still fairly new. What drove your decision to announce opening a new place so soon?
Well, the opening of Bandolero is still about five months away.
Why did you choose this location for Bandolero? Were you looking for a spot in Georgetown?
Yeah, I was looking for a place in Georgetown. I actually want to spread out all across the city. A lot of the restaurants in Georgetown are more upscale, so I just thought it would be a great location for this type of restaurant, more casual and catered more to the college crowd.
Hook was originally a seafood restaurant. What's behind the decision to go with Mexican cuisine for Bandolero?
That's my specialty. I learned a few things working with Jose Garces, the Iron Chef. And, you know, there are no Mexican restaurants really in that area. I just thought it would be a great fit, something different. Obviously I'm not going to do another Graffiato three miles away from my own restaurant. That doesn't make sense. I just thought it would be a great location for that concept.
Do you have any special dishes planned?
We're going to do the same kind of thing we're doing at Graffiato's, taking some familiar concepts and changing them around. We'll have lots of different types of tacos; we'll have a menu with lots of options. We'll be open late night, serving tacos and guacamole late. That's the way we're going, taking classics and reworking them, and just having fun with it.
Despite being a new restaurant, it's safe to say that Graffiato has been very successful. What would you say has been the key to your success in the restaurant business?
First of all, it starts with a really good team. I'm having a bunch of my guys coming back to work with me at Graffiato. My chef has worked with me before, my management have worked with me before, and we're going to be doing the same thing at Bandolero. I have some guys coming down from New York who used to work with me, some guys from Graffiato coming to help me out. I'll be making a lot of phone calls, asking some favors, and hopefully everything will fit together so we can do what we want to do and keep rolling.
When Bandolero opens, you will be running two restaurants at once. How will you juggle those responsibilities?
I actually just bought a Honda Ruckus scooter, and I plan on riding back and forth between both locations. You know, some days I'll be at one restaurant in the a.m. and lunch, some days I'll be there in the p.m., but I plan on being at both restaurants. At Bandolero, I'll probably be there about every day in the beginning; at Graffiato, maybe four to five days a week.
You've been a champion of fresh, locally grown produce. What are some of the benefits of using local produce in your restaurants?
You know, it just tastes better, and you have your own supply that you can grow, that can get stronger and better. I mean, it's the best product you can get. Am I going to get my local tomato which tastes great and works perfectly, or am I going to get it from California? Our meat and produce and everything like that will be as local as possible but, unfortunately, when it's out of season, things like tomatoes and avocados will stop coming in locally, and we'll have to go further out. But, I do plan on getting as much as I can done locally.