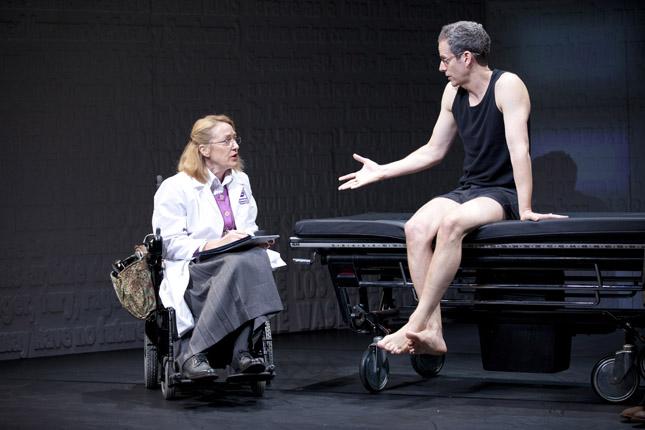 People forget. Larry Kramer won't let you.
There was a time in the early 1980s when gay men all over the country were dying at an alarmingly increasing rate of an unidentified disease which killed their immune system and no one seemed to notice.
Kramer, a gay writer and activist, noticed, because people he knew died, because the disease, invisible, undiagnosed, unresearched seemed to be all around him in New York. He wanted others—including his peers in the gay community who were living in what they thought was a free-love golden age—to stand up and take action.
In 1985, he wrote a play called "The Normal Heart," which debuted on Broadway and shocked the world in its chronicle of the early fight against AIDS, when the disease did not have a name and went unrecognized, devastating the gay community, but also already spreading outward.
It told the story of a Kramer stand-in, an abrasive writer named Ned Weeks and his friends, and his battle to make the world, the government, gays themselves see what was happening. Weeks is a hyperbolist, a man with apocalyptic tendencies, urgent, impolite, impolitic, insensitive, passionate and complete out of control and in focus in his crusade. "The Normal Heart" is the story of his battle, with and against his friends, including a closeted gay named Bruce, who is a banker and former Green Beret who wants to work from the inside. There's the embattled, ferocious doctor named Emma Brookner who first notices the diseases and some of its symptons, there's Ned's straight brother who tries reluctantly to help, there's Felix Turner, a New York Times fashion writer who becomes Weeks's lover and various activists, officials and victims to-be.
In 1985, the play startled New York and the country's audiences with its hard-driving, polemical and super-charged, dramatic style and also moved them.
Today, after millions of deaths, and almost 30 years later, a new production of "The Normal Heart" at Arena Stage (and after a critically acclaimed revival in New York ) has astonishing power. It seems as fresh as it was in its debut, perhaps even more so because time has worked its insidious ways by making people, if not forget, allow themselves a considerable distance from what remains a worldwide crisis.
The play—directed by George C. Wolfe—retains its power and gains some, too. You shouldn't be surprised if you notice, especially in the emotionally charged second act, that people around you are wiping away tears or sobbing, or for that matter, if you are, too. Mind you, there is not an ounce of sentimentality in this play: it's as clean as a knife to the heart. Kramer has taken care not to create martyrs or characters who are types. That unaffected uniqueness shows through especially with Weeks, who on the surface is the least likely person to lead a crusade, he's loud, driven, he hurts people without trying, and he has a desperate need for love. "The Normal Heart" is always about people in a moment of extreme crisis — they fight, they battle, they cling to each other, and they yell and shout and weep and cry out.
If need screams at government officials for not caring, Weeks is tough on himself and the gay community. "We've got to stop thinking we're just about sex. We're Michelangelo, we're DaVinci, we're Socrates and Alexander the Great, we're Keynes and Porter," he says. ". . . And we've got to stop doing this [casual sex]. We're killing ourselves."
No one thanks him for his observations.
Weeks display a combative style. Confronted with the prospect of love, however, he becomes a puppy who thinks he doesn't deserve his lover.
This production never lets up and when the disease draws closer, it grabs you by the throat and shakes you up—or in the street vernacular—messes you up. Bruce's lover dies and he recounts a harrowing experience to take him home to Arizona, the doctor unleashes a jeremiad against the government and medical community and Weeks's lover becomes ill.
Our hearts swell and crack in those moments. No one, I think, at that point can feel separate from the stage and the people on it.
In a host of outstanding performances, Patrick Breen as the combative, bristling, enraged and enraging Weeks is so kinetic that you start to feel toward him exactly as his friends and allies do. Luke MacFarlane as Turner has—like the character must—charm to burn until the bitter end when he himself is consumed. Patricia Wettig—of television's "Brothers & Sisters" and "Thirtysomething" fame among many credits—gives a blunt, brave coating to the doctor, in a wheelchair for most of her life because of polio—and her outburst in the second act inevitably draws cheers.
The play is performed against a background of a list of victims' names and headlines, which grows during the course of the two-and-a-half hour run—I spotted without trying Liberace's name. Suddenly, you remember where you were and where you are.
"I'm exhausted," a woman walking out said to her husband. "We all are, honey," he said.
Outside, there are portions of the AIDS quilt, which will also be on view in part at the Kennedy Center and will form a key part of the annual Smithsonian Folklife Festival this year. Outside, they hand you a missive from Kramer, which gives an update on the fight against AIDs.
People forget. We're lucky that Kramer hasn't.
"The Normal Heart" will run at Arena' Stage's Kreeger Theatre through July 29.