Georgetown Farmers' Market Now Open
By
June 12, 2013
0
709
•
---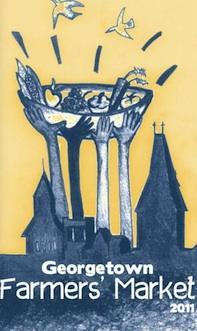 As of last week on Wednesday, May 4th, The Georgetown Farmers' Market is open for its 2011 season. Operating out of Rose Park, this will be the Georgetown Farmers' Market 9th year in operation. The market is sponsored by the Friends of Rose Park in cooperation with the DC Division of Parks and Recreation. The market is open from 3:00 until 7:00 p.m. every Wednesday (rain or shine) until the last Wednesday in November at the corner of O and 26th Streets, near the P Street Bridge.
The history of the market goes back to 2002, when the Friends of Rose Park began working on the details that would allow them to sponsor a small farmers' market in Rose Park during the week. The DC Department of Parks and Recreation, local ANC officials and the office of DC Council Member Jack Evans all supported these efforts, and it wasn't much time before the market was open.
The Friends of Rose Park provides a team of volunteers to help with the market. The market has been described as the best place to meet neighbors in Georgetown, and it is where the dog people, kid people, tennis players, and basketball players all converge once each week.
"We will have a good selection of vendors at the first market of the season with the number growing as the season progresses," said Leslie Wheelock, co-manager of the market. "Customers can expect to find farm fresh produce, meats, eggs, baked goods, quiches, fresh fruits, charcuterie products, jams, garden plants, flowers and dog treats."
The market is a traditional, producer market, with vendors selling what they grow. The market also supports vendors who utilize local foods to create baked goods and other offerings that can be incorporated into a light dinner (or mid-afternoon snack). So far this season, the vendors include:
Anchor Nursery: fresh vegetables, fresh cut flowers, plants
Quaker Valley Orchards: berries, honey, apples, peaches
Les Caprice de Joelle: paella, soups, quiche and other goodies
Mid Trees Farm: Fresh meat, eggs, herbs and dog treats
Magnolia Bread Company: a field-to-table Baker; new to the market this year.
Stachowski Brand Charcuterie: fresh and cooked sausages, cured meats, gallantines, terrines, and cold cuts; new to the market this year.
For more information visit RoseParkMarket.com