Who Lives Here Georgetown
By
October 17, 2013
0
9548
•
---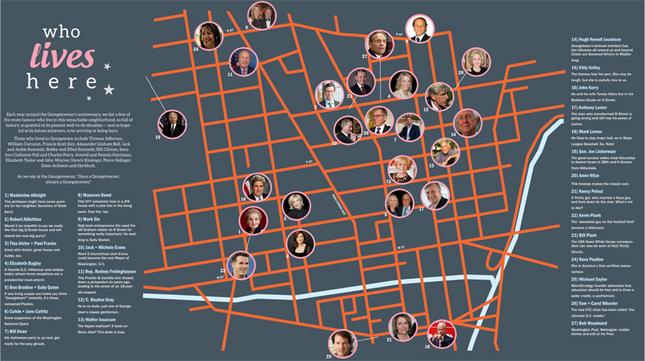 Each year around the Georgetowner's anniversary, we list a few of the more famous who live in this remarkable neighborhood, so full of history, so grateful of its present well-to-do situation — and so hopeful of its future achievers, now arriving or being born.
Those who lived in Georgetown include Thomas Jefferson,
William Corcoran, Francis Scott Key, Alexander Graham Bell, Jack and Jackie Kennedy, Bobby and Ethel Kennedy, Bill Clinton, Averell and Pamela Harriman, Elizabeth Taylor and John Warner, Henry Kissinger, Pierre Salinger, Dean Acheson and Herblock.
As we say at the Georgetowner, "Once a Georgetowner,
always a Georgetowner."
1) Madeleine Albright
This professor might have some pointers for her neighbor, Secretary of State Kerry.
2) Robert Allbritton
Would it be impolitic to say we really like that big Q Street house and will attend the next big party?
3) Tina Alster + Paul Frazier
Great skin doctor, great house and hubby, too.
4) Elizabeth Bagley
A favorite D.C. influencer and ambassador, whose home receptions are a presidential must-attend.
5) Ben Bradlee + Sally Quinn
If one living couple can make you think "Georgetown!" instantly, it's these renowned Posties.
6) Calvin + Jane Cafritz
Great supporters of the Washington National Opera
7) Bill Dean
His Halloween party is up next: get ready for the sexy ghouls.
8) Maureen Dowd
This NYT columnist lives in a JFK house with a juke box in the living room. Fear her, too.
9) Mark Ein
High-tech entrepreneur Ein used the old Graham estate on R Street for something really important: his wedding to Sally Stiebel.
10) Jack + Michele Evans
Ward 2 Councilman Jack Evans could become the next Mayor of Washington, D.C.
11) Rep. Rodney Frelinghuysen
This Procter & Gamble heir chased down a pickpocket six years ago, leading to the arrest of an 18-year-old suspect.
12) C. Boyden Gray
He is no dude, just one of Georgetown's classic gentlemen.
13) Walter Issacson
The Aspen Institute? A book on Steve Jobs? This dude is busy.
14) Hugh Newell Jacobsen
Georgetown's beloved architect has his influence all around us and beyond. Check out Boxwood Winery in Middleburg.
15) Kitty Kelley
The famous fear her pen. She may be tough, but she is awfully nice to us.
16) John Kerry
He and his wife Teresa Heinz live in the Bodesco House on O Street.
17) Anthony Lanier
The man who transformed M Street is going strong and still has his sense of humor.
18) Mark Lerner
He likes to play major ball, as in Major League Baseball. Go, Nats!
19) Sen. Joe Lieberman
The good senator walks most Saturdays to Kesher Israel at 28th and N Streetsfrom Hillandale.
20) Anne Nitze
This hostess makes the classic cool.
21) Nancy Pelosi
A Trinity gal, who married a Hoya guy, and lives down by the river. What's not to like?
22) Kevin Plank
The "sweatiest guy on the football field" became a billionaire.
23) Bill Plant
The CBS News White House correspondent can also be seen at Holy Trinity Church.
24) Nora Poullon
She is America's first certified restauranteur.
25) Michael Saylor
MicroStrategy founder advocates that education should be free and is three a sailor (really, a yachtsman).
26) Tom + Carol Wheeler
The new FCC chair has been called "the ultimate D.C. insider."
27) Bob Woodward
Washington Post, Watergate, insider stories and still at his Post.