Joseph Abboud's All-American Summer
By
January 17, 2014
0
2579
•
---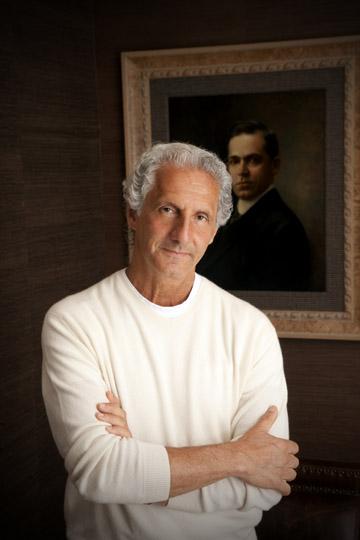 Ten years after parting ways with his namesake brand, Joseph Abboud is as busy as ever—charting new retail concepts, suiting up presidential candidates, dressing NBC's Olympics broadcast team and power-dressing Washington players at his one-year-old Streets of Georgetown store.
"If I put a blindfold on either of you, and I helicoptered you in and dropped you in a mall somewhere in America, you wouldn't know where you are," said leading menswear designer Joseph Abboud, whose companies' suits have been worn by both President Barack Obama and Republican challenger Mitt Romney. "That's the problem with retail in America. It's too homogenized."
Though it is fewer than 50 days from the general election, Abboud was not discussing politics. He was talking about his latest retail concept in men's clothing stores—Streets of Georgetown—which created a major buzz when it opened its Wisconsin Avenue doors a year ago. And the buzz continues. The store's focus on luxury tailored menswear has made it a destination for people seeking the best service and product for the best price. Abboud, who began his career as a salesman, has a deep passion for retail, and he delights in talking about the Streets concept.
Abboud is best known for his contemporary design interpretations on traditional menswear. Beginning as director of merchandise at renowned Boston department store, Louis Boston, Abboud worked at Ralph Lauren in the early 1980s before launching his own line in 1986. Now, as chief creative officer at New York City-based HMX Group, the largest producer of tailored menswear in the country, Abboud enjoys updating historic American brands, such as Hart Schaffner Marx and Hickey Freeman, for a new generation. You saw his suits on everyone this past summer—from NBC's announcers covering the London Olympics to Romney at the Republican National Convention. On top of that, Abboud is working hard on new projects, including a revitalized Argyleculture brand with hip-hop mogul Russell Simmons.
The Streets concept is to provide a shopping showcase for HMX's different menswear brands under one roof. HMX—which also owns the Bobby Jones, Sansabelt and Ivanka Trump labels—does the majority of its business in department stores. The company sells approximately 750,000 suits a year. Abboud wants to create a retail experience totally distinct from a department store or a mall.
Currently, the only other Streets store is in Beverly Hills, Calif., Streets of Beverly Hills. HMX Group plans to open another Streets location in Chicago after it closes the Hickey Freeman flagship there.
To make each store special, Abboud is keen on tailoring the store to its location and its clientele. "As you open these stores, you have to use them as sort of laboratories," he said. Streets has been carrying small runs of exclusive products, just to see how the market responds to them. "Interestingly enough, the customer responded to our higher-priced product," he said.
The goal of Streets of Georgetown may be to get more Washingtonians in HMX suits, but Hickey Freeman is already a popular brand among politicos. "Politicians, we say, they buy sincere suits," Abboud said.
The salespeople at Hickey Freeman on Madison Avenue were quick to run down a list of names. "My colleague, he dresses Rick Lazio [former U.S. Representative from New York]," said Ines Hyun, a sales associate at the store. "The senator from Nevada, Harry Reid, he comes in here once a year, twice a year. Mitt Romney has been coming here for the last ten years. Since he's so famous, now we go [to him]."
Stephen Pindar, another sales associate, dressed Romney when he ran for the Republican nomination in 2008. "Now, he chooses something that's a little more of an off-blue color, this kind of color," said Pindar, pointing to a medium dark blue shirt. "Not a navy blue, but he prefers something that's a little more of a medium blue, a softer blue."
Of course, Abboud delights in seeing his designs on both presidential candidates. "They're both tall and lean and, you know, the interesting thing is that Obama wears Hart Schaffner Marx, and the governor wears Hickey Freeman," he said. "We're politically correct, whether we want to be or not." Obama wore a Hart Schaffner Marx tuxedo for his inaugural balls in January 2009.
The suits are perfect for politicians, given that they are made in American factories. "We're all trying to protect American icons, American jobs," said Abboud. "It doesn't matter whether you're a Democrat or a Republican. Those are important things. You know, it isn't appropriate for the President of the United States to be wearing a suit made in Italy."
That concern by politicians proved invaluable last month, when New York Democrats, Sen. Chuck Schumer and Rep. Louise Slaughter, helped to secure additional lines of credit for HMX.
As more American manufacturing has been lost overseas, American-made products are finally starting to have a resurgence among a growing number of consumers looking to support American jobs. This summer, Abboud had his biggest opportunity yet to argue that made-in-America is best.
In July, many Americans were outraged when they learned the U.S. Olympic Team would be outfitted in Ralph Lauren uniforms that were manufactured in China. Sen. Kirsten Gillibrand, D-N.Y., introduced a bill to ensure that future teams' uniforms would be made in the U.S.A. Senate Majority Leader Harry Reid suggested that the Olympic Committee "burn [the uniforms] and start all over again." Doug Williams, CEO of HMX Group, offered another solution. Hickey Freeman, at its factory in Rochester, N.Y., could manufacture new uniforms for the entire team before the opening ceremonies in London, then only two weeks away.
Cutting, sewing and tailoring uniforms for 539 athletes in only two weeks sounds like a tall order, but for HMX Group it would have been anything but. The apparel conglomerate employs a small army of workers in factories in Chicago, Rochester and Toronto.
The team ended up keeping the original uniforms, but viewers watching the Olympics still saw plenty of Hickey Freeman designs on Bob Costas, Matt Lauer and Pat O'Brien. All of NBC's on-air presenters were outfitted by Hickey Freeman. Abboud has worked with NBC anchors since he began dressing Bryant Gumbel for the Today Show in 1988.
"I know how to offer them the things they liked. So, they've always felt comfortable, and they've trusted me," Abboud said. "So, that's why I think the networks have always come back to me. They say, 'Would you do it? Because our guys want to work with you.' "
In addition to dressing TV news anchors, Abboud frequently recruits sports figures to market his lines. New York Yankees first baseman Mark Teixeira served as spokesman for Hart Schaffner Marx in 2008, and Sean Avery, the recently retired left wing for the New York Rangers, was the face of Hickey Freeman's spring-summer ad campaign. In recent years, Avery has made a foray into the fashion industry by interning at Vogue and serving as a guest judge on Lifetime's "Project Runway: All-Stars."
To Abboud, Avery represents a new menswear consumer, the likes of which have boosted market sales over the past few years. "You know, guys love clothes," he said. "It's really funny. There's always been this sort of taboo. You don't want to be, you know, too interested. Those things are all gone, and guys now are starting to know about it. There's more information on the Internet. They want to know about heritage brands."
In this stage of his career, Abboud is eager to share his knowledge with young men and believes he's been focused on his role as an educator. "I've thought that I was a teacher more than a designer, because I always wanted to teach," he said. When he graduated University of Massachusetts Boston in 1972 with a degree in comparative literature, he originally wanted to be a teacher but instead took a full-time sales position at Louis Boston.
Getting a well-positioned storefront in Georgetown was half the battle to get the brands to younger customers. Inside, Streets of Georgetown is sophisticated, not stuffy. The store's salesmen are hip and extremely knowledgeable about men's style. Abboud holds them in high regard. "They're kind of like emissaries," he said. "They're spreading the word."
For Abboud, updating HMX Group's brands for younger consumers while preserving the company's traditional roots is his most important role. "There's a discipline to the brand DNA," he said. "Knowing how to stretch it but not breaking it or going outside of it." This strategy should come as no surprise. Abboud's style has always been on the more progressive side of traditional menswear. He started his own line in 1986, because he felt boxed in by the status quo at Ralph Lauren, where he was associate director of menswear design. At Hickey Freeman, he's introduced slimmer silhouettes and subtle European details on jackets like ticket pockets and double-vents.
"He comes out with a nice soft shoulder, you know, patch pockets, and he also likes to use really, really fine fabrics," said Hyun, the sales associate at Hickey Freeman's Madison Avenue store. "Hickey Freeman needs to go fashion-forward a little bit. Joseph is introducing us to a younger generation. So, that's where I think he comes in. It helps us a lot."
Abboud's design philosophy at HMX Group may be best explained in a portrait of Hickey Freeman co-founder Jacob Freeman on the wall of Abboud's office. "I had him framed in cashmere, and he always looks over my shoulder so I do the right thing," said Abboud, who considers working for these legendary American brands "an unbelievable privilege."
Inside Streets of Georgetown, the tools of the trade are on display. Spools of thread, bolts of fabric and sketches of suits evoke the bespoke tailoring and hand-made quality of the store's luxury goods. On the second floor, photos feature architectural highlights of Union Station and other D.C. landmarks. The space is remarkably similar to Abboud's office on Park Avenue in Manhattan, which has a view of the statue of Mercury which graces the exterior of Grand Central Terminal. Both spaces have been furnished by Restoration Hardware.
"I have a really good relationship with them," Abboud said of the home furnishings retailer. "I love it, because it has this sort of French boulevard feel to it. I love the color pallette. I love the distressed woods. They do a great job."
Like HMX Group, Restoration Hardware is exploring a new retail concept to attract new customers. Since 2010, it has begun opening new, larger-than-life flagship locations dressed up with in-house flower shops and valet parking. In Boston, the houseware company has leased the historic former New England Museum of Natural History, a 40,000-square-foot building built in 1863. "They're forcing a customer to look at life with a more sophisticated taste level," Abboud said. "I like that."
Apart from vacationing on Nantucket, gardening, and cheering for the Boston Red Sox at Fenway Park, the 62-year-old designer recently bought a property in Chestnut Hill, Mass., and is working "with some folks from Restoration Hardware to do some cool stuff with it," he said. "[The building] was built in 1887, the same year that Hart Schaffner Marx was established."
With all of his work, it doesn't seem fair that Abboud's name doesn't even appear on the labels of his current designs.
"There's no celebrity aspect to this thing," Abboud said. "Everybody's a celebrity today. It's much more about being proud of your work. . . . The greatest accomplishment for me is to see someone who doesn't know who I am buying something I designed and walking out of the store and being very happy about it."
"So, that's, for me, what I've done my whole life—be proud of the work I've done . . . try to do the best for my customer. You know, you can't ask for more than that."