Nails Chic: Personalized Care from Hand to Toe
By
June 20, 2014
0
1401
•
---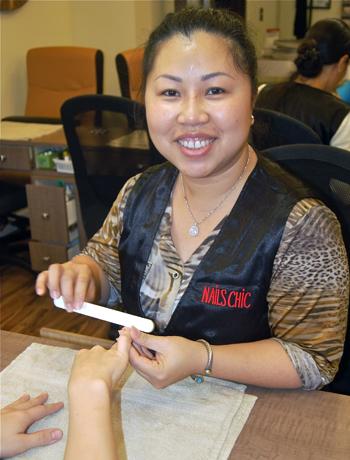 Hidden above a Wisconsin Avenue yoga studio, unbeknownst to many, is another oasis of relaxation.
Since November 2012, Nails Chic has offered nail care and waxing services – from the classic manicure and pedicure to a paraffin foot treatment – to Georgetown residents, business people and students. Though the name says nails, the salon offers 16 types of waxing services for both men and women. Prices start at $8 and go up to $60.
The quaint salon features exposed brick and an excellent view of one of Georgetown's main avenues. Lining the far wall is a row of plush massage chairs to further pamper customers getting a pedicure.
Owner Linh Nguyen is an expert in the art of nail care. Born in rural southern Vietnam, she immigrated to the United States at 17 and immediately began her career in the nail industry in Texas. Two years later, she moved to northern Virginia with her husband. With over 13 years of experience under her belt, Nguyen was encouraged by her business partner to open her own salon in Georgetown in 2012, just a year after her daughter was born.
"I love D.C. The people are so nice here," said Nguyen.
Nine months after the salon opened, her business partner pulled out, leaving Nguyen to manage things on her own. Instead of closing her doors, she chose to continue to provide a variety of nail services to the Georgetown community.
Customers can choose from Nails Chic's large selection of OPI, Essie and China Glaze nail polish. The salon's most popular service, a gel manicure priced at $35, lasts at least two weeks and is resistant to chipping and fading.
"The gel is good for busy people because it lasts long and the customer doesn't have to get their nails redone as often," Nguyen said.
Just a short walk from Georgetown University, Nails Chic offers a student discount, and many students frequent the salon, according to Nguyen. To give the business people of Georgetown an opportunity to relax after a long workday, she keeps her store open until 7 p.m. Monday through Saturday (when it opens at 10 a.m.). It is also open Sunday from 11 a.m. to 5 p.m.