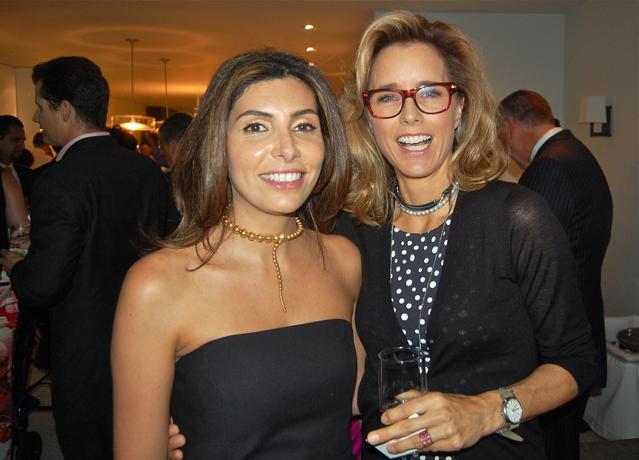 Actress Tea Leoni — a UNICEF ambassador and star of the upcoming CBS drama, "Madam Secretary" — headlined a June 5 fundraiser, hosted by Samar and Will Langhorne at their Georgetown home to benefit UNICEF's education programs for Syrian children.
Leoni spoke movingly of her visit to the Za'atari camp — the world's second-largest refugee camp — in Jordan during an interview with Lynn Stratford of U.S. Fund for UNICEF at the Langhorne home.
For Samar Langhorne, the benefit was personal. Her father was in a Palestinian refugee camp, she told the crowd, and got an education through UNICEF. She, herself, lived in a refugee camp for a time.
Displaced by the civil war in Syria, many Syrians have gone from a well-to-do life to living in a box on the street, Leoni said. At the refugee camp in Jordan, she was struck by the amount of children — "70 percent under the age of 11." There, "the teenage boys are angry," she said. "There is no life."
"Getting kids back in school is urgent," she said. "There has to be a safe place for children. … We are looking at the potential for a lost generation. … These children may grow up without a country."
As the humanitarian crisis in Syria enters its fourth year, children continue to be the most vulnerable. According to UNICEF, "the conflict has affected 5.5 million Syrian children, including 1.4 million children living as refugees in the surrounding countries of Jordan, Lebanon, Turkey, Iraq and Egypt."
The one uplifting about the crisis is that "the partnerships are wholly impressive," Leoni said. She was including, of course, UNICEF — her grandmother was one of the co-founders of the U.S. Fund for UNICEF. Leoni has been a UNICEF Ambassador since 2001 and a national board member of the U.S. Fund for UNICEF since 2006. UNICEF stands for United Nations Children's Fund, formerly United Nations International Children's Emergency Fund.
We will be seeing a lot more of Leoni in D.C. this fall — at least on television. As a actress, Leoni will be in a lead role that is decidedly Washingtonian. She plays the Secretary of State in "Madam Secretary," a new CBS drama, set for a September debut.