Mission Hills Resorts: Mainland China and Hainan Island
By
June 27, 2014
0
2005
•
---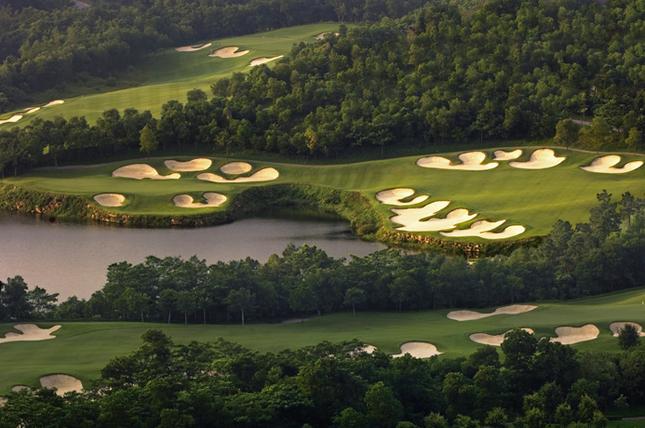 Whether your arrival is straight from a knee-crunching, 20-hour airline experience or a shuttle over the border from the space-starved city of Hong Kong, the welcoming 20 square kilometers that comprise the world's largest golf resort at Mission Hills promise plenty of leg room, long irons and lady loopers. Mission Hills Dongguan and Shenzhen edged out Pinehurst in 2004 for the Guinness Book of World Records honor, boasting a total of 12 championship courses. Combine these with the ten additional courses located at Mission Hills Haikou Resort on Hainan Island, and you can see where an eight-day trip there might be an option-wrenching experience for a golfer. No one has expressed anything like real sympathy for me as of yet.
I played my first round of nighttime golf — readily available at all Mission Hills Resorts — at Dongguan. It turned out to be an eerily cool way to deal with jet lag. Time became confusing while sleepily wandering around the fluorescent-filled fairways, sporting oxygen-deprived swollen ankles. Golf balls began resembling Atari asteroids as they rocketed from my clubs and disappeared off screen.
Having arrived skeptical as to how a resort could uniquely differ from so many neighboring golf tracts, I left overwhelmingly impressed. The thick forest-lined Norman course weaved in and around the Mainland China Hills and was probably the most challenging course at Dongguan. The meandering layout promoted solitude, and my inability to speak Mandarin prompted a fun practice of miming out shot intentions to my caddie. Knowledgeable caddie notwithstanding and appreciated, I very much enjoyed playing by myself and will remember this quietly pleasant Norman walkabout for some time. The number of sand traps on the famed Olazabal Course necessitate the creation of greenside outdoor showers and a name change to "Playa Del Iraq," but make it an outstanding test of shot placement skills.
Mission Hills Shenzhen, a short shuttle away, was no less expansive or inviting. While waxing golf is something I am partial to, no account of time spent here would be complete without addressing the magnitude of activities besides golf that are available to the "golfed-out" and non-golfer. If world-renowned spas, eco-friendly trail hikes, curvy swimming pools or optical illusionary "Trick-Eye Museums" become old hat, guests can go buy new ones in Hong Kong. Culinary possibilities featuring Chinese, Japanese, American and Korean menus are available in venues, ranging from your bed to private dining rooms. A golf course science and technology museum is available for kids (and held my attention), while life-size dioramas espousing resort responsibility for green and responsible growth are educational and captivating. Just walking through the grand ballrooms is fun. Visiting celebrities have all left cement handprints in walkways throughout the grounds, and finding your celebrity match is a popular pastime. Algebraically, I learned that: My Hands < Nick Faldo's Hands < Yao Ming's Hands.
It was a special treat to play a Pete Dye course in China, where the trademarked railroad-tie designs came complete with the exotic three-noted chimes of emerald doves overseeing play. The highlight round of Dongguan and Shenzhen was the World Cup Course, designed by Jack Nicklaus. Made famous when Fred Couples and Davis Love III won here in 1995, it remains one of the most famous courses in China. I flew into Mission Hills Haikou on Hainan Island, having no idea what to expect, and I was wowed all over again. Hainan Island is generally referred to as the "Hawaii of the East," as it has the same tropical climate and volcanic rock. I was even necklaced with a flowered lei upon hotel arrival. Mainland Chinese flock here for the relaxed attitude and recreation it provides. The golf courses I played at Haikou were unbelievable. The Blackstone Course, which hosted the exhibition match between Rory and Tiger last October, featured a contrasting trio of lava rock, white sand and green grass in a sharpness that I have never seen before. International awards and competitions litter its pedigree. If Blackstone were the heavyweight, then the Lava Fields Course would be a barroom-brawling cousin. These two courses were more alike than any others I played at Mission Hills, and this was not only forgivable but desirable. I saw the sun rise at Mission Hills Haikou from the Blackstone Course my last day because I had to play it a second time. The amenity base at the Haikou Resort already surpasses anything I have ever seen at a golf resort, and future expansion plans are no less promising. A Lan Kwai Fong shopping, dining, and concert venue to sister the existing one in Hong Kong is set to deliver late this year (think East Asian Times Square), and an entire movie-themed town is also just wrapping up. Hyatt and Hard Rock are under construction. Mission Hills may have most of its golf courses situated, but the Mission Hills brand is just getting underway. Home to the world's largest spa and mineral springs, the resort is also the largest tennis facility in the world. The vast real estate holdings that make all of this expansion possible could hide a million people, and yet it would not feel crowded. If you want to feel crowded, you can visit nearby Haikou City. Not only did I wander off campus to do this, I even undertook an evening "Hainan Impression" show, showcasing the history of the island. A seafood dinner expedition in town allowed me to pick out whatever I wanted to eat from hundreds of fresh seafood tanks. There are more than 600 golf courses in China, and that number is growing monthly. The sheer numbers associated with the breakout of the Chinese upper middle class is something the world has never seen, and the number of golfers there are predicted to eclipse their American counterparts inside of ten years. Mission Hills Resorts will be there to cater to them, and a family or group trip to China to experience them will round out any American golfer's resume. The inability to portray the monumental number of experiential possibilities available to me on this trip in a single column leave me no choice but to leave you with this simple directive: Google Mission Hills, and go there. I definitely will be going back soon. [gallery ids="101775,141125,141128,141134,141138,141149,141146,141142" nav="thumbs"][gallery ids="199181,199182,199183,199184,199185,199186,199187,199188" nav="thumbs"]