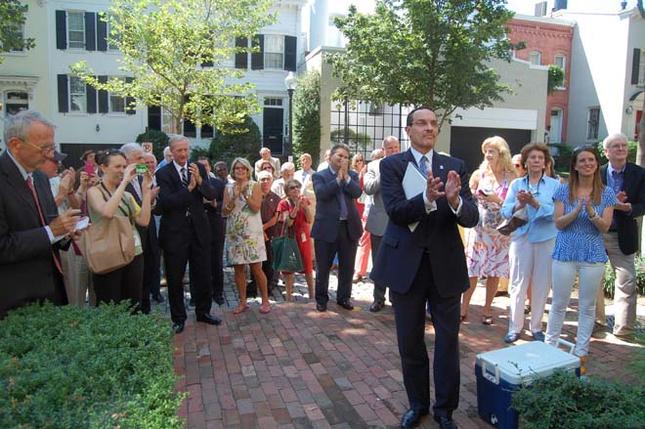 With love and appreciation, Georgetown leaders gathered on P Street Aug. 16 to thank Timothy Downs for his safety efforts during the reconstruction of O and P Streets on the west side of town as well as years of service to Washington, D.C., and its oldest neighborhood.
Downs, who is battling cancer, is too sick to venture outside his P Street home to meet neighbors, construction workers, business persons, administrators at Georgetown University, members of the Citizens Association of Georgetown, local politicians and the Mayor of Washington, D.C., who wanted to thank him. So, just before noon, they stood in front his house and saluted Downs for his community work.
Perhaps a touch taken aback but happy to see everyone, the humble Downs said, "What did I do?"
Led by the Advisory Neighborhood Commission 2E and the citizens' group, where Downs's wife Barbara served as president a little over 10 years ago, the well-wishers offered a certificate of thanks, which was read by Mayor Vincent Gray:
"As the historic restoration of Georgetown's O and P Streets nears completion, we recognize and honor Tim Downs for his constructive leadership and engagement in this and many other community projects in Georgetown. With his customary cheerful vigilance and generous spirt, Tim guided the community toward a restoration project for O and P Streets that met the community's concerns for safe navigation on the streets and sidewalks while at the same time meeting the highest standard of historic preservation. The Georgetown community and the many visitors who come here to enjoy the community will benefit from Tim's involvement in this restoration project for years to come."
Gray then remarked one of his executive powers included the ordering of proclamations: "I proclaim today, Aug. 16, 2012, Timothy Downs Day in the District of Columbia."
It was a scene, both sweet and bittersweet, with a thankful crowd that showed anew what makes Georgetown so special.