Easton's Bartlett Pear Inn: Food Fit for Romance
By
January 29, 2015
0
1410
•
---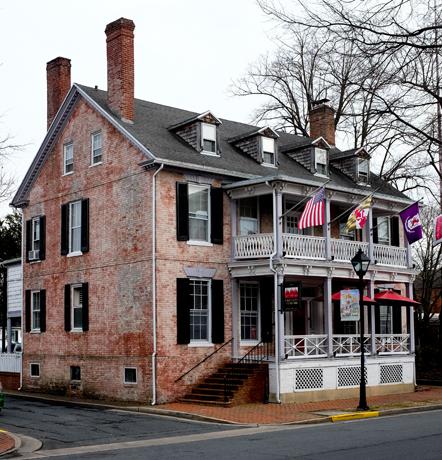 We've been married just a few months and reality got in the way of any sort of honeymoon – unless a quick trip up the Hudson Valley to meet the in-laws counts (it doesn't). Romance for us has come in bits and bites, counted in hours snatched between deadlines and page designs.
What counts as a getaway for us is calling ahead to Moby Dick's in Georgetown, stuffing down a sandwich, then running over to the Loews 14 for an action flick or settling in for an episode of "Bewitched" on Amazon.
When the opportunity to find a romantic B&B getaway for a 450-word story came up, my wife and I pounced. We shortlisted our choices based on several criteria: driveable in a couple of hours, a million cosmic miles away from our day-to-day grind, great food and a bathtub big enough for two.
A couple friends pointed us to Easton, Md., and Alice and Jordan Lloyd's Bartlett Pear Inn on Harrison Street, said to be the ideal place to catch our breath and shake off the city. In less than two hours we were there.
Walking around the sleepy town a bit to get a sense of things, we stopped at an antique shop across the street. A nearby drugstore and soda fountain seemed straight out of the 1950s.
Then, making our way past a giant ceramic pear in the garden, we walked into the Inn. A quick look at the menu, and we quickly realized that the 30-seat restaurant on the first floor was the heart of the place and – as it turned out – the perfect place for the perfect meal.
The laid-back co-owner and chef Jordan Lloyd explained the restaurant's holistic focus. "We try to incorporate our passion for all things fresh in everything we do: local, natural, wholesome. This philosophy allows us to stretch our imagination across all aspects of our business. Without the help of our local farmers, dedicated teammates and supportive families, we wouldn't be who we are."
Taking him at his word, we put our faith in the expert waitstaff, who guided us through the menu and wine choices. I tried the lamb loin, made with a light yogurt marinade and a natural mint jus. The sides were sautéed greens, burnt root vegetables and a parsnip puré. She went with the whole roast quail, stuffed and served with Swiss chard, D'Anjou pears, pecans and sugar-glazed butternut squash.
If ever there were a meal to foster romance, this was it. After the dessert of Alaskan s'mores made with graham crackers, roasted marshmallow meringue and white chocolate ice cream – well, if we weren't already married, I would have asked her to marry me all over again.
For more information about the Bartlett Pear Inn, call 410-770-3300 or visit bartlettpearinn.