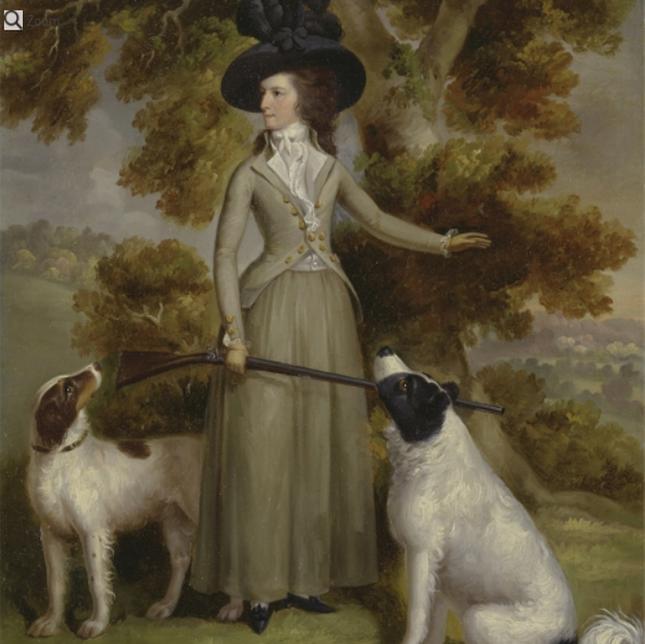 Side-by-Side with Gun and Dog
September 25th, 2015 at 10:00 AM | Tel: (540) 687-6542 | Event Website
Side-by-Side with Gun and Dog and the accompanying in-depth exhibition catalogue explore the quintessential relationship between man and sporting canines in eighteenth- through twentieth-century British, European, and American portraits and landscapes. This ambitious loan exhibition organized by the NSLM brings together forty-five paintings and sculpture from public and private collections.
Address
National Sporting Library & Museum; 102 The Plains Road; Middleburg, VA 20117
Friendship Betrayed
September 25th, 2015 at 07:30 PM | $35 | wsc.tix@gmail.com | Tel: 703.418.4808 | Event Website
WCS Avant Bard presents this 17th-century play by María de Zayas y Sotomayor, which, like Sex and the City, explores what happens to female friendships while women look for and find love. Kari Ginsburg sets her production in the 1920s, a time when women were beginning to explore their sexual curiosities and passions.
Address
Gunston Arts Center, Theatre Two; 2700 South Lang St., Arlington, VA
DC Walk for the Animals
September 26th, 2015 at 10:00 AM | Free | events@washhumane.org | Tel: 202-735-0323 | Event Website
The event will include games for all guests with activities such as toy making, face painting, musical sit and dog pools. There will be exciting prizes as well as food trucks & a bake sale! You don't want to miss this!
Address
The Kingsbury Center; 5000 14th St. NW
Fall Arts Festival
September 26th, 2015 at 10:00 AM | FREE | info@workhousearts.org | Tel: 703-584-2900 | Event Website
The Workhouse Arts Center, presents its inaugural national arts festival featuring 100+ artists exhibiting contemporary fine art and fine craft, jewelry and hand-crafted furniture.
The two-day outdoor festival will include work by artists from across the Mid-Atlantic region.
Enjoy free admission and parking, local gourmet food vendors, indoor and outdoor exhibition venues, local beer and wine for purchase, live music, children's craft tent and activities.
Address
Workhouse Arts Center; 9518 Workhouse Way; Lorton, VA 22079
St. Nicholas Cathedral Bazaar
September 26th, 2015 at 11:19 AM | free | gkokhno@gmail.com | Tel: 7038019911 | Event Website
Please join us to enjoy Russian, Ukrainian, Georgian, and Serbian food and a variety of Slavic folk music and dance performances. Admission is free!
After trying some blini, pirozhki, or golubsty, we invite you to try a poppy seed pastry, enjoy a folk music performance, start your Christmas shopping in our gift shop, take a Cathedral tour, and listen to Orthodox-related lectures. For families with children we also have activities for kids including face painting and crafts.
Address
3500 Massachusetts Ave. NW
Capital Streetcars: Early Mass Transit in Washington, D.C. By John DeFerrari
September 26th, 2015 at 01:00 PM | This event is free and open to the public | jerry.mccoy@dc.gov | Tel: 202) 727-0233
Washington's first streetcars trundled down Pennsylvania Avenue during the Civil War. By the end of the century, streetcar lines crisscrossed the city, expanding it into the suburbs and defining where Washingtonians lived, worked and played. Join author John DeFerrari on a joyride through the fascinating history of streetcars in the nations capital.
Address
Peabody Room (3rd floor); Georgetown Neighborhood Library; 3260 R Street NW
Sunday Serenity: Fall Yoga in the Park
September 27th, 2015 at 09:30 AM | $5 | education@dumbartonhouse.org | Tel: 2023372288 | Event Website
Sunday Serenity continues through the fall! Join local yoga instructor Lauren Jacobs in the East Park at Dumbarton House, which provides a serene, tree covered outdoor space, for this 60 minute all-levels vinyasa flow class that should be fun and challenging for both experienced yogis and yoga skeptics alike! Bring your own mat.
Address
2715 Q Street, NW
The Wedding Ring
September 27th, 2015 at 12:00 PM | free | info@exclusivelyentertainment.com | Event Website
The Wedding Ring is a complimentary seminar designed to help engaged couples understand how to approach the entire wedding "shopping" process. Now in its second iteration, the educational seminar will be followed by a meet-and-greet with the full "ring" of speakers and vendors. Engaged couples are also invited to enjoy hors d'oeuvres and refreshments!
Address
The Westin Tysons Corner; 7801 Leesburg Pike; Falls Church, VA 22043
Dinner with a Spy: An Evening with Jon Monett
September 29th, 2015 at 07:00 PM | $300 includes hors d'oeuvres and three-course dinner with wines. | lhicken@spymuseum.org | Tel: (202) 654-0932 | Event Website
Jon Monett served more than 26 years at the CIA in the Office of Technical Services as a technical operations specialist and ultimately becoming responsible for managing the CIA's technical activity worldwide. At this gathering, International Spy Museum Executive Director Peter Earnest will lead a conversation with Monett about the technological advances in intelligence operations and more. You will be one of only twelve guests at nopa Kitchen+Bar for this three-course dinner.
Address
noPa Kitchen+Bar/International Spy Museum; 800 F Street, NW