Bohemian Caverns Caves In to Hard Times
By
March 30, 2016
0
1229
•
---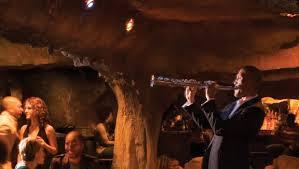 Legendary below-ground jazz club Bohemian Caverns, a U Street mainstay, will close for good at the end of the month, when the current five-year lease expires.
Managing partner Omrao Brown, who owns the club, the restaurant Tap & Parlour above it and the nightclub Liv above that, made the decision to close the three venues with his partners — his brother Sashi and Jamal Starr — after two years of losses.
Brown's group bought Bohemian Caverns from its former operator, Al Afshar, the building's landlord. Their fractured relationship and the club's complicated history, dating back to 1926, are described in an article by Michael J. West in this week's City Paper.
The room's unique cavernous décor is a relic of Club Crystal Caverns, which opened on New Year's Eve 1932. During that era, it hosted such stars as Louis Armstrong, Duke Ellington and Billie Holiday. Later, in the classic years under the name Bohemian Caverns, from 1959 to 1968 (when it closed, a few months after the riots), John Coltrane, Miles Davis, Ella Fitzgerald and Thelonious Monk, among others, performed.
Since reopening as Bohemian Caverns, the club has become a showcase for rising jazz artists and home to a 17-piece big band that plays every Monday. Recent setbacks have included the recession, a car crashing into the back of the building in 2013 and a negligence lawsuit filed last year in relation to an alleged sexual assault in 2012.