Room & Board Hosting Holiday Event Tonigh
Room & Board, the furniture store on 14th Street NW, is hosting a free holiday pop-up event tonight, Dec. 7. Local entertaining experts will be on hand to give Washington hosts and hostesses tips on such essentials as festive décor and flavorful cocktails. There will also be a place card and thank-you note calligraphy demonstration and a talk on flower arranging.
Steal a Kiss at the Yards
The Yards promises to transform itself into the most kissable destination in the city with an eight-part mistletoe installation. The oversized custom designs — including a java-inspired mistletoe archway, a tower made of letters to Santa, an ice cream sundae sculpture and a human-sized doghouse — are meant to be ideal settings for stealing a kiss, snapping a photo for Instagram or even popping the question.
Northeast D.C. Gets Trader Joe's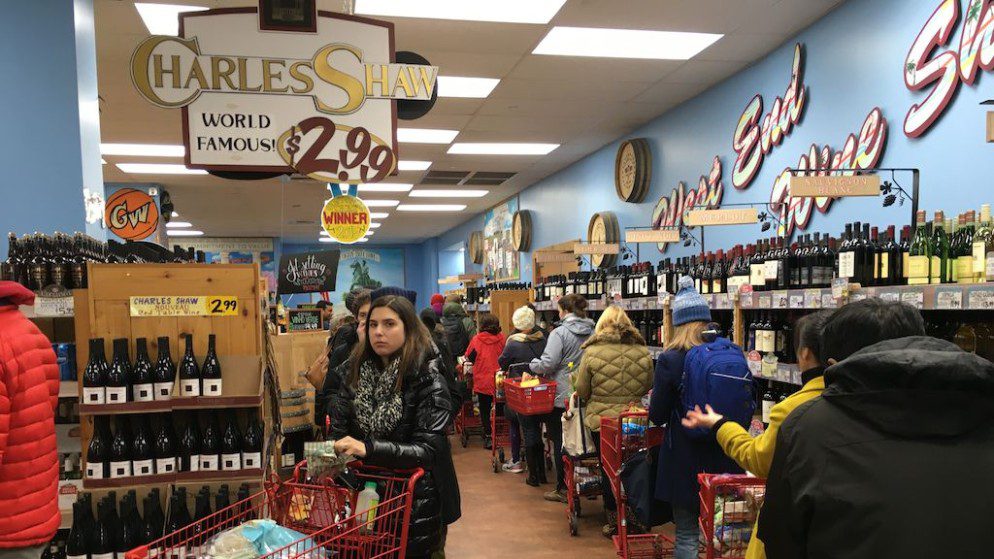 Cookie butter lovers, rejoice! Trader Joe's announced late last month that the company had signed a lease for space at 1240 4th St. NE. The store, the chain's third in the District, should be ready to open sometime in the second half of 2017. It will occupy a 15,000-square-foot space in a project called The Edison offering "industrial chic apartments."
Blowout Bar to Open in Ivy City
Opening Dec. 13 in Ivy City is Sip & Dry Blowout Bar, a new concept. Located in the former Hecht Warehouse in Northeast D.C., Sip & Dry comes with a menu of signature cocktails matched with hair and makeup services — say, a Brazilian blowout paired with a caipirinha. Designed by Ivy City resident Sahar Bozkurt, the salon offers bar seating and TVs while customers wait for their hair to dry or makeup to finish.
Hangers for the Holidays at CityCenterDC
CityCenterDC has unveiled an artistic addition to the complex's holiday displays this year. Accompanying the largest tree and reindeer display in the area is a "Dream Closet" art installation. Artist Maggie O'Neill took the concept of a clothing hanger and made festive and fun holiday ornaments out of it. The 400 ornaments in different sizes, cuts and patterns fill 550-foot Palmer Alley.
New Owner of Kramerbooks Expands Store
The often crowded Kramerbooks and Afterwords Café in Dupont has expanded into the former Willie T's Lobster Shack space, opening a children's annex. Renovations — notably a new coffee bar and additional event space — will continue over the next year and a half. The store recently got a new owner, Steve Salis, cofounder of &pizza.
Police Seek Suspect in Attempted Rape at Hotel
A woman was assaulted by a man who attempted to rape her at a hotel in D.C. over Thanksgiving weekend. The assault occurred in an 11th-floor room of the Grand Hyatt, at 10th and H Streets NW near Metro Center. Metropolitan police are looking for the suspect.
Mapping D.C.'s Accessibility
Washington, D.C., has a walkability score of 77, making it the country's seventh most walkable city. However, for those in wheelchairs, how accessible is the city? Technical.ly DC reported that Jon Froehlich of the University of Maryland's Human Computer Interaction Lab has introduced Project Sidewalk, a program currently in beta. It links big data, machine learning, computer vision and geographic information systems to map D.C.'s accessibility.
Community Meetings on MLK Library Modernization

The modernization plans for Martin Luther King Jr. Memorial Library, D.C.'s central library, are nearly complete. The library will close in spring 2017. When it reopens three years later, there will be a transparent entryway, new stairs, a large auditorium and conference center, spaces for music and art, an interactive children's space and a rooftop event space. Those interested in learning more can attend community meetings at Francis A. Gregory Library on Dec. 7, the Tenley-Friendship Library on Dec. 13 or the Anacostia Library on Dec. 15. For details, visit dclibrary.org.