Dockless Bikes Come to Georgetown's Attention
By
January 4, 2018
0
487
•
---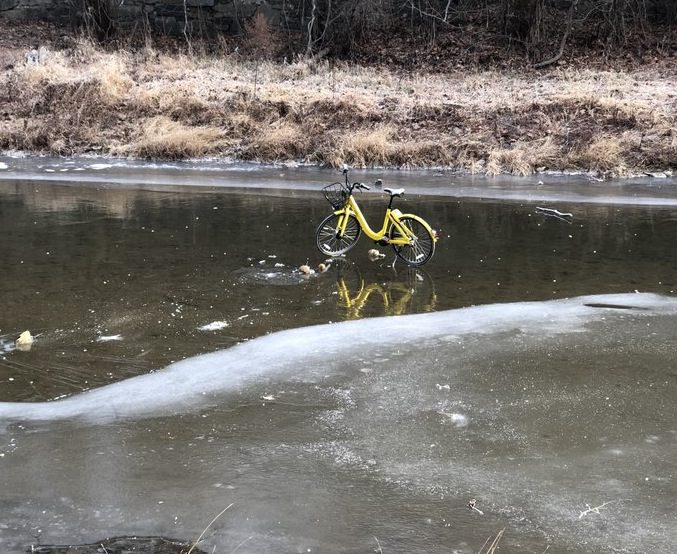 The new dockless bike-share program, which seeks to bring more choice to citywide transportation, has been getting attention from Georgetown residents. The bikes can be parked on city property in a random fashion and would-be renters can check an app to see where the nearest ones are located. Seems simple enough.
But, for some, the randomness of where the bikes are parked is irksome. There have been community meetings on the bike program already.
Last week, one allegedly cranky Georgetown resident wrote on the Georgetown Forum, a community bulletin board maintained by the Citizens Association of Georgetown, that residents ought to call 911 about parked bikes that block the sidewalk — and even call 911 when one sees the bicycles ridden along the streets. The comment got blasted in social media to the detriment of Georgetown's reputation, as if Georgetowners wanted such random bicyclists out of the neighborhood all together (not a good reflection on the oldest neighborhood in Washington, D.C.). Other commenters suggested that those obstructed by abandoned bikes call 311, a non-emergency number.
Such sniping aside, the Metropolitan Police Department felt the need to weigh on this latest bike brouhaha with regard to calling 911: "It is difficult to accurately capture the total number of complaints. Much of the feedback and frustrations associated with the placement of dockless bikes we have received has been during community meetings, email exchanges and public interactions.
"At the last bikeshare meeting we hosted, we discussed the issues experienced thus far in D.C. We will continue to stay engaged with these companies and our communities to identify a solution that works for everyone.
"While we recognize some recent frustrations, the MPD urges residents to refrain from dialing 911 to report suspicious activity for merely utilizing bikeshare services. The law regarding false alarms and false reports is § 22–1319 False alarms and false reports; hoax weapons. We still encourage our residents and visitors to report any activity that they deem suspicious."
Community activist David Abrams added to the discussion: "While it may not be appropriate to call 911 to sic the police on dockless bike riders, it is entirely appropriate to call 311, if you see any dockless bicycle parked illegally or inappropriately. Illegal and/or inappropriate parking of dockless bikes means any dockless bike that is parked on, or leaning against, private property, leaning against a tree or blocking access to a doorway or a Metro stop."
Sam Zimbabwe of the D.C. Department of Transportation, which is overseeing the bike program, was cited by Abrams: "Bikes have to be parked to leave a pedestrian-clear zone of at least five feet."
Abrams continued: "If the bikes impede a clearance zone of five feet they are a public hazard and need to be reported to 311 to have them removed. DDOT would rather we call the individual private dockless bike companies to have individual bikes removed by the companies themselves. That is both an undue burden on tax-paying citizens and a clear example of this ill-conceived and not-thought-through dockless bike program. It's a shame that we have to waste city money on calling 311 but DDOT has left us with no reasonable alternative. When 311 is called, they will also e-mail you a copy of your service request so be sure to ask for that documentation."
The bike saga will continue (the trial period concludes in April), no doubt — and move in new directions and places.
Take, for example, yesterday's comment by Kevin Donohue, deputy D.C. mayor for public safety and justice: "Please don't park your dockless bikes in the middle of the C&O Canal." An Ofo bike was shown on Twitter parked on the surface of the frozen canal, just west of Georgetown.
To boot, technically, dockless bike-share operations are not authorized to operate on National Park Service land. As the C&O Canal is part of the National Park Service, its spokeswoman Jenny Anzelmo-Sarles told WTOP, "While dockless bike share services do not currently have authorization to operate on National Park Service land in the D.C. area, we are actively engaged in dialogue with DDOT and bike share operators to address the issue."