THE HILTON SISTERS
By Stephanie Green
Shredder and Splinter Dean live the ultimate "ladies who lunch" lifestyle. They have walked the runways in charity fashion shows, frequently travel by private plane and love frolicking aboard their old man's yacht — when they're not idling in Georgetown parks.
They don't work because they don't have to, thank you very much.
"They're like the Hilton sisters," says proud dad Bill Dean. "But if they were on Instagram, they would have more followers."
Shredder and Splinter are Dean's prized Goldendoodles, weighing in at 60 pounds
each. Despite their affluence and "championship stock," Bill says they are "very chill and great with kids."
Shredder, age 9, was a gift to a girlfriend. After the breakup, Bill kept Shredder in the custody negotiations. Splinter came along about a year later.
They reside in Bill's Dodge Mansion on P Street, but are just as at home splashing around inthe Potomac. Bill explains they are a hit with other dogs and party animals, like the ones who frequent his elaborate mansion events.
He never worries about finding a dog sitter, because everybody wants to spend time with his girls.
THE PREACHER'S KID
By Stephanie Green
Laddie Cole, a Labradoodle, is a new Georgetown resident, having been adopted by Timothy and Lorraine Cole shortly after their arrival from the UK in 2016. He's rarely seen without his tartan neckerchief in homage to his Scottish parents.
Laddie gets away with the occasional shenanigan via divine forgiveness: Tim is the rector of Christ Church, Georgetown, where Laddie frequently accompanies his dad to the office.
Most days, he works off his energy bounding up the many staircases in the church rectory on 31st Street and trying to avoid baths, even with holy water. "He's our James Dean doggy, and we love him," says Tim.
Recently, however, Laddie's rebel rousing has turned dangerous: he broke a window in the rectory, cutting an artery. He would have bled to death but for emergency surgery.
The Coles have made the difficult decision to try to find a home in the country where he can run free and be a wild man. Please call the Christ Church main office with any suggestions.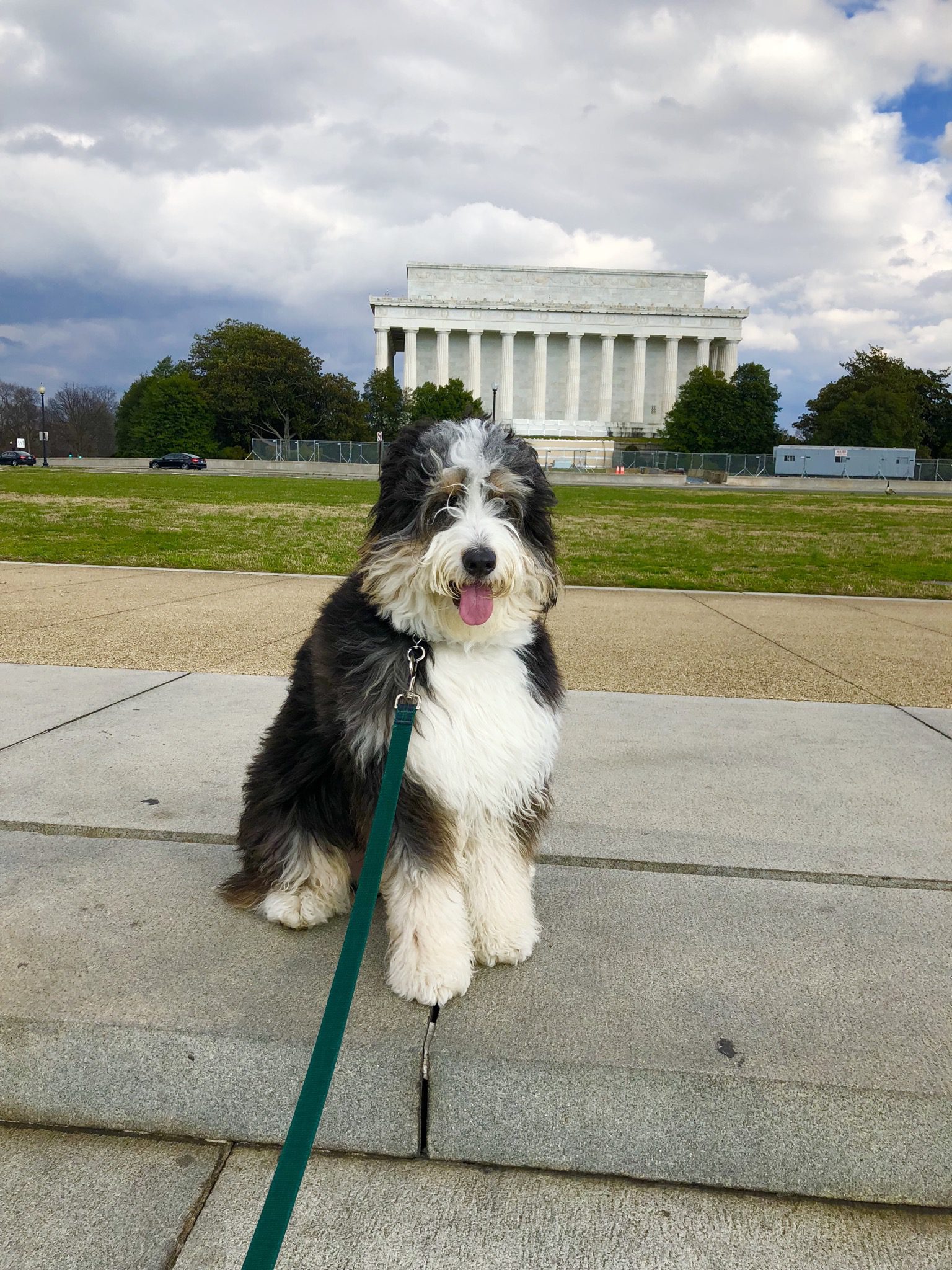 Willoughby is a 23-month-old Bernedoodle. And here are some deets on him: Birthday: Sept. 9, 2016
Breeder: Highfalutin Furry Babies, Florida
Name Origin: Willoughby the hound from Bugs Bunny episode "Heckling Hare"Training: Olde Towne School for Dogs Graduate
Link to the Stars: Cousin is owned by Ian Ziering of "90210" and "Sharknado"
Favorite haunts: Georgetown Waterfront Park and shaking paws with friendly people Favorite resting spot: Daddy's lap
Favorite toys: Tennis ball and "Chewbacca"
Favorite Playmates: His "P Street Cousins" (Orbit, Sundance and Luna)
Favorite Game: Catching "splashes" from and running around his backyard pool
Favorite Destination: His beach house in the Outer Banks and running AAAAALLLL over the beach
Favorite Snack: CHEESE!!
Daisy and Frango are sweet and crazy Jack Russell Terriers. Susan Nixon was breeding JRs at the time and had two litters a few days apart. She offered us first pick. Susan had already named Daisy (Susan names all her white dogs after flowers), which is Maryanna's dog.Audrey picked the brown-and-white dog and named him Frango because he has a big brown spot on his back that looks like a Frango chocolate mint. (They are 10 years old and still super high energy.)
We do run into Joe Biden and wife Jill. Their house is a few blocks from my niece's house inNorth Shores. He likes dogs, even JRs, and is very approachable, and seems to be enjoying the Delaware beach life — tan, rested, and ready to run!
—Colleen Evans; Maryanna above
Martha, 12-week-old Newfoundland puppy and Georgetown resident.
—Joe Findaro
Mattie LOVES paddleboarding and has been known to hop on whatever board happens to be in the water! Shown here at Washington Canoe Club.
—Lisa Enroe
This is Maeve. She loves her toys, many of which she greets visitors with, a sign of special favor. Maeve's favorite places in Georgetown are Montrose and Rose Parks, especially on Fridays, when there is an end-of-the-week gathering of owners and their dogs. What makes Maeve special is her disposition — the sweetest dog I've ever known.
—Joan Kennan
Andy is a mixed breed — Yorkshire Terrier and Maltese — who was turned into a shelter in Los Angeles with a broken leg and hip and without a name or a collar. He was deemed a "stray." The Saving K9 Lives Plus rescue organization picked him up and took him to Dr. Andy, pleading: "Please save his leg." When Dr. Andy finished the successful surgery, the organization said: "We will call him Andy."
The rescue organization fostered Andy for seven months while his hip and leg healed. Through social media, the organization learned that a family in Washington, D.C., wanted to adopt Andy. So they flew with Andy from the West Coast to the East Coast to his new home.
Andy now lives in a luxury building on the Georgetown waterfront. He has traveled with his parents to many interesting places, including Europe and the Caribbean islands. Andy is a lover, and everyone's friend whenever he goes. Everyone knows his name (which he loves!), even if they don't know the names of his parents.
Andy gets to GO (with Mom and Dad)! He loves living in the city of "parks and neighborhoods" with so much to see and do. He loves his high-walk-score neighborhood of Georgetown, where Mom and Dad walk for daily coffee and errands with him, and he loves the Georgetown Waterfront Park with so many different plants to mark, pups and peeps to meet and breezes to take in. He loves how dog-friendly Georgetown is — with water bowls and treats offered at so many shops. Andy tells me he could go on and on, but, for now, will leave it by saying he loves his forever home.
—P.L. Skip Singleton Jr., Esq., and Debbie Singleton