GU Students Vote for 'Reconciliation Fee'
By
April 15, 2019
0
382
•
---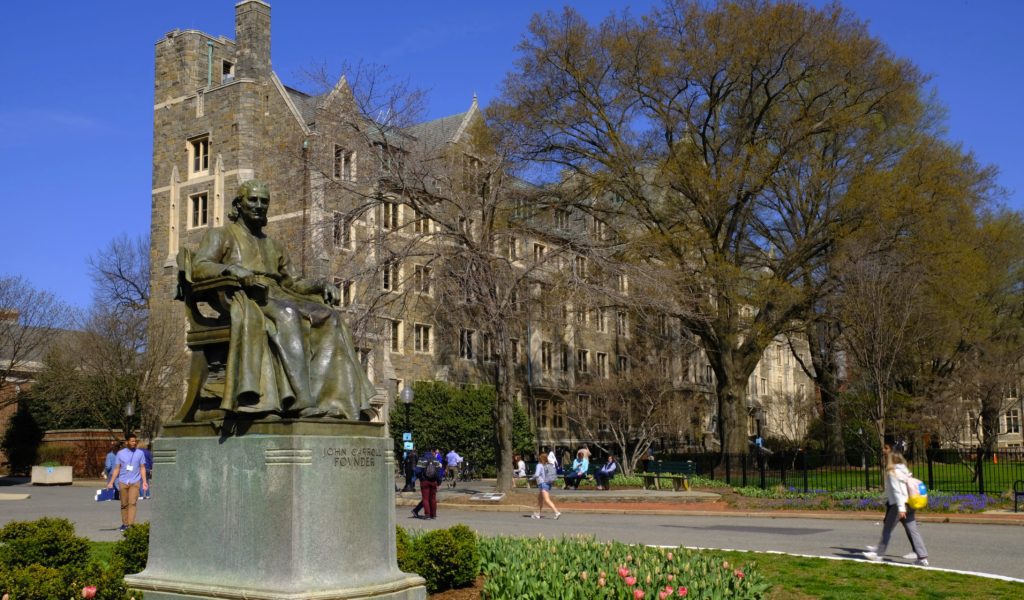 About one third of Georgetown University's undergraduate students voted on April 11 in support of a nonbinding resolution to pay a "reconciliation fee" that would create a fund to help descendants of the 272 slaves sold by the university in 1838. The fee of $27.20 per student would be paid every semester beginning in the Fall 2020 semester.
The sale of the slaves paid off debts that threatened to close the university.
Just over half of the undergraduates currently enrolled at the 100-acre main campus (3,845 students out of some 7,500) voted in the student referendum. It was the largest percentage ever for a student election, according to the university's student newspaper, the Hoya. Turnout needed to be at least 25 percent for the vote to be valid.
The resolution now has to be reviewed by the university's board of directors, possibly at the board's spring meeting. The proposed fee, which would increase with inflation, would fund a nonprofit organization led by a board of students and descendants, who would give money to charitable causes directly benefiting descendants of those who were sold. The total that would be accrue from payments in the fall of 2020 is estimated at $400,000.
But about a third of the voting students opposed the resolution. Some objected to students paying for the university's actions, according to the Hoya. Others disagreed with the idea of reparations for past wrongs.
"The University has made a commitment to further our efforts in dialogue and partnership with the Descendant community, seeking to promote work that draws on the inherent strengths and expertise of our community in collaboration with the Descendant and Jesuit communities and that promotes racial justice," university administrators wrote in a statement. The referendum "provides valuable insight."
In 2016, university leaders made a formal apology for the 19th-century sale, which "separated families and subjected people to grueling conditions on Southern plantations." But some students contend that the university apology did not do enough.
"As students at an elite institution, we recognize the great privileges we have been given, and wish to at least partially repay our debts to those families whose involuntary sacrifices made these privileges possible," the referendum states. "Whereas the families of the 272 children, women, and men sold in 1838 … have been neglected and forgotten for too long, the creation of a GU272 Reconciliation Contribution is both necessary and proper."
If approved by the administration, Georgetown University would be the first college in the U.S. to establish a reconciliation fund for descendants of enslaved persons.