Ward 2 Debate: Evans Wants Second Chance, Gets Boos
By
March 6, 2020
0
853
•
---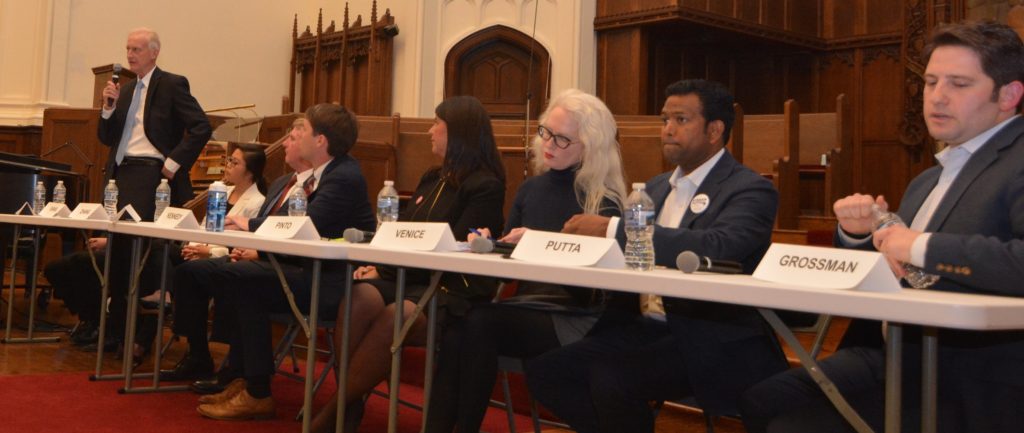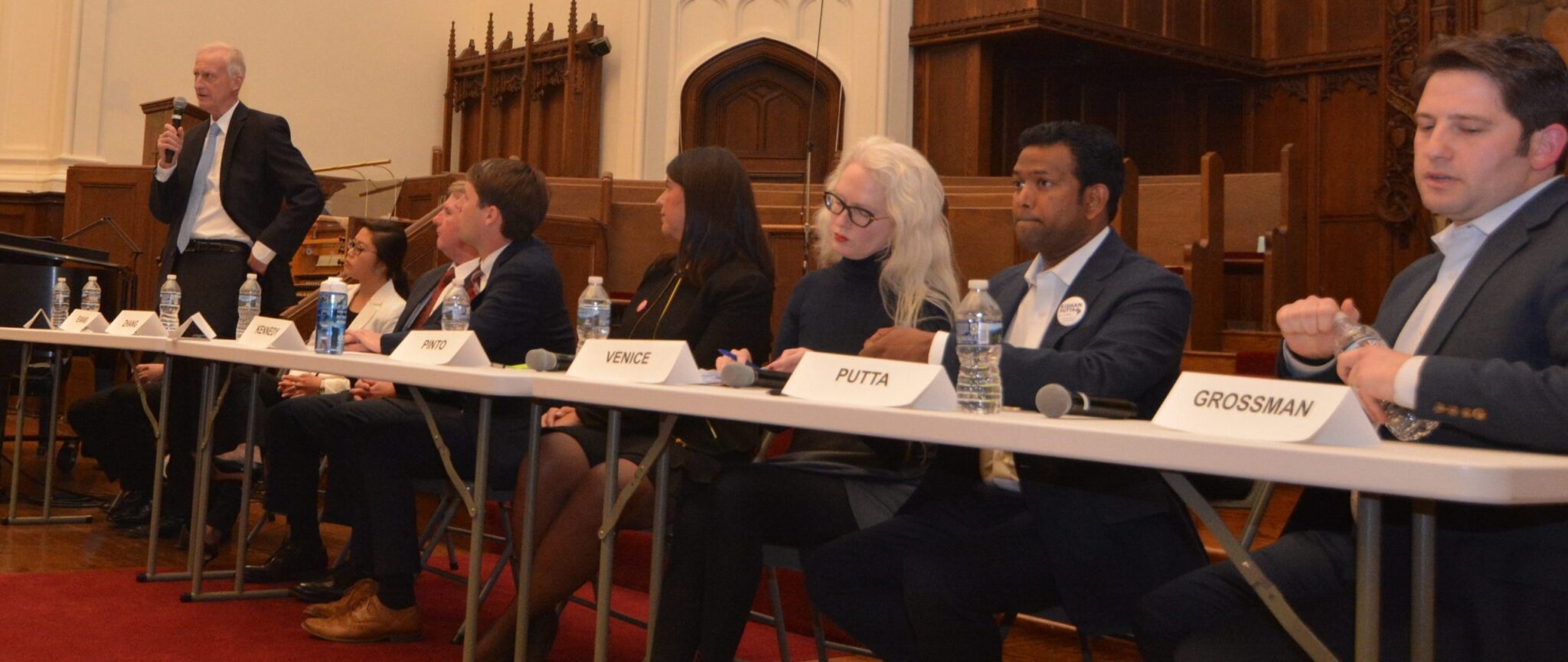 "I'm here tonight to ask for your forgiveness," said Jack Evans, the former (and longest serving) District Council member, before a packed audience at a Ward 2 candidates forum held on March 5 at Foundry United Methodist Church on 16th Street NW. "I have made some big mistakes. I have embarrassed and disappointed the city, the ward, my family, my kids and myself. Now I ask you for a second chance."
Evans made his one-minute introductory remarks alongside eight other candidates, all vying for the Ward 2 Council seat that he resigned in January, just hours before he was to be expelled for ethics violations. Evans was greeted with slight applause following his admission of wrongdoing, along with boos and hisses. It was his first public appearance at a candidates debate.
Also participating were Democrats John Fanning, Jordan Grossman, Daniel Hernandez, Patrick Kennedy, Brooke Pinto and Yilin Zhang, along with the lone Republican, Katherine Venice. The 90-minute forum was moderated by WAMU radio host Kojo Nnamdi and District politics pundit Tom Sherwood, formerly of NBC4 News.
Each candidate got between 30 seconds and two minutes to respond to specific questions from the moderators about how they would vote on some current issues. Topics ranged from a proposed $150 fine for blocking a bike lane to the decriminalization of prostitution and the removal of homeless camps on D.C. thoroughfares.
The moderators also posed a series of lightening-round yes-or-no questions, such as "Would you support the NFL Washington team if it would pay for a new stadium at RFK?" and "If you could defund one city agency, which would it be?" Several did not want the Redskins to come back and most replied "DCRA" to the second question, referring to the Department of Consumer and Regulatory Affairs.
"I was trying to liven up the debate," Sherwood told The Georgetowner.
The candidates cooperated, more or less, with this fast-moving framework, passing increasingly defunct microphones to one another and stopping when a whistle indicated that their allotted time was up. Only once did they unanimously agree, laughing ironically when a slightly smiling Evans threw up both arms in agreement. The question? "Do you believe that Council members should be prohibited from taking outside employment?" Evans's outside employment was the issue on which various investigations focused last year.
The moderators also asked the candidates if they agreed that the will of voters in an election or a referendum should be subject to reversal by the Council. In 2019, an initiative to raise the minimum wage of all tipped employees in the city (baristas, waiters, etc.) passed. But tipped employees made a strong case opposing it, arguing that it threatened to end tipping altogether. Council members, including Evans, narrowly overturned the vote. Most of the candidates on Thursday were adamant that the popular vote should prevail at all times.
Things got awkward when the moderators then asked whether the candidates would support the Council overturning the will of the voters should Evans be voted into office in June. Even the audience squirmed.
"Your applause and boos are taking up time that could be used to hear the candidates' answers," Sherwood growled.
"There is no reason to be vitriolic against Evans," said Kennedy, who had been one of several co-chairs of the Evans campaign in 2016. "But, Jack, I just don't know why you are doing this," he said to Evans, drawing applause.
"I told you I can represent this ward better than anybody," Evans responded.
There was no question that Evans's many accomplishments on the District's behalf were appreciated. But there was also the unmistakable feeling in the crowd that new blood should now be considered. Six of the nine candidates are a generation younger than Evans, and they represent a greater diversity of racial, ethnic, socioeconomic and even national heritage backgrounds than does the current Council.
Somehow, it was easy after the first 20 minutes to remember and distinguish each of the nine candidates. Maybe that's because people interested in politics these days have gotten used to 10 and more candidates onstage at a debate. Or perhaps it was because the moderators kept the format snappy enough to learn something about each one.
"I haven't made up my mind yet about which candidate I will vote for, but the forum helped a lot to get to know them and their positions," said Marcy Logan, a board member of the Dupont Circle Citizens Association, which co-sponsored the event with the Logan Circle Community Association.
The District Democratic primary will be held on June 2, and the special election to fill the vacant Ward 2 Council seat on June 16.