At Last, Georgetown Canal Boat Is Home
By
July 12, 2021
2
1503
•
---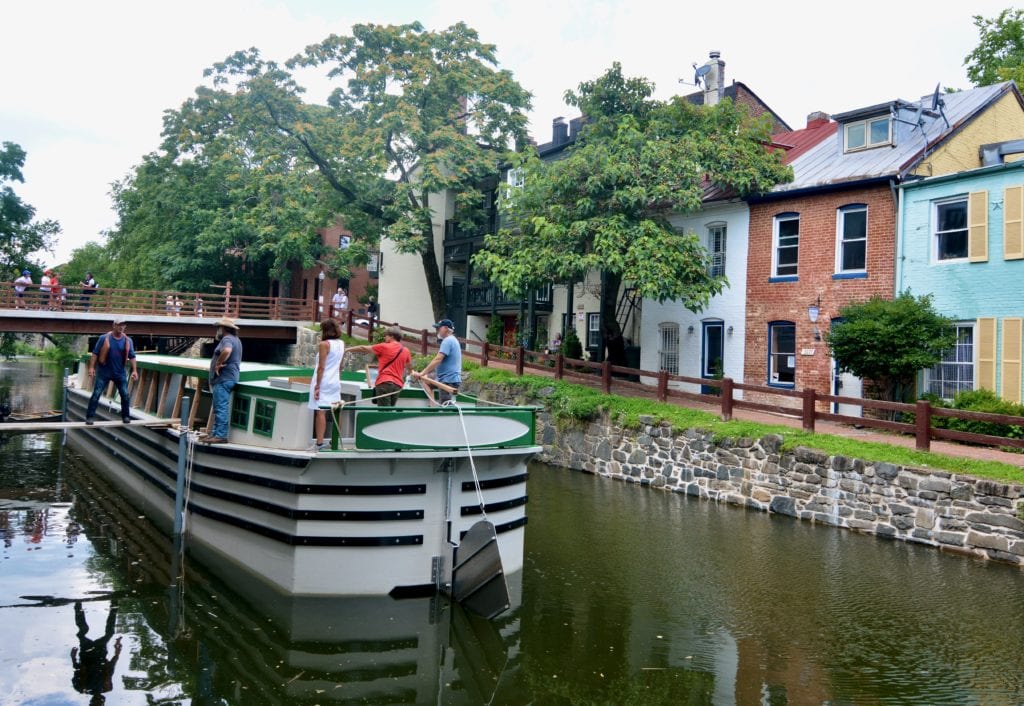 Over the weekend, a precious shipment arrived near Fletcher's Boathouse at the C&O Canal and Canal Road. Two halves of the canal boat –– a contemporary take on a historic packet boat –– were assembled for its inaugural trip down to Georgetown. 
The journey began on Sunday morning, July 11, after the boat was lowered by a crane onto the water. A small, enthusiastic crowd followed the boat to Lock 4 at Thomas Jefferson Street where it will sit on its dry dock for additional work. There were no formal remarks.
The new, $1.5-million, more that 80-feet-long motorized boat replaces the long out-of-commission barge — simply named "The Georgetown" — which departed in October 2016 to be broken up, when the Georgetown section of the canal began a significant reconstruction.
"Georgetown Heritage and the National Park Service are excited to be bringing a canal boat back to Georgetown after nearly a decade!" Georgetown Heritage Board Chair Jennifer Romm told The Georgetowner. "We invite the public to visit the boat now that construction and delivery are complete. We look forward to the return of future public programs in 2022."
In addition, Romm said, "Georgetown Heritage is exploring permanent naming opportunities for the life-time endowment of the vessel. Once a name is selected, a sign with the name will be attached to the stern."
With repairs to Locks 3 and 4 completed and the canal wall near Grace Street and Wisconsin Avenue stabilized, the canal is being cleaned and getting ready to be activated with boat rides, history lessons and canoe paddlers.
Associated with the Georgetown Business Improvement District, Georgetown Heritage, the nonprofit that works with the National Park Service to improve and promote Chesapeake & Ohio Canal National Historical Park, is also dealing with other canal projects, such as towpath upgrades and expanded lighting as well as a floating dock near 34th Street for launching kayaks and canoes. The towpath mules are expected to return in 2022 for old-fashioned propulsion of the canal boat.
Photos and video of the boat delivery are available at www.georgetownheritage.org.