The Georgetowner Staff Remembers September 11, 2001
By
September 9, 2021
0
161
•
---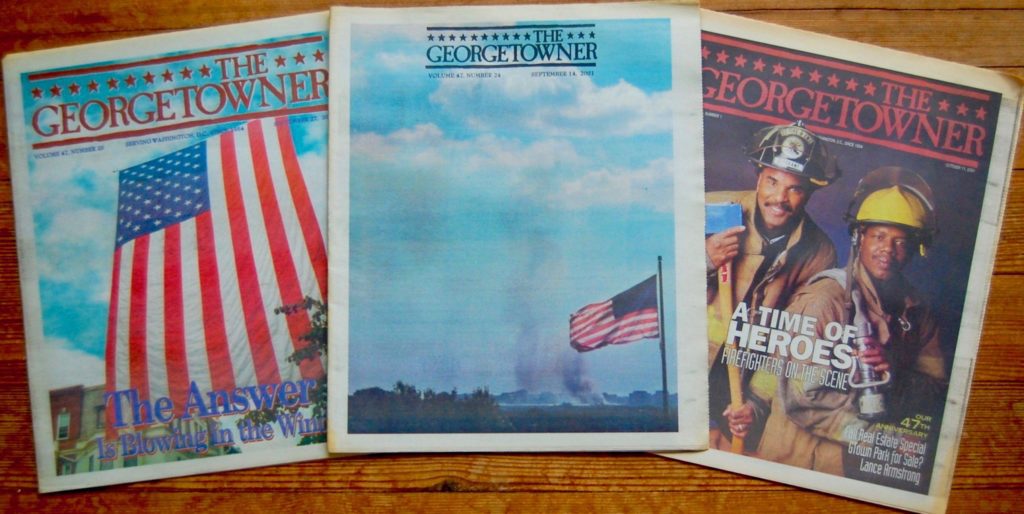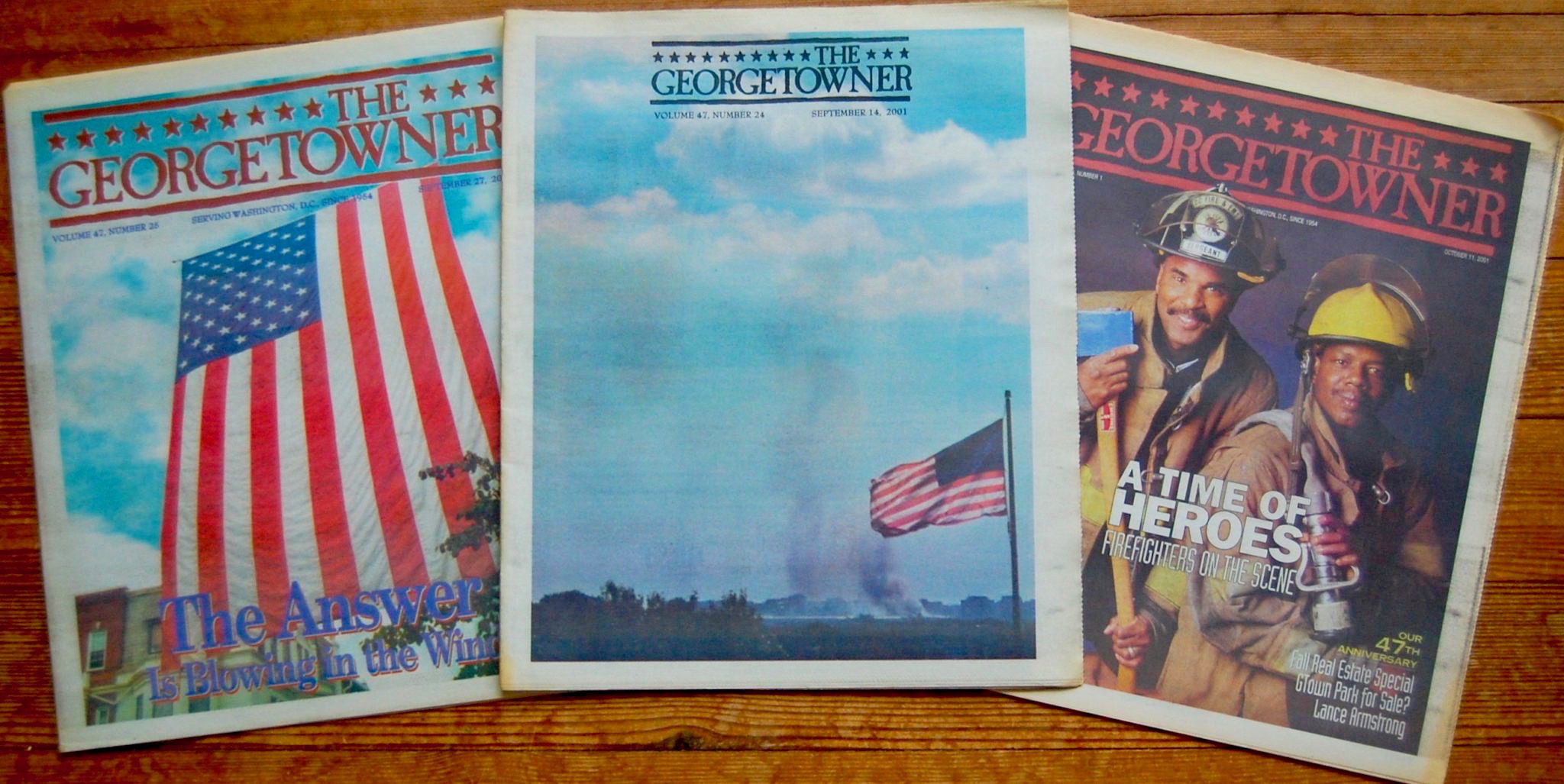 Twenty years ago, our world changed forever. As a way of honoring the victims of that day and the toils of our country in the days hence, we wish to hold that day's meaning in our minds. The Georgetowner staff would like to share our recollections and memories of where we were on that fateful day, now one score years ago. We will never forget.
The Morning of 9/11
Robert Devaney, editor-in-chief
The crisp, blue Tuesday morning of Sept. 11, 2001, was deadline day for The Georgetowner newspaper. The editorial team was still deciding which feature should become the cover story and considered them all slightly underwhelming. I mused to myself: I wish something more interesting would come along to cover. Be careful what you wish for, we know now too well.
Leaving home early for the office, I had not seen the morning TV news and did not know what had just happened at the Pentagon and the World Trade Center. At the office, I saw and heard the hellish news of deaths that has never really gone away. Some staffers were trying to finish work on the issue, while others were out viewing the smoke of the Pentagon and hearing helicopters and fighter jets above. Most just felt stunned and unbelieving.
Publisher Sonya Bernhardt was arranging ad positions for the upcoming newspaper, and editor David Roffman stared at his computer, still typing, recalling that huge mass of smoke he saw when driving over Key Bridge. We, the stunned and unbelieving, did not know quite what else to do. I shook my head and went outside.
After high noon, I wandered toward Halcyon House which has a panorama of the Potomac and where you can see the Pentagon over in Arlington. Smoke still puffed into the azure sky. I looked down on M Street nearby, where the flag was flying at Francis Scott Key Park. This Star-Spangled Banner was flying as defiantly as its original had 197 years earlier in the face of a foreign menace. As neighbors John Dreyfuss and Chris Murray looked from the railing with me, I held up my camera and took the cover shot for the week's issue. Hell of a way to meet a deadline.
Days after 9/11, The Georgetowner ran headlines like "Terrorism Hits Home" and "A New Age Begins." Sincere, fresh respect for firefighters, police officers and other first responders erupted, even as the anthrax threat spread. Everyone pitched in with a unity of stories on local and business news, interviews, commentary and advice. We were in a new world together.
The Top of the World at the Tip of the City 
Susan Bodiker, staff writer
On August 23, 2001, my mother died. Three weeks later, the World Trade Center fell, taking with it thousands of lives and the heart of the world. Every August, I get mournful, not so much for my mother — ours was a contentious relationship — but for the twin towers. How I miss them!
I grew up in Manhattan and watched their rise. I went to meetings there. Dinners. Special events. I saw them shimmer in all sorts of light and in every season. I nearly froze walking through the wind tunnel of their courtyard in winter. They were my landmark, an anchor at the tip of the city. And as soon as I saw them from an Amtrak window or plane circling overhead, I knew I was home.
Twenty years later, the neighborhood has changed. What were once human-scale buildings have been replaced by glittering, gaudy structures that don't just scrape the sky, but pierce it. But in the fountains that hold the space where the towers once stood, you can still sense their New York spirit and swagger. Every August, I light a candle in their memory.
From Back-to-School to Active Duty
Christopher Jones, managing editor
Blue skies and a crisp, clear back-to-school Tuesday morning in Van Ness. Faculty launching courses and preparing students for camping trips. Another teacher bursts into my class to say the World Trade Towers were just hit. A few weeks earlier my wife and I had taken our own kids to the towers to see the Hall of Nations and to cast our eyes down on "all the little ants" below from the top deck.
A special assembly was called as panic quickly spread through the school. Clusters of screaming and crying children and adults reacting to news of the Pentagon being hit by a plane (true) and the State Department also being hit (false.)
Cell phone communication out. Traffic at a standstill. Bridges clogged with harried office workers walking home to distant suburbs. All U.S. civilian planes grounded. F-18s overhead. At work, my wife could see smoke rising from the Pentagon. Who will pick up our kids from school? Will they be seeing all the images of people dropping or leaping to their deaths as the towers burned? Are these attacks just an opening salvo to chemical or biological strikes?
At the Pentagon, a sailor who had just weeks before trained me on software had died in the attack. Another friend, a Green Beret, watched the plane roll into the Pentagon and burned his hands as he helped rescue survivors.
One parent of a former student (whose birthday is September 11) had died on the flight that hit the Pentagon. She was a flight attendant, and many students were on field trips aboard that plane. News of our New York friends didn't reach us until the next day. One, who had survived Al Qaeda's 1993 truck bomb attack on the World Trade Center made it out just in time from the 86th floor of the south tower. Others were covered by debris but lived.
At the Pentagon, the Navy's new offices were destroyed. After volunteering for active duty from the reserves, I left teaching to begin my posting at the Office of Naval Intelligence. The reports I read as we tracked threats from Al Qaeda and hunted UBL (then referred to as Usama Bin Ladin) haunt me to this day. As do images of planes flying near tall buildings. Thank you to all who keep us safe.
All the Vehicles Going South Had Sirens Screaming
Peggy Sands, senior correspondent
It was a gorgeous sunny, moderate-temperature breezy early Fall day in Georgetown on September 11, 2001 and I was happy at 8 a.m. Was looking forward to starting my new news job the next week and to enjoying a short golf, swim, tennis mini vacation in Rehoboth Beach with friends the next three days.
As I was packing the picnic for the road and watching the news in my kitchen, an apparently unbelievably bad pilot hit one of the twin towers in NYC. By the time my friend arrived, a second plane had done the same and the towers were on fire. As we hesitantly packed my car, the Pentagon had been hit and a fourth hijacked suicide passenger plane seemed to be headed for the White House, or Congress.
We decided to leave. Go north up Connecticut Ave. Almost no traffic going north. But all the many vehicles headed south had screaming sirens, flashing lights and grim-faced emergency responders aboard. No one paid attention to traffic lights. My friend made me drive over the bridge while she closed her eyes. We went to the beach once. Never did play golf or tennis. Just watched TV.
And made phone calls. Lots of calls. To friends and family and throughout the world (mainly Germany and Norway in my case). Everyone was confused. And fearful.  Everyone — even in my bucolic hometown of Santa Barbara, California — was SURE they were the next target … by whoever did it (most suspected Islamic terrorists).  "Keep calm and carry on." Not our motto. Panic! More the MO. Carried on into the "forever" 20-year war in Afghanistan that we look on today with much confusion. 
On Saturday, Sept. 11, 2021 — the 20th  anniversary —  I will make it a day of contemplation.
A Routine High School English Class …
Kate Oczypok, director of content and advertising, staff writer
I had turned 16 that previous July and was sitting in English class. We were discussing the Old English epic Beowulf at my all-girls Catholic high school in Pittsburgh. Midway through class, the teacher across the hall came to speak to our teacher in the hallway. They looked concerned, talking in hushed tones. Soon, word got out that something terrible had happened in New York City.
Minutes later, our principal made an announcement over the loudspeaker and reassured us that everything would be okay. Being 16 years old, we knew enough that it might not be. As the day wore on, they tried to keep us in class and focused, but to no avail. I remember sitting in art class, while another group was on a study hall and in the courtyard. No one was studying, but sitting and talking, trying to get as much information as they could from their circa-2001 cell phones. Our vice principal rushed out, ushering the girls inside. We all thought Flight 93 was headed toward Pittsburgh. I remember calling my parents in a bathroom, and vividly remembering that it was the first time they sounded truly scared. It was a jarring feeling. My classmates started getting picked up and I eventually made it home with my friend and her mother.
The next day, I bought a sympathy card and as class president, I got my entire class to sign it. My family and I visited the Flight 93 memorial In Shanksville, PA later that fall (it was just a small wall back then) and I left the card tacked to it, secured in a plastic Ziploc bag. 9/11 changed my generation forever. We often talk about how we felt closer to our grandparents, as we call that fateful September day our own Pearl Harbor.
A College Student About to Graduate
Steve Holton, staff writer
On Tuesday, September 11, 2001 at roughly 8:15 a.m. CT in Tuscaloosa, AL, my alarm clock went off as usual which gave me 45 minutes to be up and ready for my 9:00 a.m. political science class. I was in the beginning of my final semester before graduating from the University of Alabama. Instead of a buzzer, I had my alarm set to the local rock radio station at a high volume to grab my attention and jerk me out of my deep sleep. That morning I awoke to something different than the typical shock-jock banter. The morning show host was screaming at the top of his lungs that America was under attack and initially I thought this was a poor and modified attempt at the old Orson Welles "War of the Worlds" gag from 1938 where it was announced that Martians were visiting Earth. This thought was partially due to me still being half asleep and thinking, "nobody has the balls to start something on our soil."
Immediately after flipping the TV on, I saw the replay of United Airlines Flight 175 hitting the South Tower of the World Trade Center. Like everyone else, I was shocked and horrified to see what was playing out in front of me. The real horror set in when I found out that American Airlines Flight 11 that departed from Boston had struck the North Tower roughly 20 minutes prior to that.
I had spoken with my sister, who was an American Airlines flight attendant, the day before and she said she was departing Dallas for Boston to work one of the LA flights on the 11th. I remember her saying that she wanted to work the earliest flight out so that she would have some time in LA to spend before her next leg. Phone service was out in my region so I couldn't place a call to check in which had me feeling helpless toward the end of the day and I was starting to come to grips with the real possibility of her being on that hijacked plane.
All I could really hope for was that if her time came on that flight, it was instantaneous, flying through the tower and not at the hands of a terrorist. Early that evening, phone service picked back up and I got a call from her saying that the flight departing Dallas to take her to Boston was grounded on the 10th due to mechanical failure. Selfishly, I breathed a sigh of relief, but it was bittersweet when thinking of the thousands of others who were impacted. That was certainly a horrible day to live through but the resiliency of this country to bounce back and come together was something to behold.