Mapping Georgetown: 'There's Phenomenal Jazz in That Alley'
By
September 20, 2021
0
435
•
---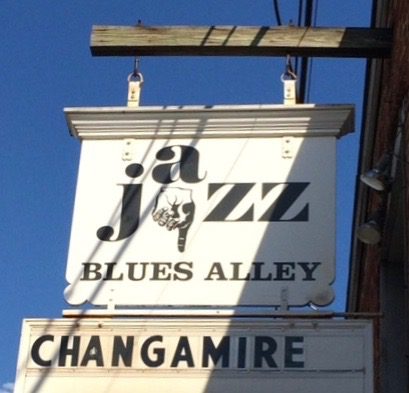 With Blues Alley in Mind…
To the delight of Georgetowners and musical afficionados the world over, Blues Alley has reopened in its signature alleyway at 1073 Wisconsin Ave. NW. So, we thought this Mapping Georgetown story from local singing star Changamiré would make a fitting tribute.
Her story as told from the experience of a marquee entertainer at the club is not only a valuable contribution to our local history but an inspiration in itself.
About Changamiré's distinctive sound, AllAboutJazz.com said, "It is difficult to nail down just what makes her voice so darn compelling.  Maybe it's the comfort and familiarity, maybe the confiding honesty. Whatever the case, it works exceptionally well…."
During the pandemic, Changamiré said she "had to explore ways to create music in the absence of [her] quintet," so she produced a "digital composition to accompany [her] singing "I Got It Bad (and That Ain't Good)" for the Seven Tones Project, a D.C.-based, international film project that pays tribute to the work of Duke Ellington.
In December 2020, her attention was turned to the plight of jazz club closings around the world. So, she "co-founded The New Jazz Listener, a weekly jazz listening program with a virtual audience on the Clubhouse app. The program aims to help grow the global jazz audience. With over 10K members, some past guests include: jazz luminary TS Monk; a representative for the Embassy of Germany; Jennifer Bowman, Director of Music Education at the Kennedy Center; and Primo Artists founder, Charlotte Lee," she said.
Changamiré's warmth of personality also extends to her passionate focus far and above her musical career. She is active with the Rotary Club of Washington D.C. and is a member of the Washington Performing Arts Women's Committee.
It's great to have Changamiré's distinctive voice become part of our treasure trove of Mapping Georgetown stories.
Jazz Through an Alley
By Changamiré
My first time at Blues Alley was on a weekday afternoon with a videographer. The club was empty, quiet and, despite it being daytime, dark. It had just opened for the staff to begin getting ready for the night's show.
My video friend recorded me sitting on the piano stool on the stage singing "I Got It Bad" a cappella. The club had given me permission, after I told them I needed a video for an audition. I wonder where that video is today!
Blues Alley is, according to its website, the United States' "oldest continuing jazz supper club." The intimate space is located in Georgetown in an 18th century carriage house, and its entrance is accessed by walking through an alley. It would be years before I would return to the club.
Every local musician wants to perform at Blues Alley. If you search the web, you'll find tons of photos of musicians standing under the club's marquee when their name is displayed.
There was a point along my musical journey when I knew I needed more music (versus vocal) training. I learned that Blues Alley had a jazz summer camp, and I asked one of the instructors if I could sit in his middle school class from time to time and simply listen. Renowned trumpeter, Jon Faddis, was brought in as a guest teacher for one of the classes. It was awesome! What's embarrassing now is remembering how I asked Faddis that day to appear on my upcoming album. I even promised him great pay! I must say he was amused yet very kind.
In addition to meeting Faddis in that class, I was also impressed by a boy saxophonist. I told my husband about his mature talent, we met with his parents, and we featured him during our concert at Strathmore. His name is Daniel Azu, and now in college, he continues to play brilliantly.
The next time I went to Blues Alley was to treat my husband to hear jazz trombonist, Curtis Fuller. From the recordings and photos of Fuller that my husband had shared with me over the years, I could see that night that Curtis was up in age. Yet, he was still masterful in the placement of his notes and chose interesting selections for the show. The level of the band's musicianship was incredible. My husband knew the virtuosic trumpet player, Donvonte McCoy, a Washingtonian, whom we later asked to join my band.
With my husband being an alum of the Count Basie Band, we couldn't resist going to hear the band when it performed at Blues Alley. You cannot imagine the sound of about 18 musicians (probably 15 horns) in that small space. It was monumental. Extraordinary. And after the show, several of the musicians were happy to see my husband, and vice versa. What a night.
So, if you're in Washington and someone asks you to walk through an alley to hear some jazz, you're not being tricked. There's phenomenal jazz in that alley.
To view this story on Mapping Georgetown's website, go to https://mappinggeorgetown.com/2019/08/13/jazz-through-an-alley/.
For Changamiré's online site, go to WhenSunnyGetsBlue.com.
We invite you to add your story to our Mapping Georgetown collection. Blank templates can be printed from the home page of www.mappinggeorgetown.com, picked up from The Georgetown Public Library or by contacting mappinggeorgetown@gmail.com.
To learn more about the Mapping Georgetown project see https://georgetowner.com/articles/2021/07/19/marilyn-butlers-vision-for-mapping-georgetown/. Marilyn Butler can be reached at marilyn.butler@gmail.com.