Mapping Georgetown: Remembering a Local Legend
By
October 12, 2021
One Comment
470
•
---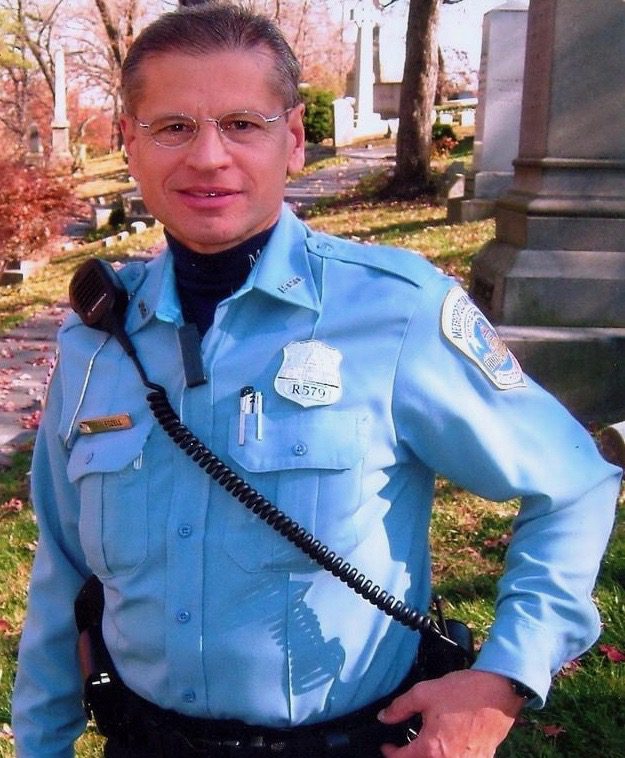 Sometimes we cross paths with local legends and don't even know it. At others, we appreciate these heroes as we cross their paths – especially when they brighten our day while protecting us.
For Reserve Sergeant Joe Pozell, a traffic officer of the Metropolitan Police Department (MPD), many drivers and pedestrians knew he was a shining beacon posted on duty each day at Georgetown's Wisconsin and M streets, NW, as he helped pedestrians and drivers navigate the bustling traffic flow in the neighborhood's busiest intersection while putting smiles on people's faces.
As the hectic fall shopping season approaches, we thought we would pay tribute to the officer after whom Joe Pozell Square is named.
I never cross Wisconsin and M without noticing the street sign that says "Joe Pozell Square" on the corner. In a prominent location above Capital One, the commemorative sign intrigues. And, I've hardly ever inquired about the name Joe Pozell to anyone who didn't either know him or someone who did!
Pozell was especially known for directing traffic on Georgetown's busiest corner. It is here that he was fatally hit by a car while directing traffic on May 17, 2005. But now, Officer Pozell is truly a legend to be remembered in this town.
At a Citizens Association of Georgetown meeting, I was introduced to former MPD Chief Peter Newsham, who generously offered his card with contact information, with the offer of a story for our Mapping Georgetown project. Newsham's chief of staff, Matt Bromeland, and others promptly followed up with these heartfelt words of tribute they contributed so generously to our local history project.
These sentimental words by "M.M." of the Metropolitan Police Department say it all for Joe Pozell:
"Reserve Officer Joe Pozell was a mainstay in the Georgetown area. He recognized a problem in his community, and wanted to be a part of making the quality of life for those who live and shop in the Georgetown neighborhood better. Almost every day, he could be found at the intersection of Wisconsin and M Street, NW, directing traffic and making it safer for pedestrians to cross the busy intersection."
 "Joe loved serving his city as a MPD Reserve Officer, and the citizens loved him back. The Washington Post wrote an article about him and the way he improved the vehicle and pedestrian safety at that intersection. Joe was also featured in an ad for a pair of traffic safety gloves that were becoming a big hit with police officers everywhere."
 "I am deeply saddened by the death of Officer Joseph Pozell. I have waved to him every workday for the past year as he directed traffic at the corner of Wisconsin and M. He always had a wave and a smile. He truly cared for every pedestrian and every vehicle that came through his intersection. I used to hope that I got the red light, just so that I could watch him direct the traffic! I would like to tell his family that he will be missed by more people than you would imagine. My thoughts and prayers are with you at this difficult time. M.M. 2005."
Metropolitan Police Department, Washington, D.C.
There are no words for what we felt when we received these sacred tributes. We're certain that the same sense of  deep appreciation will be felt by many Georgetowners.
Please accept our heartfelt thanks for the special effort you put into this story. We can't thank you enough.
—
We invite you to share your Georgetown story for our Mapping Georgetown collection. Blank templates can be printed from the home page of www.mappinggeorgetown.com, picked up from The Georgetown Public Library or by contacting mappinggeorgetown@gmail.com.
For the full story at www.mappinggeorgetown.com, go to https://mappinggeorgetown.com/2019/06/10/reserve-officer-joseph-pozell/
To learn more about the Mapping Georgetown project see https://georgetowner.com/articles/2021/07/19/marilyn-butlers-vision-for-mapping-georgetown/. Marilyn Butler can be reached at marilyn.butler@gmail.com.
We welcome any reflections you have to share. Thank you for those who have contacted us with these wonderful stories we can all enjoy and pass down. They're such treasures for Georgetown, by Georgetown! — MB