Mapping GT: From Texas to Georgetown, Connections Abound
By
November 29, 2021
One Comment
197
•
---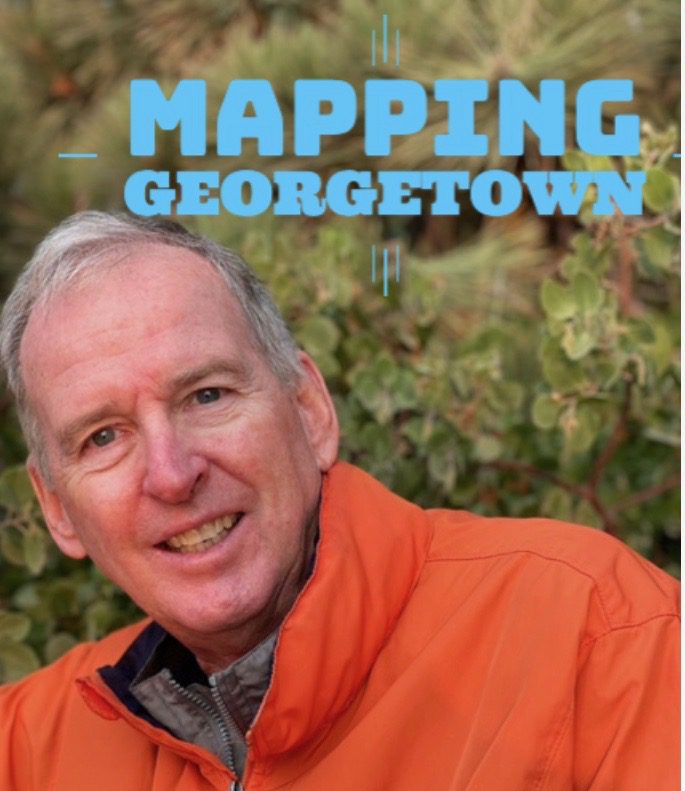 Everyone has a story. And every story is a treasure.
The more stories we receive, the more connections we make. So much of Georgetown's vibrancy comes to life in the stories our Mapping Georgetown project has received. This vibrance is, of course, the spirit of the people who live, visit, walk, ride and scoot through the streets" of our wonderful community.
Our fun, light series today will share priceless Georgetown connections "for a reason, a season or a lifetime." Viewing each story, no matter how big or small always brings us joy. The hope is for you, the reader, to also feel and en-joy!
I met Patrick Garvey and his wife Patty at a "Dumbarton at Dusk" seasonal evening event, open to the public. The casual soiree and my visit with the Garveys were delightful. Amusingly, Patrick Garvey noticed that the shape of the map of Georgetown resembled that of Texas. So, of course, he had to give us his Georgetown story. But his came by way of Texas…
Thank you, Pat, for drawing this clever Mapping Georgetown map, right on the spot!
Here's Patrick's Story-Map and Follow-Up for the Mapping Georgetown Project:
"I moved from Texas to Washington D.C. in the 1970s. I attended mass at Georgetown University and fell in love with the D.C. area. I vowed to all my friends that I was coming to Washington for a short stint and I would go back to Texas.
Forty years later, I'm still in Washington! Do I miss Texas? Sure, but not really! Washington – the most Dynamic and exciting city in America! This is home! This is where – I belong!"
So many of those individuals who submit a story-map to us thank Mapping Georgetown for the experience. They find the act of crafting their narrative more thought-provoking and revealing than they ever would have expected. In a follow-up email, Pat expounded on this feeling and offered more comparisons:
"I thought of the Georgetown / Texas connection again this morning. For me there are so many similarities:
Texas money was my first true exposure to real wealth; Georgetown certainly has the aura of wealth in Washington.
Texas is where I realized my desire to be a Jesuit; Georgetown was where I first worshiped in a Jesuit community at Holy Trinity and Dalgren Chapel on campus.
Texas was where I had my graduate studies on public policy; Georgetown is where I learned about power and influence.
Texas is where I had a love for BBQ; Georgetown was where I learned of power lunches and dinners.
Texas, I thought had the prettiest women in America; but it was in Georgetown that I fell in love and was married!"
And these are the sorts of connections that are so heartwarming and unexpected!
——
­­­­­This Mapping Georgetown story can be viewed in full at https://mappinggeorgetown.com/2020/04/23/wait-is-it-georgetown-or-texas/.
We encourage you to submit your story of your Georgetown connection to this community collection. Blank templates can be printed from the home page of www.mappinggeorgetown.com or picked up from The Georgetown Public Library.
To learn more about the Mapping Georgetown project see https://georgetowner.com/articles/2021/07/19/marilyn-butlers-vision-for-mapping-georgetown/. If you need any help or assistance, please don't hesitate to contact Marilyn Butler at: marilyn.butler@gmail.com.