Downtowner News: Cherry Blossom Festival Returns, Smithsonian Opening Up
By
March 7, 2022
0
893
•
---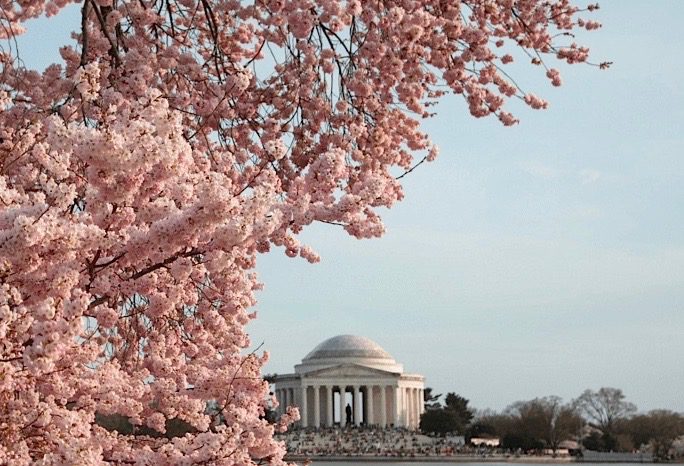 Cherry Blossom Peak Bloom Announced with Festival on the Way 
Mark your calendars — peak bloom is just 13 days away. Superintendent of the National Mall and Memorial Parks Jeff Reinbold made the announcement last week. Peak bloom is expected to last from March 22 through 25. The 2022 Cherry Blossom festival, which marks 110 years since Tokyo Mayor Yukio Ozaki gave D.C. 3,000 cherry blossom trees, is from March 20 through April 17.  
Smithsonian to Reopen Three Museums Post-Omicron 
The Smithsonian is reopening three museums closed due to Covid staffing shortages, including one today. The Anacostia Community Museum reopens at 11 a.m. today and the National Postal Museum will be reopening Friday at 10 a.m. Finally, the National Air and Space Museum's National Mall location will reopen Friday March 11 through Sunday March 27. The museum will close again March 28 through Fall 2022 for extensive renovations.   
Metro Crime Up  
Crimes in D.C.'s Metro stations have increased, with assaults, pickpockets and robberies on the rise in trains, buses and stations. Pickpocketing doubled (and then some) in January with 12 reported versus five last January. Aggravated assaults jumped to 14 in January 2022 from 7 in January 2021. Robberies also increased to 16 this January. Metro rider Mariam Shomekan told NBC-4, "Hold everything nearby and don't have everything open and out, anything visible that looks like it could be taken, that type of stuff."  
Pollen… It's Baaack!  
Dust off that Flonase! Everyone's least favorite part of springtime in D.C., pollen, is back, along with warmer temperatures. Susan Kosisky, chief of the U.S. Army Centralized Allergen Extract Lab in Silver Spring, told WTOP that early flowering tree species are out and about. The lab also mentioned tree pollen has crept up to the "moderate" range. As we move toward higher levels, allergy sufferers are recommended to wear a mask, sunglasses and hat and keep their windows closed, check air filters and shower in the evenings to remove pollen.  
Top D.C. Chefs Putting a Ukraine Benefit Dinner Together  
A fundraising dinner dubbed #ChefsForUkraine will be Monday March 21 at Moon Rabbit restaurant located at The Wharf. Organized by Chefs Stopping AAPI Hate, proceeds from ticket sales ($500 pp with an optional $200 wine pairing) will be donated to World Central Kitchen relief efforts on the border of Ukraine. Participating chefs in the 10-course meal include Aaron Silverman (Rose's Luxury, Little Pearl), Yuan Tang (Rooster & Owl), pastry chef Gregory Baumgartner (Cranes) and more. Rose Previte of Maydan and Compass Rose is providing wine pairings. Reservations are limited to just 120 people. Dinner begins 6:30 p.m.  
Say It Ain't So! Nats Opening Day Delayed  
After talks to end a lockout imploded, Major League Baseball's Opening Day has been delayed. Originally scheduled for March 31, there's no news as of press time whether word of an agreement has been reached. The delay leaves thousands of season-ticket holders, bar owners, and Nationals Park employees in limbo.   
Neil Albert, Former D.C. Housing Authority Chair Resigns from DowntownDC BID  
Neil Albert, who's currently under federal investigation, resigned from the DowntownDC Business Improvement District after the group found he inappropriately granted contracts to a firm owned by a woman with whom he was having a relationship. Albert told the BID he was leaving his position after the board of directors told him they'd be voting to have him let go.