Mapping Georgetown: Rose Park Spurs Golden Doodle Acquisition
By
April 25, 2022
0
855
•
---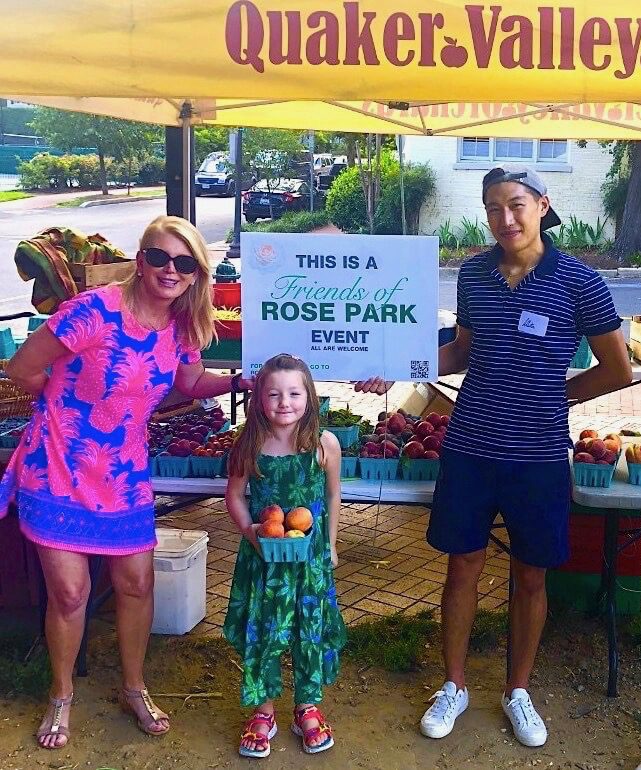 This special place packs a punch. Rose Park at 2459 P St. NW always delights its visitors and enlivens its Georgetown neighborhood. Farmers markets, art events, seasonal celebrations, tennis and basketball courts, baseball fields, picnics, children's play areas, a path along Rock Creek and, of course, all of the neighborhood's dogs and their owners!
For today's Mapping Georgetown story, we were delighted to hear from Gail Daubert, co-president of Friends of Rose Park, who described playfully how Rose Park helped bring a "fabulous golden doodle named Ziggy" into her life.
Gail Daubert's Mapping Georgetown Story 
My best story about GT is moving in and going to Rose Park and joining, albeit, dogless. The yappy hour parties = everyone brings something to pass [around] and their dog. I quickly convinced my husband to agree that we needed a dog. Thus, we were blessed with a fabulous golden doodle named Ziggy. Not after Ziggy Stardust but Zigmund of Wagner's Ring Series. On his 2nd birthday, we had a bark mitvah, Ziggy's Hebrew name is Zahav – which means "gold"…  Ziggy and I love Rose Park and GT ❤
—
For the latest on Georgetown's Rose Park, see Rose Park Buzz Spring 2022 here. "The popular Rose Park Wednesday afternoon market is scheduled to re-open on May 4 from 3 to 7 p.m. on the Rose Park basketball courts at the corner of O Street and 26th Street NW," the article says.
Thank you for your delightful story, Gail! We wish you, your family and, of course, Ziggy, the very best. Hope to see you soon at Rose Park!
—
To learn more about the Mapping Georgetown project see https://georgetowner.com/articles/2021/07/19/marilyn-butlers-vision-for-mapping-georgetown/.
To submit your Georgetown recollections to Mapping Georgetown go to www.mappinggeorgetown.com  or visit the Georgetown Public Library to pick up a physical map-story form to fill out.
Marilyn Butler can be reached at: marilyn.butler@gmail.com.