New Canal Boat Christened in Joyous Ceremony 
By
May 2, 2022
0
1250
•
---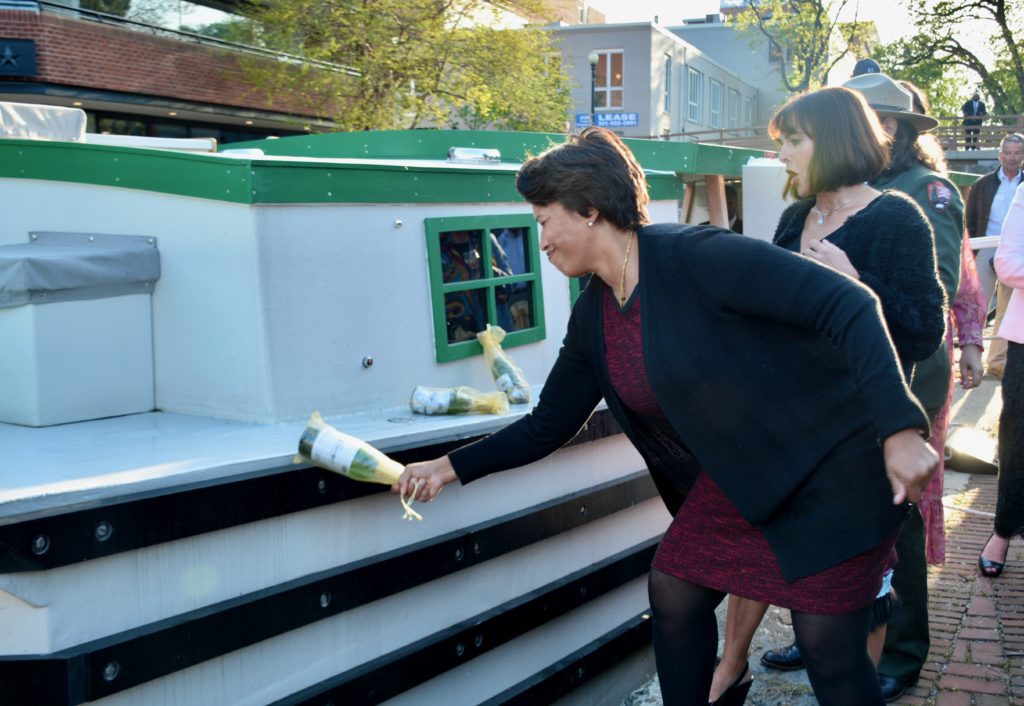 Georgetown's brand new 80-footlong, historically correct Canal Boat was officially launched Thursday, April 28, at the C&O Canal's reconstructed and filled Lock 3 with joyous pomp and ceremony.
There were speeches, live music, hors d'oeuvres, boat tours from guides in costume, champagne and numerous toasts. The crowd of some 200 Georgetowners cheered when four specially-made (organic based) bottles of champagne were smashed over the bow of "The Georgetown Heritage" by Mayor Muriel Bowser, Ward 2 Council member Brooke Pinto, National Park Superintendent Tina Cappetta of the Chesapeake and Ohio Canal National Historical Park and Georgetown Heritage Foundation President and Chair Jennifer Romm.
Speakers acknowledged the many officials, donors and volunteers (many of whom were present) who have raised funds, advocated, reviewed plans and oversaw the Canal Boat Project over the past seven years. Principals included the Georgetown Heritage Foundation in partnership with the Georgetown Business and Improvement District, various D.C. departments and agencies and the U.S. National Parks Service as well as commissioners past and present of the Georgetown Advisory Neighborhood Commission who were involved continuously with oversight and responding to residents' concerns. Former Ward 2 Council member Jack Evans got major shout outs from Bowser, Pinto and others for his work on the project that took almost seven years to complete.
"Now we can't wait to show it off and have everyone see it and take a tour on it," Romm said. Many activities and events are being planned around the focus on the Canal Boat. The Heritage Foundation hopes eventually to build a Georgetown historical education center near Lock 3 and the National Park Center presently under construction.
"Everywhere I go when I mention Georgetown, people say they want to come see the canal and the boat," Bowser said.  "It is an important draw for international visitors and tourists to the District."
"Plans for the new canal boat and reconstruction of the locks was part of BID's 15-year plan proposed almost a decade ago," said Georgetown BID CEO and President Joe Sternlieb. "It soon became a lot bigger vision. Parks educational centers. I was going to initially negotiate down to a low six-figure budget for the project but Jack Evans insisted we go for a more ambitious $3 million funding base. He got it. From the start, everyone stayed together and we all learned what it takes to make a partnership work."
"This revitalized Canal Boat Project is a way that we can connect visitors to the really unique urban history of Georgetown," said Christiana Hanson, chief of Interpretation, Education and Volunteers for C&O Canal National Historical Park. "The historical interpretations will bring to life the voices of the people who lived and worked around and on the canal."
"It will take our entire village to develop the canal revitalization projects planned to follow this launch," concluded Romm. "But now let's celebrate 'All Aboard Our Heritage!' "
The C&O Canal opened in 1831 and operated for nearly 100 years as a link to what was then the western United States, delivering resources between the Chesapeake Bay and the Ohio River.  The original Canal Boat was pulled by mules, but the Georgetown Heritage has several modern upgrades, including whisper-quiet electric engines. It also has restrooms and a sound system to help visitors hear the educational interpreters who will be sharing the history of the canal.
Georgetown Canal Boat tours began in 1971, when the C&O Canal became a National Historical Park, the first mile of which is in Georgetown. The last Canal Boat — "The Georgetown" — became damaged beyond repair in 2011. Beginning April 29 and through October, one-hour guided historical tours will be offered Wednesday through Sunday. Canal boat tickets can be purchased at the Georgetown Heritage website or at the box office in the Mule Yard at Lock 3 between 30th and Thomas Jefferson St. NW.
The boat does not yet have an official name. However, with a significant donation, Georgetown Heritage will gladly affix the name of your choice to the vessel.
"Now this Georgetown icon has returned to Georgetown," said Cappetta, "Never doubt that a small group of thoughtful committed citizens can change the world," she concluded, quoting famous anthropologist Margaret Mead.