Georgetown Flea Market Celebrates 50th Year: It Rocks! 
By
May 11, 2022
0
1228
•
---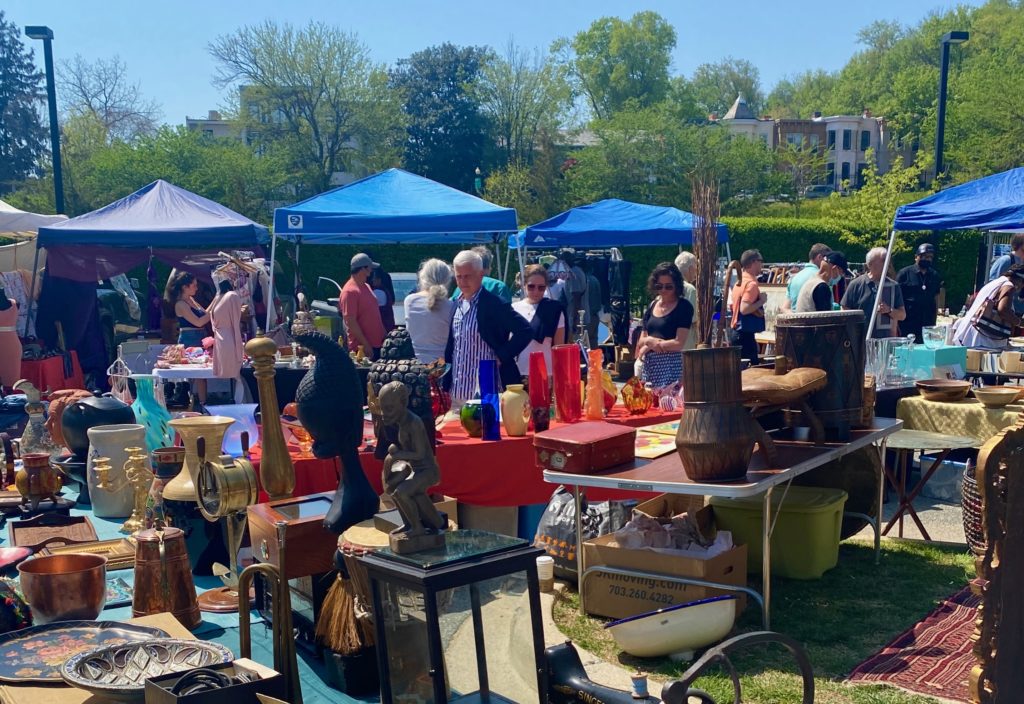 Ask just about any long-time resident of Georgetown… or look it up in various lists of great things to do in Georgetown on Sundays. You'll inevitably come up with the recommendation to check out the Georgetown Flea Market. It rocks!  
 Located in the parking lot of Hardy Middle School across from Safeway on Wisconsin Avenue, the market has been offering Georgetowners and visitors an eclectic selection of art, jewelry, vintage clothes, furniture, household wares, silver, glassware and linens, pottery, ceramics and — of course, this being Georgetown, Washington, D.C., after all — political and historical memorabilia and collectibles, for 50 years every Sunday (except for a couple of months during the pandemic) between 8 a.m. and 4 p.m.      
 "That's what we were told the first week of college," four fresh-faced Georgetown University freshmen and roommates from Kentucky, New Jersey, Maryland and Delaware told The Georgetowner at the entrance to the market on April 24.  "It's a great place to find things for our rooms and… maybe, to find a date."  They had already checked out the large selection of posters and were headed for the vintage purses and jewelry on the next display table.  
By 8 a.m., customers start arriving. "The earlier the better to get first chance at new offerings," said Mitchell Stangey, who has been coming to the flea market before 8 a.m. (sometimes before 6 a.m.) for decades to spot out and later buy the latest items.   
"Loyal customers like Stangey and most of the vendors have been trading here for decades," said Michael Sussman. He started the market in 1973 during the transition period while awaiting the results of his law board exams having just finished law school at Georgetown. He built it up over the years, even as he practiced law.  
 Sussman gets to the market site around 5:30-6 a.m. — even the morning after his wedding — when the vendors come to carefully lay out their wares. The friendship and camaraderie between them and Sussman may be the reason for the friendly, authentic this-is-for-real atmosphere of the market.  
There's the lady who sells pristine condition table linens — many handmade lace and crocheted — that she collects and meticulously cleans. "If you have any questions about stains, go talk to her," Sussman said.  
Next to her booth, a long-time vender of now vintage household dishes, pans, bowls, cups and saucers like Melmac from the 1950s. A particular modern-designed set of cups and saucers known as Harmony was sold less than half an hour after viewing them on Sunday. "Things go fast here," Sussman laughed. "You have to make quick decisions or you could lose out."  
Another long-time vendor who brought selected jewelry and watches along with her young son decades ago, now comes every Sunday with her tall and grown son who partners with her in their growing business.  
One collector was selling political buttons, posters and documents, including some original photographs and memorabilia of JFK. An older gentleman nearby has been selling military and Judaic collectible items — especially WWI and II and the Israeli foundation period — at the market for more than 20 years. Some of these items that are signed and authenticated are historically valuable and worth hundreds of dollars. Stories circulate that some items bought at the Georgetown Market have sold for five and six figures afterwards.  
Another old-timer at the market sells hair pieces and often vintage hats —  along with old wooden hat molds shaped as faceless heads. A woman nearby sells vintage clothes including a rack of ruffled and bowed ball gowns perhaps once a must-have in social Georgetown but now perhaps fitting at the Met Gala last weekend. In the past, the market has offered a section of farm-fresh food. But Sussman is not sure that will be continued with so many new grocery stores nearby. 
 "I am happy that many of the vendors here have made livable serious businesses out of their flea market enterprises," Sussman said. "Many take time to visit estate sales and antique venues around the area or especially in the Northeast to get special offerings. Many have come to depend on the market for a good weekly sustainable business. It's one reason — plus the fun I have — that I'll keep doing it as long as possible."