Fun, Almost Back-to-Normal Summer Weekend in Georgetown
By
June 13, 2022
0
1327
•
---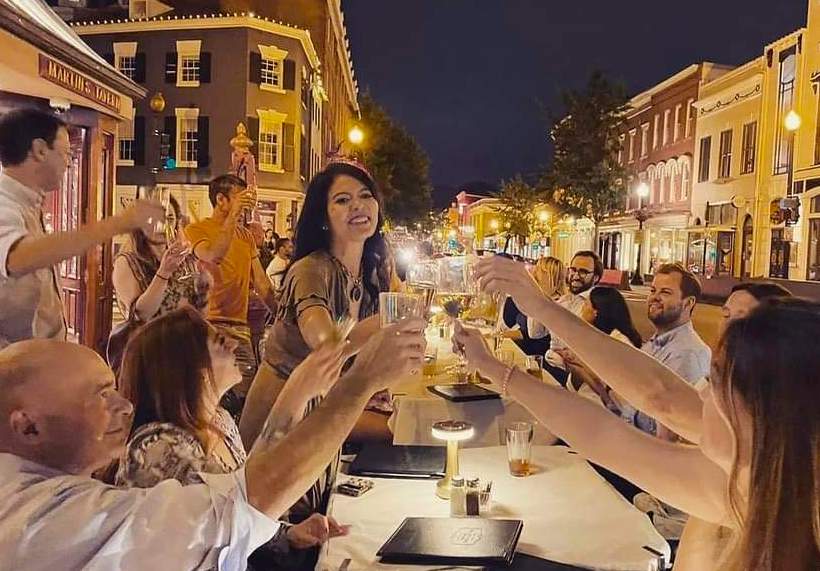 Pools open! Parades and parties! Picnics in the park. Pop-ups including a free champagne garden party. Plenty of shopping in Georgetown — with a chance to slip easily over to Virginia to go to the big box stores and find cheaper gas ($4.99). Plus: ballet, theater and three popular summer blockbuster movies open in theaters and full. Temperatures last weekend in Georgetown were in the high 70s, low 80s with a breeze and lots of things to do, mundane and special. In other words, Georgetown had an almost back-to-normal weekend and people were out enjoying it all.
Washington, D.C., always offers a plethora of special events every weekend, but this weekend after Memorial Day seemed special as many of the annual events taking place were the "return" after two years' hiatus because of the pandemic. Several of the special events focused on protecting children such as the 32nd Lawyers Have Heart 10K, 5K and Fun Walk starting at Washington Harbour on the Georgetown waterfront to support babies and children with congenital heart defects, and support training in CPR and the like. Nearby at the Washington Monument and on the Mall, thousands of demonstrators rallied to demand Congress pass strong gun control legislation, heard speakers and paid homage to the hundreds of people – many young children – killed by guns recently throughout the U.S.A.
Drawing large crowds throughout Saturday were the return of "Pride Events" that were free and where everyone was encouraged to "dress as colorfully as you can." The parade routed through all the areas of gay history in D.C., but particularly in the Dupont Circle area; the gay pier event and a festival on Pennsylvania Avenue. Long lines of D.C. residents dressed in summer clothes moved slowly all day along M and 29th Streets to participate in the Chandon Secret Garden pop-up free champagne and scents event featuring the brand's newest bubbly Garden Spritz.
Many families held evening picnics in Rose Park alongside youth softball players on the now refurbished ball field completed during the pandemic. And public swimming pools at Volta Park and Jelleff Recreation Center started their summer weekend schedules: 10 a.m. to 6 p.m. After June 27,  the last day of the year for D.C. public schools, the pools will be open from noon to 8 p.m., with Volta closed on Wednesdays and Jelleff closed on Mondays.
There was a book sale at the Georgetown public library  — $2 for hardbacks, $1 for soft cover, including a growing offering of books for "tweens" and young adult books, popular purchases of Georgetown's many grandparents.
These events were mainly during the day. During the balmy evening, the local streatery restaurants like Cafe Milano, Clyde's, Peacock Café and Martin's Tavern were full — even after 10 p.m. That's when, it seems, many Georgetowners wanted to extend their good times in theaters throughout the city.
The Picnic Theatre Company celebrated the end of its Dumbarton House run of "The Manchurian Candidate" at Martin's Tavern.
The New York City Ballet company's full performance of Shakespeare's "A Midsummer Night's Dream" (music by Mendelssohn, choreography by Balanchine) was packed. More than 100 dancers in classical ballet costumes filled the stunningly designed stage at the finale —  several dozen of them youngsters from local area ballet schools who had won auditions to train and perform with the company for this performance. The only less-than-optimal aspects of the performance was that programs were only available on iPhones connected to the Kennedy Center's QR-code reader and wearing masks was required for which the many volunteers kept a sharp lookout.
Yet mask requirements don't seem to deter movie lovers. Three of the block-buster movies that packed in happy go-back-to-the-big-screen crowds throughout the country: "Top Gun: Maverick," "Downton Abbey: A New Era" and "Jurassic World: Dominion."