Mayor Celebrates Wegmans, City Ridge Unveiling
By
July 11, 2022
0
887
•
---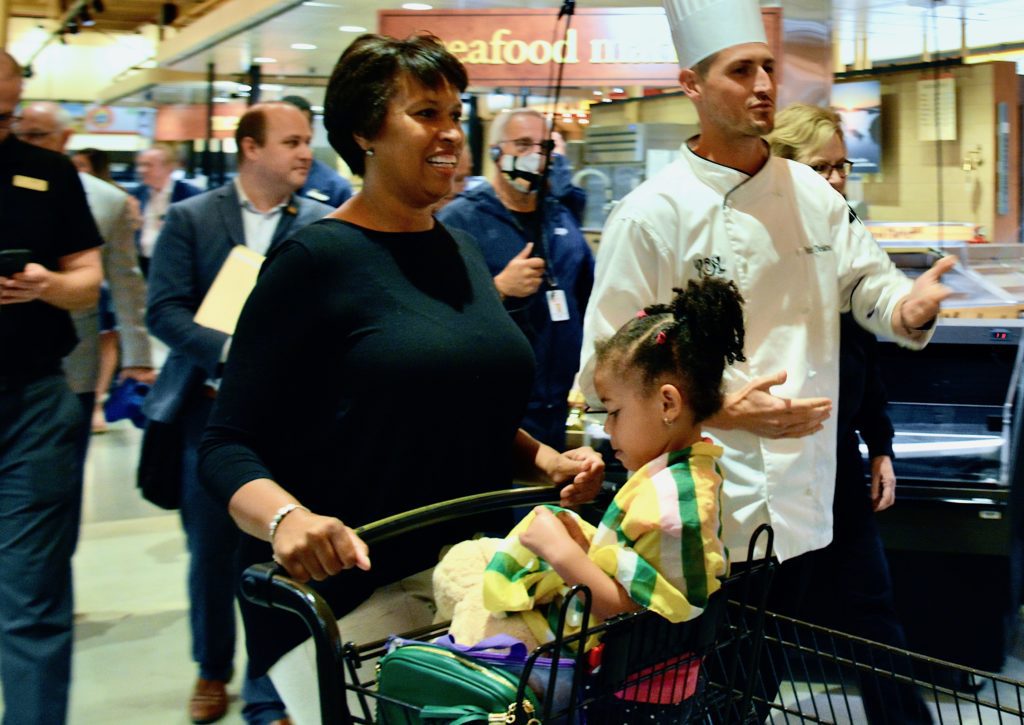 While you can't buy anything until the official opening this Wednesday, Mayor Muriel Bowser visited the new Wegmans grocery store up Wisconsin Avenue at City Ridge on Saturday, July 9. She brought along her 4-year-old daughter Miranda, who sat in the shopping cart child seat, as they moved through the 84,000 square-foot store with Wegmans officials.
Known for its variety of items and prepared foods, Wegmans will also sell wine and spirits. Of course, there's a sushi station, burger bar and pizza.
"I love it. I think people are going to really appreciate all of the prepared and ready to go options," said Bowser, who presented the supermarket chain with a city proclamation.
The mayor was also there for the unveiling of City Ridge, along with Richard Lake of Roadside Development, which rebuilt the former Fannie Mae site at 3900 Wisconsin Ave. NW. The four luxury apartments are ready — as well as other spots, such as King Street Seafood and the soon-to-open Taco Bamba. Bowser congratulated Lake and other developers, noting the additional housing available to Washingtonians.
The unveiling party — along with a giant lawn sculpture — at the Great Lawn included children's activities like face painting for the kids, which Miranda Bowser took advantage of. 
The first D.C. Wegmans will employ around 450 people, and 75 percent are D.C. residents.