BellRinger Raises Over $1 Million for Georgetown Lombardi Cancer Research 
By
October 24, 2022
0
1378
•
---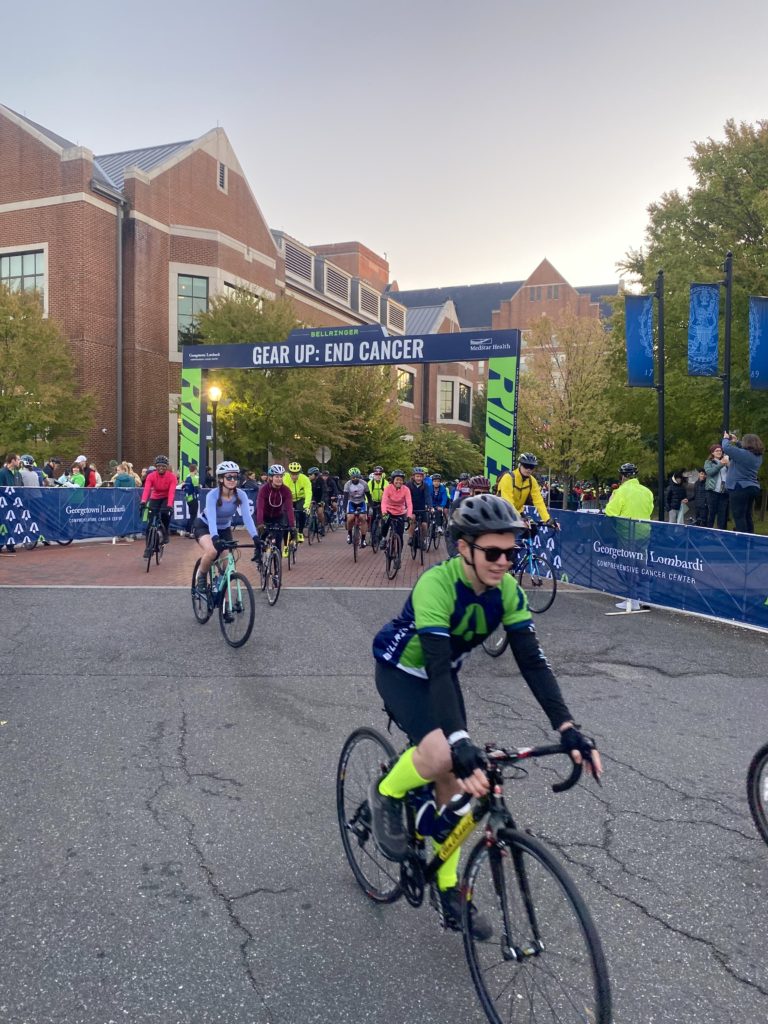 Nearly 850 BellRinger bike riders raised over $1 million to support cancer research at Georgetown Lombardi Comprehensive Cancer Center – the most all-encompassing such facility in the nation's capital – on a beautiful, sunny fall Saturday morning this past Oct. 22.  
Venturing north along the Potomac River through scenic Maryland, riders who committed to raise $1000 dollars journeyed 25 miles to Darnestown. Those who committed to raise $1250 took a 50-mile swing further north to Urbana. And the century riders committed to raising $1500 slogged a full 100 miles, taking an extra 50-mile hilly loop before crossing the finish line back in Urbana. 
Along the way, the riders felt the wet morning chill on their fingers and faces, but soon shed layers and enjoyed the warmth of the sun to help them on the steady uphill gradient through the rolling countryside festooned with fall foliage. At the start of the trek, police closed off Canal Road for the bikers to enjoy free of car traffic.
"We are a year-round grassroots effort to end cancer," BellRinger declared. "We believe that when we work together, we go further, and when we push ourselves – individually and as a community – we will achieve even the most difficult challenges."
Jonathan Thomas, senior director of development and corporate relations at Georgetown Lombardi was excited to ride his 25 miles, but was even more enthusiastic about what the ride would bring to Georgetown Lombardi. "Unfortunately, cancer is a common theme in my own family and among friends and colleagues and for most of us… It's something we don't want to have to live with in our lives anymore. And we have to "ring the bell" on cancer for good. Or, at the very least, have more people ring that bell. You know, the name BellRinger comes from patients all over the globe who ring to celebrate the end of their cancer treatments. Hopefully, they're released into remission and cancer-free. And we want a cancer-free world someday."
Director of Georgetown Lombardi and medical oncologist who treats patients with cancer, Dr. Louis M. Weiner told The Georgetowner he'll be riding 25 miles for BellRinger. Having recently suffered from Covid, he scaled back his planned 100-mile ride. "I do research in cancer immunotherapy which is teaching the body's immune system how to treat cancer itself." For the last 14 years as the center's director, Weiner has dreamed of launching this type of large-scale community-oriented fundraiser modeled after Dana Farber's Pan-Mass Challenge and other such drives. "We estimate that the research that's been done around the country in support of our patients has resulted in saving 300,000 lives a year… We still have a long way to go [however]. We're still losing 600,000 Americans a year to cancer." 
"We want to end cancer as we know it," Weiner said. "…This ride is fabulous… Everybody becomes a cancer researcher. Everybody who donates, everybody who volunteers is helping end cancer as we know it…. Every time a pedal turns and every time a wheel spins, somebody gets cured."
Assistant Professor in the McCourt School of Public Policy at Georgetown University, Dr. Nalette Brodnax, took several summer training rides with BellRinger to prepare for her 50-mile ride. She was dedicating her journey to an inspiring teacher. "So, I'm riding 50 miles in honor of my undergraduate mentor, Dr. Cheria V. Dials, who passed away from cancer in 2021." New to cycling, Brodnax had never joined an organized fundraising ride before. "But, I thought it would be a great opportunity," she said. "It's fulfilling because cancer takes away so much, but this gives you the feeling of being able to have some control and ownership and to feel like you can still make a difference and change cancer for people in the future, even if it took away your loved ones in the past."
Brodnax credited her BellRinger trainer, Charles Denney, with helping her get up-to-speed for the ride. For the past 30 years, Denney has been a major bike planning figure in the D.C. region. Working with Alta Planning and Design, he helped introduce the Capital Bikeshare program to Arlington, Virginia and Washington, D.C. On the training rides, he was inspired when he heard "all the doctors talking about the research they were doing, how this ride will help raise critical funds and about all the people they're helping." 
After injuring his knee, Denney had to drop his plans for riding 100 miles on Saturday. Instead, he'll be happy to serve on BellRinger's support team for riders. "It's such an important cause in helping to raise money for the cancer center because everyone knows somebody who's had a bad time with cancer, so anything we can all do to help," he said.
Dr. Samir Khleif, professor and director of The Loop Immuno-Oncology Research Laboratory at Georgetown Lombardi – and cover subject of The Georgetowner's August 2022 issue on BellRinger – emphasized that BellRinger not only raises critical funds for cancer research but helps riders stay in shape and "avoid chronic diseases." For the cancer center to "hit two birds with one stone is just phenomenal and I encourage everyone to be part of it." 
At the halfway mark of the 25-mile trip to Darnestown, this member of The Georgetowner News Cyclers team in Saturday's race stopped to re-hydrate at one of the plentiful BellRinger rest stops along the way and soon ran into Paul Mason, aka Fashion Santa – the subject of The Georgetowner's November 2021 Holiday issue. His real name is Paul Mason and he hails from Toronto, Canada. "The BellRinger ride is dear to my heart," he said, "because I lost my mother to cancer. The story goes that I was in New York City when she passed away from cancer. And in my grief, I stopped shaving and grew this crazy white beard, and yeah, Fashion Santa was born [laughs.]" Mason, a true silver fox, said this was his first such ride. "Well, the beginning of the ride was a little cold [laughs]. But, now it's fantastic," he said.  "It's a little daunting but the people are fantastic. They're very accommodating and helpful." Mason trained for his 25-miler by riding back and forth to visit his father in New York. "My dad's still alive so I go and see him," he said. Looking around, he mused, "I mean look at all this. Everyone's so supportive. It's so nice. We're all just pulling our way through. It's really great." 
While this year's ride was the inaugural BellRinger event in D.C., stay tuned for this annual fundraiser to be held hopefully until cancer can be defeated. For more information on BellRinger go to Bellringer.org. If you'd like to contribute to the Georgetown News Cyclers BellRinger team go here.