Mapping Georgetown: Culturally Nourishing Breakfasts
By
November 14, 2022
0
679
•
---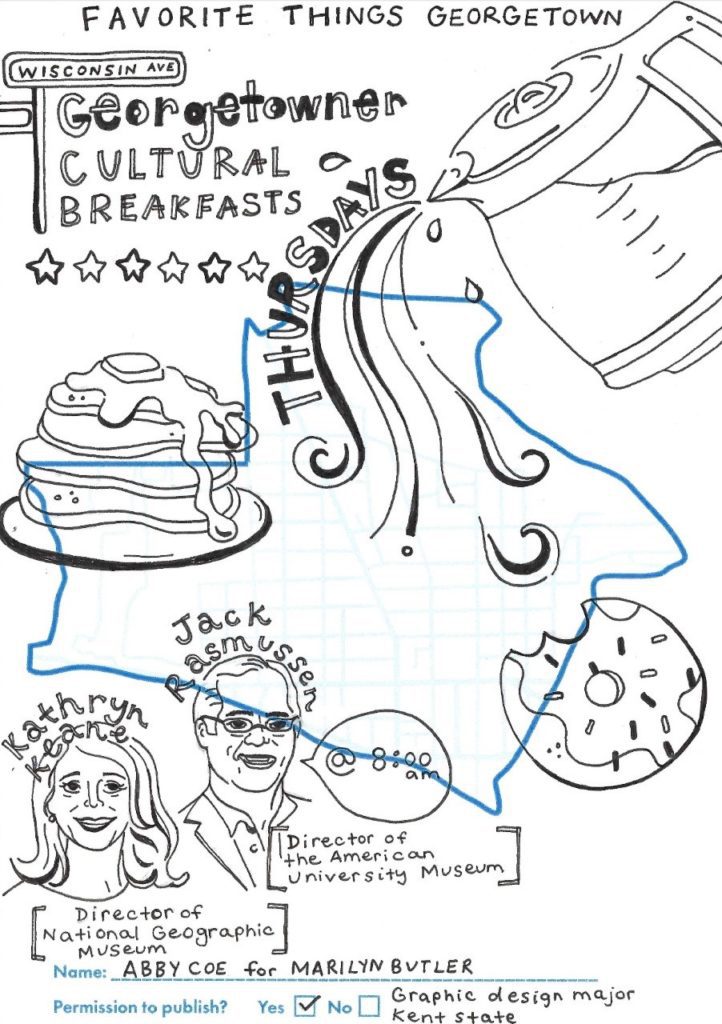 In Georgetown, we're so fortunate to be surrounded by the cultural treasures in our neighborhood and in our nation's capital. Is there anything quite like a brisk walk on a Thursday morning to one of The Georgetowner's Cultural Leadership Breakfasts? Over a cozy catered morning meal at the Tabard Inn, I just love taking in the SME (subject matter expertise) of a visiting artistic or executive director of a leading arts or cultural institution in Washington, D.C.
The illustration I've chosen for today's Mapping Georgetown story came about after I asked graphic designer Abby Coe to try to capture one of my favorite things about life in Georgetown, these culturally nourishing breakfasts.
The list of notable speakers at these morning salons is impressive: Kathryn Keane, director of the National Geographic Museum who remembered spending time as a child with her grandparents in Georgetown; Jack Rasmussen, director of the American University Museum, who told stories of his institution's inheritance of precious items from the Corcoran Collection; Capital Fringe Festival's founding director, Julianne Brienza, who humorously recounted the challenges and opportunities of bringing the first of such quirky festivals to Georgetown; Timothy Nelson, artistic director of In Series who discussed his highly innovative D.C.-based opera theater company; Aileen Fuchs, the executive director of the National Building Museum, who outlined her forward-looking vision for the museum; Simon Godwin, artistic director of the Shakespeare Theatre Company who amused the audience with his unlikely background story as he entered the world of Shakespearian productions.
For a list of the cultural breakfasts and their stories:   https://georgetowner.com/categories/cultural-leadership-breakfasts/
About the Tabard Inn
The following description from the DC Office of Preservation captures the charm of the century-old Tabard Inn where The Georgetowner has been holding its Cultural Leadership Breakfasts this year.
The Tabard Inn was established at 1739 N Street in 1922 by entrepreneur Marie Willoughby Rogers. At the time she was recently widowed; her husband, a prominent geologist, had died unexpectedly while on a mission with the US Geological Survey. Mrs. Rogers, who had previously operated a small restaurant in New York City, initially intended to operate the townhouse as a guest house and party space. Within months of its opening, however, she had introduced a tearoom, and the guest house was operating more formally as an inn. She sought to imbue the hostelry with the ambiance of an English Country Inn and named it after the inn in Chaucer's Canterbury Tales. In 1928 and 1937, Rogers expanded the business into the adjacent houses at 1741 N Street and 1737 N Street, respectively, connecting the three internally.
During the 1910s, independent tearooms, increasingly run by women, were opened to a broader clientele. Often in converted residences or small commercial establishments, tearooms offered a domestic feel and home-cooked meals. By the 1920s, and especially during Prohibition, tearooms were profitable business ventures that even supported their own trade publications, largely to provide women with advice on how to succeed in business. The Tabard, which regularly advertised itself as a tea house, fit the model, but was not alone in DC. The economic pressures of the Great Depression and material shortages of World War II shuttered tearooms nationwide but, as a whole, those in DC survived.
Rogers oversaw operations until her death in 1970. The building was then threatened with demolition. Most independent teahouses in the city had already succumbed to redevelopment and other forces. But in 1974, the Tabard Inn was rescued by Fritzi and Edward Cohen, who purchased the property and re-opened the inn and restaurant. Still operating today under the ownership of Mrs. Cohen and her employees, the Tabard Inn is a survivor, distinguished as the oldest inn in the city to be continuously owned and operated by women.
Dumbarton Oaks Gardens
For those who've followed Mapping Georgetown, you'll know that few places in Washington, D.C. are as delightful to me as the gardens of Dumbarton Oaks. They're an easy refuge for observing the seasons, a setting for a walk with a friend, or a quiet meditation in a sacred space. Since this Thursday's Cultural Leadership Breakfast is with Yota Batsaki, executive director of Dumbarton Oaks, you can imagine my enthusiasm for the occasion. (See below for information)
If you're not familiar with Dumbarton Oaks and the treasures of their gardens, here's a little background:
In 1920, after a long and careful search, Mildred and Robert Woods Bliss found their ideal country house and garden within Washington, DC. They eventually purchased a fifty-three-acre property, described as an old-fashioned house standing in rather neglected grounds, at the highest point of Georgetown. Within a year, the Blisses hired landscape gardener Beatrix Farrand to design the garden. Working in happy and close collaboration for almost thirty years, Mildred Bliss and Beatrix Farrand planned every garden detail, each terrace, bench, urn, and border. The upper sixteen acres were transferred to Harvard University in 1940 to establish a research institute for Byzantine Studies, Pre-Columbian Studies, and Garden and Landscape Studies.  https://www.doaks.org/visit/garden 
This Thursday's Cultural Leadership Breakfast
If you enjoy the splendors of Georgetown's Dumbarton Oaks Gardens — and you're not particularly looking forward to winter's stingy daylight hours — this Thursday's Cultural Leadership Breakfast at the Tabard Inn is not to be missed! Here's The Georgetowner's announcement for the breakfast with information about ticket purchasing:
On Thursday, Nov. 17, from 8 to 9:30 a.m., The Georgetowner's Cultural Leadership Breakfast Series will welcome Yota Batsaki, executive director of Dumbarton Oaks, the Harvard University-owned research institute, library, museum and garden on 32nd Street in Georgetown.  
Diplomat Robert Woods Bliss and his wife Mildred Barnes Bliss gave the Dumbarton Oaks estate, their library and their Byzantine and Pre-Columbian art collections to Harvard, Robert Bliss's alma mater, in 1940. The centennial of the famed garden, designed by Beatrix Farrand in collaboration with Mildred Bliss, is being celebrated this year with the exhibition "A Century in the Gardens."   
Executive director since 2011, Dr. Batsaki holds a Ph.D. in comparative literature from Harvard. Among her research interests is the cultural history of plants, which she continues to pursue at Dumbarton Oaks as principal investigator of the Mellon Plant Humanities Initiative. At the breakfast, she will talk about the challenges and rewards of managing this uniquely multifaceted center, serving researchers in several disciplines as well as museum and garden visitors.  
Admission to the breakfast, held at the Tabard Inn, 1739 N St. NW, is $30, payable in advance via Eventbrite. 
Since 2014, The Georgetowner's monthly Cultural Leadership Breakfast Series has presented 45 insider talks by heads of area museums, theater and dance companies, performing arts venues and other arts organizations.  
To purchase tickets to the Nov. 17 breakfast, click here. 
 —
To learn more about the Mapping Georgetown project see https://georgetowner.com/articles/2021/07/19/marilyn–butlers-vision-for-mapping-georgetown/.
To submit your Georgetown recollections to Mapping Georgetown go to www.mappinggeorgetown.com  or visit the Georgetown Public Library to pick up a physical map-story form to fill out.
Marilyn Butler can be reached at: marilyn.butler@gmail.com.