95th Academy Awards: 'Everything Everywhere' Wins Big, Music Highlights, Best-Worst Dressed
By
March 13, 2023
0
929
•
---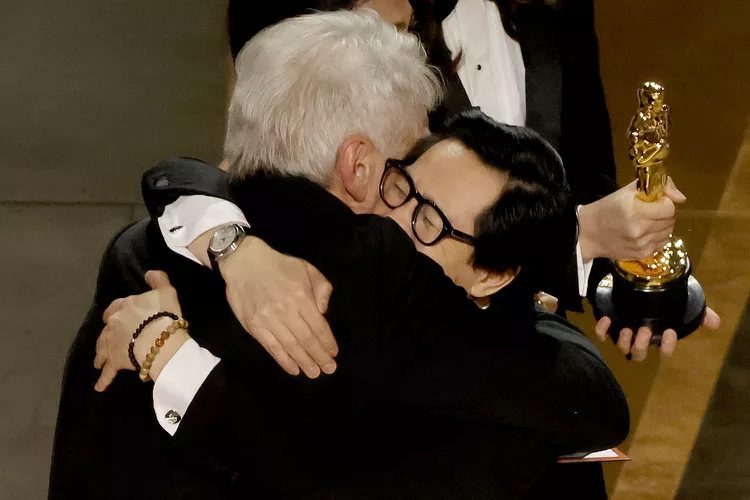 The way we watch movies has changed quite a bit in recent years. Movie theaters are closing and people are opting to screen films in their own homes (many of which are equipped with big screens and comfy leather seats of their own), especially given the dozens of streaming services available from Netflix, to HBO Max, Peacock, Paramount+, Disney+ and more.
The way movies are consumed has not affected the annual Academy Awards though. The ceremony, hosted by late-night comedian Jimmy Kimmel who's taken the helm twice before, celebrated 95 years last night with a fun, colorful, musical, well-behaved (the Academy hired a crisis team to prevent any potential re-slaps, so to speak) extravaganza. Here are some of the highlights from last night's three hour and thirty-seven-minute (whew!) show from a woman who's been watching the ceremony every year since she was 12 years old, popcorn in hand.
"Everything Everywhere All At Once" Wins Big
The sci-fi film directors Daniel Scheinert and Dan Kwan said was like putting their moms in "The Matrix" took home seven Oscars, including best picture, director, original screenplay, actress, supporting actress, actor and editing.
The actors who starred in the movie made for some heartwarming and record-breaking moments. Jamie Lee Curtis, 64, who played frumpy IRS auditor Deirdre Beaubeirdre, won the best supporting actress trophy, her very first Oscar. During her effusively thankful speech, she looked toward the sky and mentioned her parents (the great Tony Curtis and Janet Leigh).
Best supporting actor winner Ke Huy Quan, 51, immigrated to California (from Vietnam) in the late 1970s, soon becoming a child star in classic movies like "Indiana Jones and the Temple of Doom" and "The Goonies." With tears of gratitude in his eyes, he emphasized how real the American Dream has been for him and his family. Multiple heartwarming moments included a camera pan to Steven Spielberg (his director in Indiana Jones) as Quan delivered his speech. Later, he jubilantly embraced Harrison Ford, his co-star in the movie when Ford announced "Everything Everywhere All At Once" as the Best Picture winner.
Best Actress winner Michelle Yeoh, 60, broke multiple records with her win, including being the first Asian woman to win the award and the second woman of color to win after Halle Berry did over 20 years ago for "Monster's Ball." You can read more about additional records Yeoh broke here.
Music Reigns Supreme
Typically, the Best Original Song performances are ballads, often slow enough to have viewers start yawning and realizing just how long the broadcast has been going. This was not the case last night! Fresh off a Super Bowl performance, Rihanna sang "Lift Me Up," from "Black Panther: Wakanda Forever," clad in a sequined black pantsuit, with jewels decorating her baby bump. Lady Gaga belted "Hold My Hand" from "Top Gun: Maverick," in a gorgeous, stripped-down version, complete with a stripped-down outfit of ripped jeans and t-shirt.
The winner ultimately ended up being "Naatu Naatu," by Rahul Sipligunj and Kaala Bhairava, a viral dance hit from the movie "RRR." It was the first song from an Indian film to win an award. Put on your dancing shoes and check out the fierce dance battle earworm here!
Best Dressed and Those Who Missed the Mark
This year, the show opted to change their red carpet out for a champagne colored hue. While this allowed for less clashing with brightly colored dresses and suits, the lighter shaded carpet got dirty quite fast, resulting in muddy marks that resulted in hectic replacements as celebrities participated in the traditional carpet walk.
For best dressed, nominee for "The Fabelmans" Michelle Williams donned an ethereal Chanel couture gown with a red lip and pixie cut that highlighted her big dark eyes. Actress and model Cara Delevingne opted for Old Hollywood flair with a voluminous, red Elie Saab gown with a large bow accent on her right shoulder. Twenty-two-year-old Halle Bailey wowed in an aquamarine sheer strapless Dolce & Gabbana gown, accessorized with a spectacular 74-carat diamond necklace and nine-carat earrings and rings by De Beers. Her look gave off Ariel vibes, which lined up perfectly with her appearance hyping the upcoming live action version of "The Little Mermaid" with Bailey as the title character and Melissa McCarthy as Ursula.
Some of the best dressed men include Austin Butler, who was nominated for his role of Elvis in the movie of the same name. The 31-year-old arrived dressed in a perfectly tailored black velvet tux by Saint Laurent. Samuel L. Jackson, 74, was the epitome of cool on the champagne carpet. His silver suit jacket and bow tie looked effortless.
Those who missed the mark included 20-something Florence Pugh, who took a risk with a Valentino gown and hot pants, which looked like wrinkled bedsheets. Elizabeth Banks wore a billowing gown that was unfortunately just too much dress. It was so much material that the star nearly tripped and fell when she went onstage to present the Best Visual Effects Award. She was later seen shoeless when she left the show holding her sky-high stilettos.
See below for a photo gallery of the best and worst dressed celebrities mentioned.
You can see the full list of Oscar winners here.