Luke Russert's Odyssey: 'Look for Me There'
By
May 4, 2023
0
675
•
---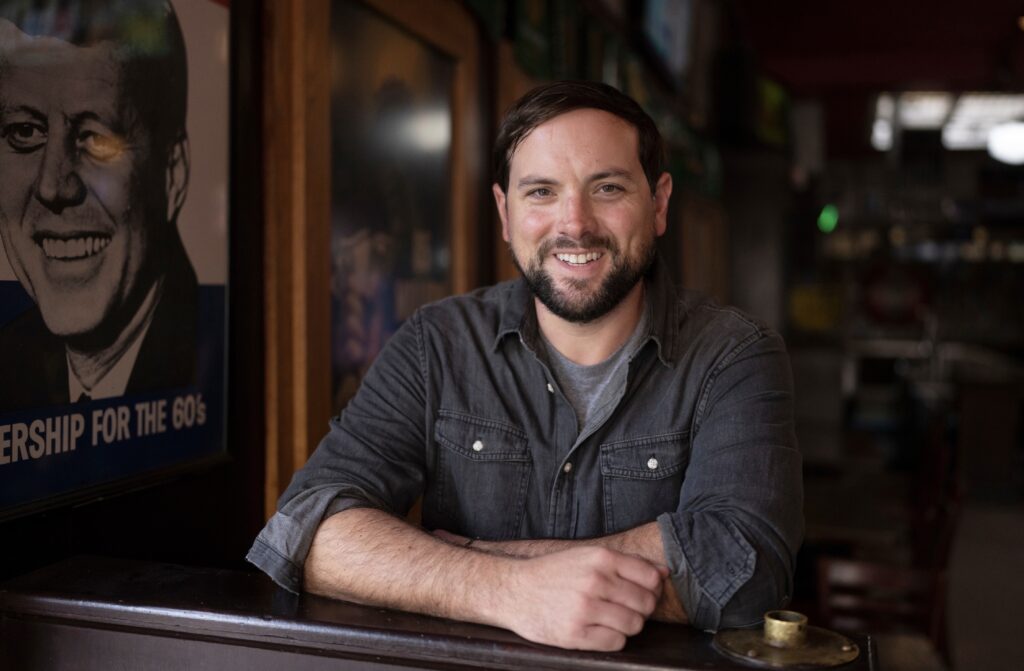 This is not a story about Telemachus, the son of Odysseus, who went in search of his wandering father.
But it is a personal story, an epic all his own, by Luke Orth Russert, son of Tim Russert, beloved TV journalist of NBC's "Meet the Press," and Maureen Orth, also a renowned journalist of Newsweek and Vanity Fair. The elder Russert, who died too soon at the age of 58 in 2008, is central to a book just out this week by 37-year-old Luke Russert — "Look for Me There: Grieving My Father, Finding Myself." 
Mythopoetic insinuations aside, Russert tells an insightful, honest tale of his journey from here, the heights of the nation's capital, around the world to arrive at home, seen anew — and to himself, maturing anew as well.
We talked with Russert at Boulangerie Christophe in Georgetown two weeks ago as he was about to set out on his book tour, which began in Buffalo, his father's birthplace. Our casual conversation started — as does Chapter One in "Look for Me There" — with the day Tim Russert died. (The book title refers to a hot dog stand at Orioles Park, where the young Russert would find his father, if they got separated in a crowd.)
"We were partly insulated from the shock by being in Italy," says Russert of his mother and himself. His father had been with them only a few days earlier but had returned to Washington, D.C. They were not quite prepared for the widespread sadness concerning the loss by so many people. A 22-year-old Russert gave the eulogy at the funeral Mass at Holy Trinity Church, where presidential candidates, Senators John McCain and Barack Obama sat together. "It was surreal," he says.
Soon, because of his poise and words on that day, Russert was offered a job at NBC News, which turned into an eight-year gig. He hesitated at first. Yet, being steeped in American history, he says, and with journalist parents, he took the leap.
While he may have had misgivings of staying too long, it was a meeting with House Speaker John Boehner that was "a catalyst" for his next life chapter, Russert says. "I had not left the bubble" of Washington, being a reporter on Capitol Hill.
Russert's retelling of his meeting with Boehner is one of the many highlights of his book. Here's an excerpt:
"What are you doing here?" he asks. "Sir, you called me to your office."
He cracked a smile. "No, Shithead, not here here." …
"Look, you're a young man. At one point you up and realize you've spent your entire life here and never once got out into anything else. … "I get it. It feels like the center of the world here, but there is more out there. It gets too easy here."
… I stand to leave and look at him a final time, fingering his cigarette, a man who has it all. Yet he has one message for me — get the hell out of here.
As I walk out, I'm not angry at him. There is no rush of Don't tell me what to do, old man. Instead — and it takes me a while to realize this — in his own unintentional way, Boehner channels the spirit of my father. He pushes me to think. A man who reaches the summit of Washington from humble means, just like Dad, is astutely aware of all the mountains he will never see.
So, before the election of 2016, the 30-year-old Russert chucks it all and sets out to see the world, to find his voice … and clarity.
His many travels (a selection in the book of the 67 places visited over three years) include Vietnam ("kind people"), Hiroshima, Easter Island ("a small dot in the wide, blue Pacific") and China — the corporate party — as it were — along with South America and Africa. (See the book for more places.)
Finally, in the Holy Land, at the Wailing Wall or Western Wall in East Jerusalem, Russert inserts a prayer for his father. It is Second Timothy 4:7 and reads, "I have fought the good fight; I have finished the race; I have kept the faith."
Back in Georgetown, where the family has a house on Prospect Street — next door to the house flaunting the Transformer statues — Russert enjoys the simple things: walking the dog to Volta Park ("yappy hour"). Favorite eateries? Martin's Tavern, of course, "with Billy, and love the staff" and Apero's on P Street. 
As far as Russert views today's journalism, he laments that it has "lost nuance," settling for instant gratification and jumping to conclusions.
For now, he sees his future in storytelling, such as that of "Look for Me There." This youngish, seemingly laidback man, mature beyond his years, is back in the neighborhood and nation — and offers all of us timeless advice, so personal and so well worth reading anew.