Georgetown BID's Spring Cleaning Projects, Canal Repairs 
By
May 8, 2023
0
1142
•
---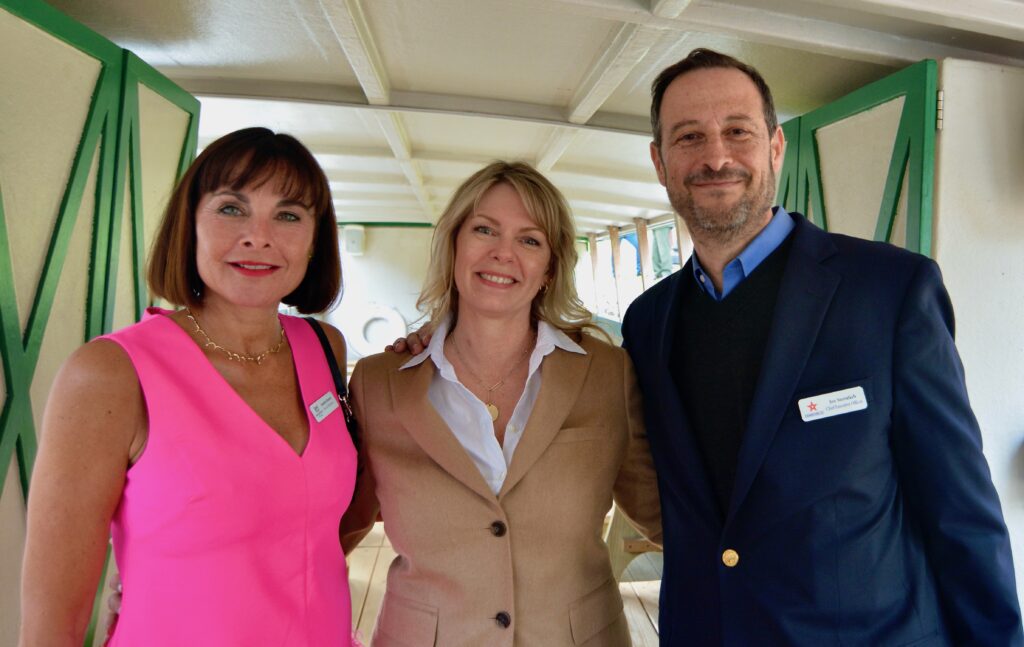 As May flowers bloom, annual rites of spring often involve cleaning and decluttering the home, but for the Georgetown Business Improvement District (BID), sprucing up Georgetown's commercial district is a top priority. We spoke with BID CEO Joe Sternlieb about the sorts of projects the BID – a publicly chartered non-profit "dedicated to protecting and enhancing the accessibility, attractiveness and appeal" of Georgetown's commercial areas – has underway. 
C&O Canal Boat
First, we were curious about the sudden turn of events surrounding Georgetown's new C&O Canal boat. Earlier, Georgetown Heritage – the non-profit supervising the operations of the brand-new "Georgetown Heritage" boat – had announced the canal would be emptied for repairs through 2025, but recently they changed course to say the boat will be back on the water giving tours in early May 2023. So, what gives? 
Sternlieb deferred to Christiana Hanson, chief of interpretation, education and volunteers for the National Park Service (NPS) to definitively answer the question. Turns out it was all about NPS procurement and contracting timeframes. 
"At the end of the 2022 boat season, the park was in the early planning stages of a large-scale project to rehabilitate multiple historic structures in the D.C. area but did not have a set timeline for the work and did not have a firm idea of the potential impacts on the boat program in Georgetown," Hanson wrote via email. NPS "anticipates an award for construction in calendar year 2023, allowing for the boat program to operate until construction begins. The rehabilitation project has not been rescheduled; we're just going through the normal contracting process for large-scale projects. More information on the rehabilitation project will be shared through press releases and on the park's website…"   
Sternlieb is pleased that NPS found the funding for the canal refurbishment, however. "They're doing super-important work for Georgetown so we can have water in the canal for many generations to come and they're not just patching it together," he said.  
Spring Cleaning in Georgetown
To spruce up Georgetown this spring, the BID has undertaken a variety of initiatives, Sternlieb told us. Out of its own coffers, its paying to paint light pole fixtures along M Street, to restore street boxes in the commercial district, and to hang flower baskets starting the second week of May. They're also calling for volunteers to help with graffiti removal and power washing. "Power washing is seasonal but we do a big spurt at the beginning of the season, especially in the alleys. But we [also] clean the brick sidewalks. And, we've cleaned up all the sidewalk extensions. We pick them up to get underneath and get any trash or garbage that's fallen. We also clean the streets…. But we're trying to get as much of the graffiti as possible and get everything painted up and spruced up." The BID also conducts regular walks and discussions with store-owners to nudge them toward keeping storefronts sightly and in compliance with city codes.  
Streateries and Extended Sidewalks
We also asked for the latest scuttlebutt on how long Georgetown's streateries and extended sidewalks might last. 
"Unless the community lobbies the [Old Georgetown Board] hard to keep the streateries, our permit expires December 31," Sternlieb said. "… And we'll go back to the days when there was no outdoor dining….  We don't have a plan to put in a request right now for an extension because we're waiting for the community to ask for it. Because we don't want to have a fight with the community on this issue. We want to cooperate and collaborate and we've heard different things from different folks in the community."  
But Sternlieb credits the streateries program with helping revive Georgetown. "We think outdoor dining has been extremely positive," he said. "It's had a transformative impact on Georgetown and we think the reason retail leasing has been so strong lately has something to do with the change in the vibe on the street because of the outdoor dining. And we're very worried that [if it ends] it's going to reverse the very positive activity that's been going on… But we'd love it if the community would sort of rally and say we'll get behind this and support it and then we'll keep it. But that hasn't happened yet." Support from the Citizens Association of Georgetown (CAG) and the Advisory Neighborhood Commissions (ANCs) could help keep the streateries going, Sternlieb said.  
The BID will also be piloting more aesthetic streatery designs, Sternlieb said. "We're trying to get a permit starting this summer doing an experiment with a different design or two that would be more attractive and not depend on jersey barriers," he said. "So, we're doing two or three different levels of piloting… where we wouldn't require jersey barriers but that requires a whole bunch of different things to occur, including we won't be able to have seating out in the street side." He estimates that switching to non-streetside arrangements could reduce the current 760 outdoor seats by as much as two-thirds. 
Historic Sidewalk Brick Repair
We were also wondering why so many bricks are piled up along M Street sidewalks and replaced with asphalt, cluttering up pedestrian walkways and looking so unsightly right now. Sternlieb reassured that the asphalt is only temporary where construction work is being done and that bricks will be restored to those sites. "That's just typical of what happens when there's construction going on. They come and do a cold patch and when they're done, they repair the brick. But there's no place in the commercial district where you're allowed to have asphalt replace bricks," he said. Construction of a new mid-block signal crossing at the 3200 block of M Street "next to Clyde's and H&M" is one of the reasons for temporary asphalt patchwork on the sidewalks, Sternlieb said. 
Sidewalk brick repair in the commercial district has also become much more timely, Sternlieb stressed. "The Georgetown BID is very nimble and we have eyes and ears on the street all the time, so we see stuff… usually before anybody else notices it." With a new contract through DDOT under the city's Public Space Maintenance Act, the BID can now perform minor brick repairs quickly and later receive reimbursement from DDOT.  
Tree Boxes
We were also curious about the mysterious new material being used to fill-in the tree boxes and whether it's safe for the trees. "We're allowed to use the flexi-pave in the tree boxes," Sternlieb said.  "And it's actually better for the trees because, theoretically, water can penetrate them and they don't compact the soil, so the trees live longer." 
Georgetown Transportation Study
To address major concerns about traffic patterns, parking and congestion issues, the BID is also working with DDOT on a major transportation analysis, "The Georgetown Transportation Access & Circulation Study." Greg Billing, the BID's transportation manager, told us the study teams will host their first public meeting on Monday, May 15 from 6:30 – 8 p.m. at the Georgetown Neighborhood Library. "The meeting will be hybrid with both in-person and virtual options to attend," Billing said. "The official meeting announcement will go out next week and the project website will be live before the meeting." 
Retail Vibrancy
Finally, Sternlieb emphasized, the BID has been devoting time to ensuring Georgetown's business vibrancy. "My staff put an enormous amount of time and effort into helping the merchants," for the Georgetown French Market April 28-30 which saw huge crowds despite rain on opening day, Sternlieb said, as the BID-sponsored event saw 35 local businesses participating in the Parisian-style 3-day festival on Wisconsin Avenue's Book Hill. The BID will also be working again with the Fringe Festival to bring the avant-garde theatrical festival back to Georgetown July 11 – 21. "All sorts of fun stuff's going on," this spring, he said. "We're trying to pull some art projects together for later this summer and we're doing Bike-to-Work Day in May." 
Most of all, Sternlieb is pleased that Georgetown retail is thriving after the doldrums of the pandemic. "I think retail is hitting it out of the park," he said. "We've got a number of new food places opening and retailers coming. Anthony Lanier is opening up another three or four retailers coming next month at the corner of Prospect and Wisconsin Ave. NW. There's good leasing activity on M Street. Wisconsin Avenue is just going gangbusters. And then some older buildings are being renovated. So, I'm extremely optimistic about what's going on with retail in Georgetown right now."