Digging Deeper at Dumbarton Oaks  
By
May 10, 2023
0
258
•
---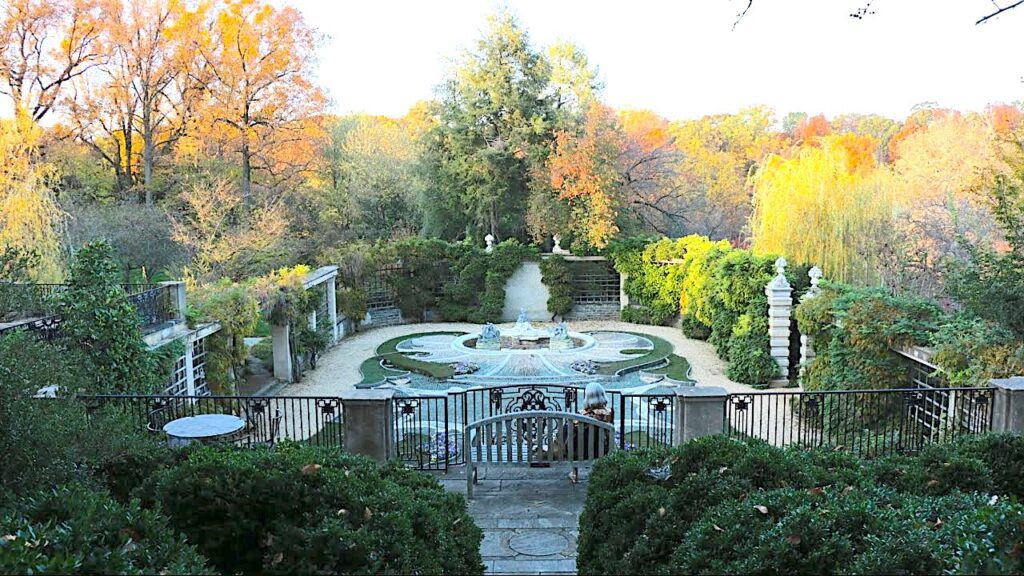 From noble trees to "garden-magic" to digital plant humanities  
Spring in Georgetown means new blooms at Dumbarton Oaks in the enchanting garden on R Street, and new initiatives in environmental and digital humanities both online and on-site.
Although often said to be the best kept secret in Washington, the brick-walled Harvard University research institute is neither an ivory tower nor a truly secret garden. A global hub for advanced scholarship developed around its founders' interests in Byzantine and Pre-Columbian art, rare books, and gardens, it may even be better known around the world than in its own neighborhood, where it offers public access to lectures, concerts, a jewel box museum, and architecture representative of three centuries within a masterpiece of American garden design.
Originating as a dream of a country house in the city, the story of Dumbarton Oaks is one of partnerships and transformations. Diplomat Robert Woods Bliss (1875-1962) and his wife Mildred Barnes Bliss (1879-1969) chose Georgetown in 1920, when they planned to retire after three decades as "professional nomads." Their long marriage, productive relationships with architects and landscape architect Beatrix Ferrand, and partnership with Harvard resulted in the transformation of a former farm into an elegant mansion and pleasure garden, and then into a haven for scholars and scholarship, sustaining their vision of 'a home of the humanities' within the framework of a larger institution.
The Blisses were sophisticated collectors and generous philanthropists, farsighted about the value and need for art and the humanities in uncertain times. Texts quoting Greek philosophers, Dante and the Blisses' testimonials to friendship and service are carved into the walls of Dumbarton Oaks. Etched in stone adjacent to the library is an excerpt from a letter Mildred Bliss wrote in 1942 to Paul Sachs, the Harvard art museum director: "If ever the humanities were necessary . . . it is in this epoch of disintegration and dislocation."
In the late 1930s, with war looming, the Blisses accelerated their plan to donate Dumbarton Oaks to Harvard, finalizing the gift of sixteen acres including house, grounds, collections, library, and garden, to the university in 1940 (along with the gift of the 27-acre "wild garden" to the National Park Service). Robert Bliss was called back to government service during the war years, working with Harvard to make the house available to the National Defense Research Committee for offices and with the State Department on the 1944 Dumbarton Oaks Conversations, the diplomatic meetings that laid the groundwork for the creation of the United Nations in 1945.
In 2020, when Thomas Cummins started his term as director, the challenges of the Covid-19 lockdown required rapid adaptation. The Harvard art historian hit the ground Zooming, determined to sustain a sense of community among staff and fellows working remotely.  His team created expanded virtual learning experiences for K-12 students and families; a collaboration with New York's Metropolitan Opera that produced Renée Fleming in concert live-streamed from the Music Room; and programs including a series of online talks on Ukrainian art and culture and real-life help for displaced scholars. The need for mission-critical academic conferences to go virtual (and then hybrid) resulted in increased participation and higher visibility. Ongoing priorities for Cummins include greater collaboration across the three traditional study areas, as demonstrated in a symposium on humanities perspectives on climate change last fall and continuing in May with a symposium (open to the public) on "Environmental Histories of the Black Atlantic World: Landscape Histories of the African Diaspora. "This is our responsibility as historians," said Cummins, "to give the full picture."
Dumbarton Oaks may have been first to coin the concept of plant humanities, according to executive director Yota Batsaki. "Putting plants in the center offers a wonderful window for understanding the human predicament today," she said. Batsaki is leading a Plant Humanities Initiative that includes a digital tool developed in collaboration with JSTOR, related research and scholarly programs such as a 2022 conference calling for new dialogue between humanities and science to research and communicate the fundamental importance of plants to human cultures.
Mildred Bliss died in 1969, a year before the first Earth Day, but was prescient in her conviction "that gardens have their place in the Humanist order of life; and, that trees are noble elements to be protected by successive generations."
A living work of art created a century ago, the Dumbarton Oaks Garden is the magnum opus of Beatrix Ferrand (1872-1959), one of the first women to be recognized as a professional landscape architect and the niece of Edith Wharton, the first woman to win a Pulitzer Prize for fiction and an authority on the "garden-magic" of Italian gardens. Ferrand and Bliss had been born into the world of "old New York" Wharton wrote about. They shared her passion for art, nature, and gardens, developing a deep friendship as they worked together, combining the influences of Italian and French formal design with American naturalism to create one of the most beautiful gardens in the world. Yet it is only with the rise of the environmental humanities and feminist art history that Farrand's genius has achieved the recognition it merits, according to an essay by Therese O'Malley in "Garden as Art," a recent Dumbarton Oaks publication edited by Thaisa Way, head of Garden and Landscape Studies. (A new edition of Farrand's "Dumbarton Oaks Garden Book" is also essential reading for all Georgetown gardeners.)
The task of balancing the requirements of preservation and community falls on Jonathan Kavalier, head of gardens and grounds. He says the gardens may be understood as "slow performance art" and his role as that of a producer. While initiating a plan to rebuild century-old arbors and other infrastructure elements, he tries to hold to Farrand's design intent, follow 21st-century horticultural practices, and raise services to the ecosystem. Kavalier believes that the garden is a place of collaboration and connection, where the feeling of magic contributes to magic in scholarship.
It was Ferrand's good friend Henry James who wrote "Summer afternoon — summer afternoon; to me those have always been the two most beautiful words in the English language." Had he visited the extraordinary gardens created by Ferrand and the Blisses, he might have written instead that the most beautiful words are "Spring afternoon — spring afternoon at Dumbarton Oaks."
Dumbarton Oaks is located at 1703 32nd St. NW —  Doaks.org.  
Cathryn Keller writes about museums, modern art and modern yoga. www.cathrynkeller.com