Agouridis's Plan for Golden Triangle
By
July 12, 2023
0
713
•
---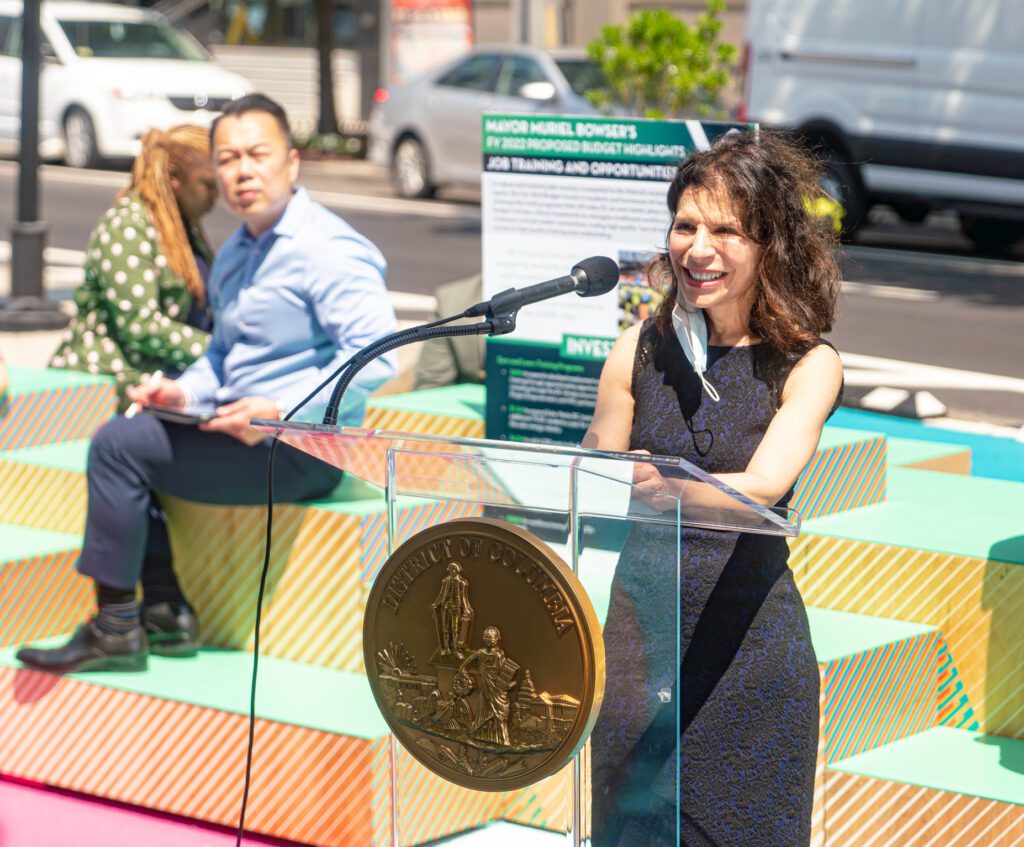 This year celebrates 25 years of the Golden Triangle Business Improvement District, a 44-block area with nearly 6,000 businesses and around 200 restaurants with almost 34 million square feet of office space. The Golden Triangle area is just steps away from D.C. landmarks like the White House and Black Lives Matter Plaza.
Golden Triangle BID President and CEO Leona Agouridis has been along for the often whirlwind of a ride.
"Downtowns not only here but throughout the country and world are never going to be the same," she said. "The central business district as we used to know it will no longer exist; it will re-emerge, it's not dead, but it will re-emerge looking different."
Agouridis, who is the child of a Greek immigrant father, loves the sense of idealism that her dad brought to the U.S.
"I've been saying this a lot lately—we're a local city, but also a national capital and a global leader," she said. "We have an opportunity to redefine downtown in a way that acknowledges all of those things and embraces them too."
As we continue to leave the pandemic behind us, The Golden Triangle is choosing to focus on a mixed-use business district. "It's much more complex than just converting office buildings to apartments," Agouridis added. "That's important and a key part, but there's also a way to infuse that with vision and aspiration."
Along with the DowntownDC BID, Federal City Council, Mayor Bowser's office and the Office of the Deputy Mayor of Planning and Economic Development, the Golden Triangle BID is working on a Downtown Action Plan. You can read more about that plan at https://www.reimaginedowntowndc.com/.
Agouridis called the action plan a massive undertaking, and the organizations involved are getting input from not only from the general public, but experts from other cities and experts in their fields, including real estate, human services, arts and culture, retail, residential conversions and more.
"That's coupled with a pretty robust economic development analysis, looking at data to determine all of these ideas and which ones would be reasonable or feasible to put in place," she added.
The analysis will take several months to mold together, but the plan is hoping to deliver a report in late fall or early winter that will explain the highest impact projects and specific recommendations to move forward with them.
Agouridis has noticed more people on the Golden Triangle's streets, recognizing that the city's tourism is good this summer.
"I do think residents are moving around the city more," she added. "We're close to Dupont Circle, Foggy Bottom, the West End and more—people can walk down here on their lunch hour or after work."
She suggested visiting places like coffee shops in the Golden Triangle to work or visit when you need a work change of scenery.
"I do think that we are a neighborhood, we don't own homes, but businesses and buildings," she said. "We can create a common vision that we can drive, especially in conjunction with the government, that can bring people together in ways that others can't. I think there's a lot of power in that."
In her spare time, which Agouridis says she doesn't have much of these days, she has taught group exercise in the past and keeps up with it now on her own, having taught classes in Zumba, kickboxing, body pump and more. She also has two grown children, Nick, 29, who just got engaged, and Elena, 25.