Mapping Georgetown: 'Lincoln in the Bardo' Author Visits Sacred Spaces
By
August 21, 2023
0
752
•
---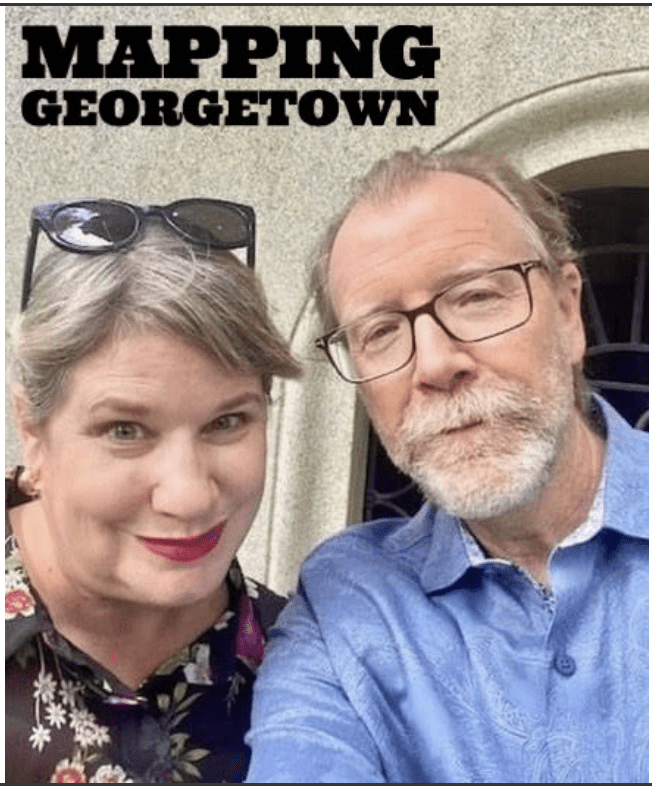 Only in Georgetown… would a visiting gentleman, driving along Rock Creek, notice a cemetery and discover it to be The Oak Hill Cemetery where President Lincoln's son Willie was laid to rest and where Lincoln himself would ride from the White House to steal time to mourn in private in the pitch dark of night… He would be so haunted by the vision in his imagination, that he would recreate the story into what would become the award-winning gem, "Lincoln in the Bardo."
The images in Saunders' story have preoccupied Georgetowners, and the world. "The winner of the 2017 Man Booker Prize….[is a] startlingly original novel is a thrilling exploration of death, grief and the possibilities of life," the prize's website says.
Oak Hill Cemetery in Georgetown had the privilege of hosting George Saunders with a walk through this sacred space. He was in Washington this month to receive the Library of Congress Prize for American Fiction at the 2023 National Book Festival.
Impossible to gauge who had the biggest thrill, our guest, George Saunders, or the hosting team of Laura Thoms, archivist extraordinaire of Oak Hill Cemetery, Bob Attardi, the director of programs at Politics and Prose bookstore, his wife, Dierdre Attardi, and Andrea Seiger, a tour guide and the author of 111 Places in Washington That You Must Not Miss, who leads the tours.
Andrea Seiger Created This Mapping Georgetown Story to Grace Our Collection.
I was recently invited on a literary inspired walk through Oak Hill Cemetery with Author George Sanders. His novel "Lincoln in the Bardo" inspired a historic ghost tour that I created for Politics and Prose Bookstores. My ghosts are people who may have been stuck in the Bardo (between death and rebirth) when Lincoln's son Willie Lincoln was laid to rest there in 1862. 
George, an animated, funny, delightful man offered up insights on how he wrote, edited, rewrote his novel-and listened to stories that Laura Thoms, (cemetery archivist) Bob Attardi (Program Director at P&P)  and I shared from our history cache of D.C. people stories within the cemetery.
We were all grateful and appreciative of each other's stories and had a joyful walk through history together.
George's insights will color my future tours in a new and beautiful way.
Lincoln's trajectory from the White House to Oak Hill Cemetery in the dead of night to visit with and hold his son Willie inside the William Carroll Mausoleum where Willie was laid until the Lincoln's could take him home to Illinois.
View Andrea Seiger's previous Mapping Georgetown story here https://georgetowner.com/articles/2021/11/01/mapping-georgetown-all-souls/. More about Laura Thoms in her previous Mapping Georgetown story here. 
In George Saunders Words, Scenes Inspiring "Lincoln in the Bardo"
Too many priceless photos and quotes to include in this post from George Saunder's substack review in his own words. Please treat yourself to a moment with George Saunders being George Saunders, not to mention a very exciting announcement within. Courtesy of Laura Thoms, you can read [below] George Saunders' account of his visit to Washington here. It is worth every word!
Visiting an old pal. Just a few minutes before I got here, I got an email from Missy Mazzoli, saying she'd finished a first draft of the opera of Lincoln in the Bardo. The timing was… kistmetish. I listened to it at the hotel and it is truly astonishing and original. I cannot wait for the world to hear it. And the libretto, by Royce Vavrek, is a masterpiece of compression and feeling. Working with these two masters has been one of the highlights of my artistic life so far, and we're just getting started…
I spent so much time here in my mind that it's always strange to be here in person…
The interior of the chapel, the scene of the climax of the book (Willie's departure). The ghosts, I imagined, were pouring in through that back wall.
"The stained-glass windows responded dully but substantially to the dim moonlight shining through them… suffusing all with a bluish tint."
"I went to hear the amazing Jesmyn Ward give her talk on "Why Fiction Matters" at the Festival. It was a wonderment and was greeted with a standing ovation. The gist of it, beautifully rendered, was that telling someone's story is an act of love, and that the love comes in the form of the small details that otherwise would be lost to time…"
—-
These Mapping Georgetown stories can be viewed in full at https://georgetowner.com/categories/mapping-georgetown/
We invite you to add your story to our Mapping Georgetown collection. Blank templates can be printed from the home page of www.mappinggeorgetown.com or picked up from The Georgetown Public Library.
To learn more about the Mapping Georgetown project see https://georgetowner.com/articles/2021/07/19/marilyn-butlers-vision-for-mapping-georgetown/. Marilyn Butler can be reached at marilyn.butler@gmail.com.