Mapping Georgetown: Georgetown Ministry Center a 'Safe Place'
By
September 5, 2023
One Comment
593
•
---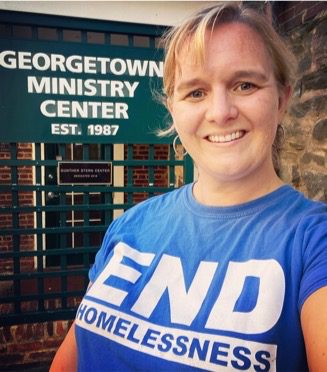 "She made my coat of many colorsThat I was so proud of…"
~ Dolly Parton
It's so heartwarming to share stories of Georgetown's most community-minded citizens, those who work so hard to keep our social fabric knit snugly together.
Today's story comes from Kelly Andreae, executive director at Georgetown's premier shelter and agency for helping the unhoused community among us, Georgetown Ministry Center (GMC) at 1041 Wisconsin Ave. NW.
Kelly joined the GMC team in October 2020. She has over 17 years of experience leading and building strategic programs in the non-profit sector, with a concentration in homeless services. She's served in leadership roles at the United Way's Emergency Food and Shelter Program "Back on My Feet" and Carpenter's Shelter. She's a collaborator who builds alliances across business and community partners in the D.C. region. Her passion for social impact and community-building makes her a high-performing agent of change in the community. Kelly has a master's in public administration with a concentration in non-profit management from George Mason University and a B.A. in Communications from Wake Forest University.
Kelly Andreae's Mapping Georgetown Story
One morning, when I arrived at Georgetown Ministry Center (GMC), there was a guest waiting for us to open. I had not met him before, but he introduced himself as "X." He mentioned he had been to GMC before, but it had been awhile. As we chatted in the cold, he started to share some of the trauma of his life. At one point, he was sharing some of his experiences as a combat veteran and his face contorted in pain reliving this traumatic experience. I started to console him, and suddenly his face lightened and he looked me in the eye and said, "I know this is a safe place." He repeated it a few times, and he visibly softened.  "X" then took a shower and a nap.  He spent the rest of the day chatting with volunteers and other guests.  I have never been so proud of the community we belong to and build in Georgetown than I did that day.  I am so glad Georgetown can be a safe place for everyone.
About Kelly Andreae, in Her Own Words
I have two children (10 and 6). My husband Chas Andreae is a consultant who works with Medicare. We have been married for 15 years and we love to go to see live music for date nights. My hobbies include gardening (at our last staff meeting, I brought cucumbers for the staff to take home because I have so many right now) and cooking. Lately, I have been on a big bread-baking kick and have been making fresh bread nearly every day.
I serve on the Metro DC Advisory Board for the YIMBYs (Yes In My Backyard) advocating for affordable housing development in the D.C. region and I'm on the Board of the Georgetown Business Association.
—
Mapping Georgetown is extremely grateful for the opportunity to see first-hand how the homeless get help in our community. It is human nature to want to help, it is something else entirely to get close enough to feel the human connection, to see yourself in spirit, and to do the difficult work. The next few Mapping Georgetown stories will continue to paint this picture.
Although we had no moneyI was rich as I could beIn my coat of many colorsMy momma made for me
Here's an opportunity on October 4 to support Kelly, her staff, volunteers and the unhoused at Georgetown Ministry Center: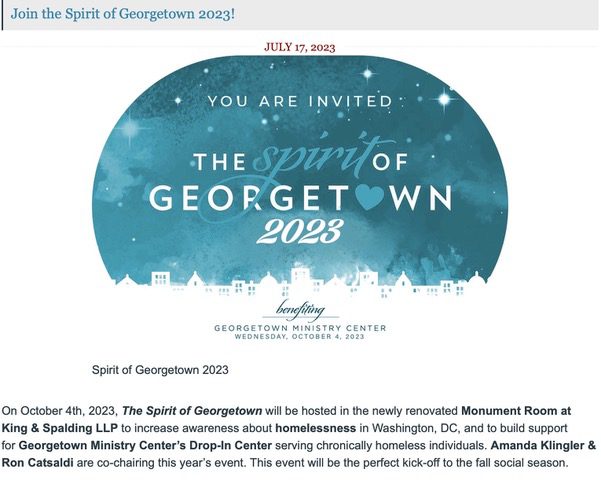 ---
Here's a story The Georgetowner ran in 2020 about GMC's efforts to provide comfort to the unhoused in our community during the pandemic. 
This Mapping Georgetown story can be viewed in full at https://georgetowner.com/categories/mapping-georgetown/.
We invite you to add your story to our Mapping Georgetown collection. Blank templates can be printed from the home page of www.mappinggeorgetown.com or picked up from The Georgetown Public Library.
To learn more about the Mapping Georgetown project see https://georgetowner.com/articles/2021/07/19/marilyn-butlers-vision-for-mapping-georgetown/. Marilyn Butler can be reached at marilyn.butler@gmail.com.